PAS deputy spiritual adviser Haron Din was simply "expressing his own view" when he described as kufur (non-believers) those Muslims who have come out in support of non-Muslims to use the word 'Allah'.
In saying this, PAS central political bureau member Khalid Samad, who had defended non-Muslims' right to use the term 'Allah' also noted that Haron's statement is 'not in line' with the party's stand.
Furthermore, Haron was not present at the two-hour meeting at the PAS headquarters last night, where party leaders had discussed the issue and arrived at a consensus, said Khalid.

Yesterday, Haron stressed that any Muslim who supports the High Court decision - which allows The Herald to use the term 'Allah' in its Malay-language section - may become kufur .
He said those who agree with the ruling are associating Islam with Christianity, which is built on the concept of God as a Trinity - the Father, the Son and the Holy Spirit.
"In Islam, there is only one God. Anyone who associates God as a Trinity is considered kufur ," he was quoted as saying.
According to Khalid, however, PAS has decided that non-Muslims are allowed to use the term as it is not forbidden in Islam.
However, PAS leaders have expressed concern that the term could be 'exploited' by certain parties.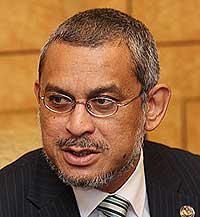 "This is the concern of a responsible government as we need to consider the sentiments of the people," said Khalid.
The two-hour meeting saw the attendance of president Abdul Hadi Awang, deputy president Nasharuddin Mat Isa, secretary-general Mustafa Ali, information chief Idris Ahmad and other appointed members of the central political bureau.
'Opposite view'
Khalid said Haron's statement is 'completely reversed' from the party's stand.
"Even (spiritual leader) Nik Abdul Aziz Nik Mat has said non-Muslims are allowed to use the word, except that it is not suitable (in the) present situation," he said.
Efforts to contact Haron for clarification were futile.
The Herald , which is printed in four languages, has been using the word 'Allah' as a translation for 'God' in its Malay-language section, but the government has argued that 'Allah' should be used only by Muslims.
The term 'Allah' is widely used among Christian indigenous peoples in Sabah and Sarawak, many of whom speak Bahasa Malaysia.
The High Court decision last week has sparked outrage among several Muslim groups, who have threatened to hold a major protest .
The Home Ministry has appealed the decision and sought a stay of use of the word by The Herald , a Catholic publication.