Suara Perkasa , the official organ of Malay rights NGO Perkasa, has been let off with a warning for publishing an article that could have jeopardised national unity.
"The Home Ministry officials said the headline did not help the cause of national unity, and warned me not to make the same mistake," said its chief editor Daud Ibrahim when contacted.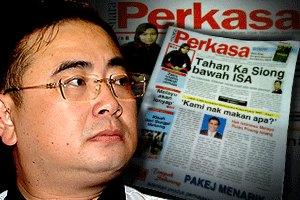 Daud met the officials today to explain the headline of the front-page article in the inaugural edition published last week. It had called for the arrest of MCA Youth chief Wee Ka Siong (left) under the Internal Security Act.
This is the second time a representative of the bi-monthly has been called up. Editor Amirudin Mohamad met with assistant secretary-general Abdul Rahim Mohd Radzi and Zaitun Ab Samad, the secretary of the publications and al-Quran text controls division, last Friday .
"(Abdul Rahim and Zaitun) said I could have chosen a better headline, but I explained that my primary concern was to choose one that would sell the paper," Daud said of the two-hour meeting.
He also showed articles which called for the arrest of others, including former prime minister Dr Mahathir Mohamad, under the ISA.
"But they told me that this does not mean that what I did was right. I admitted my fault and thankfully my explanation was accepted," he said.
Slow sales
Daud said he expects that the ministry's all-clear will help the sales of the 25,000 copies printed.
"Vendors are reluctant to distribute it as they are afraid of 'harassment' from the authorities," he said, explaining the slow sales to date.
"Even our original printer has refused to print the second edition, fearing trouble especially after MCA Youth lodged a police report against us yesterday. A new printer has since been found."
Less fortunate, however, is PKR mouthpiece Suara Keadilan which had its permit suspended because of an article alleging that the Federal Land Development Authority is bankrupt. The ministry has rejected its explanation.