DAY 6 What's happening in the state election campaigns around Sarawak today? Quotable quotes, planned events and unplanned incidents as they take place.
---
8am: In a statement sent late last night, Snap's secretary-general Stanly Jugol responds to what he described was the arrogance of Sarawak PKR chairperson Baru Bian and PKR de facto leader Anwar Ibrahim.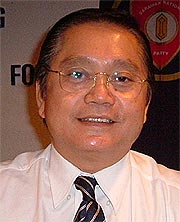 The call by Baru Bian for Snap to withdraw its candidates, says Jugol ( left ), is clearly impertinent and reflects some level of desperation in his dream to be chief minister of Sarawak.
Snap does not believe in 'wasting a lot of money' on holding 'dog and pony' shows where people are paid to show their support in a vociferous manner, in ostentatious spending on election peripherals such as flags, buntings and billboards, said Jugo.
As the areas Snap is contesting are spread out in the hinterland with poor communications, it has dispensed with centralised ceramahs and have focussed on personal visits.
"Devoid of helicopters and mainstream television, we have managed to touch the hearts of the thousands marginalised by mainstream politicians," Jugol said further.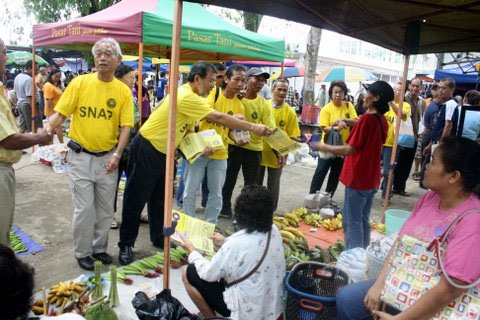 "If only PKR would look down from their lofty gaze, they will also see that a number of their candidates have barely made a dent in the thinking of these voters.
"Snap has refrained from calling for these PKR candidates to withdraw, out of respect to the voters who, in the final analysis, will decide whom to vote for among the names on their ballot papers."
Jugol also expressed surprise that Anwar had said Snap will split the opposition votes and deliver victory to BN.
"It is indeed a compliment to Snap, a party to which he offered only three seats to contest, that apparently its support is widespread and far-reaching enough to be a party that definitely should contest in a lot more than three seats."
On claims that Snap is sponsored by BN, Jugol noted that Baru himself had admitted that SNAP's campaign is frugal and therefore unbecoming of a richly sponsored party.
"In the constituency of Pakan, Snap is having a straight fight with BN and giving BN a good fight instead of giving in as anyone would expect from an alleged vassal party," he pointed out.
"Snap is here to stay and is a proud member of the Sarawak political fraternity."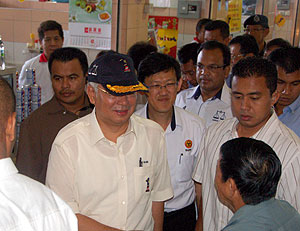 8.05am Kuching: Hundreds of people in 1Malaysia T-shirts are at the Stutong Community Market to greet Prime Minister Najib Abdul Razak, who is here to officiate a gotong-royong event.
He is walking through the area shaking hands with well wishers and visiting some stalls.
8.25am Kuching: The premier is now digging into a bowl of Sarawak laksa on the upper floor of the wet markets. He is accompanied by local politicians and community leaders.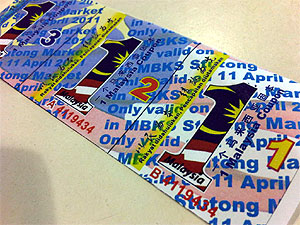 About 300 people are present and - when prompted by the emcee - chant "1Malaysia!" three times.
The emcee claims the organisers are from SUPP, representing the market stall owners.
Coupons, which can be used at the food stalls, are being distributed.
8.35am Kuching: After his meal, Najib makes a short speech, announcing that the federal government has allocated RM300,000 to upgrade the market.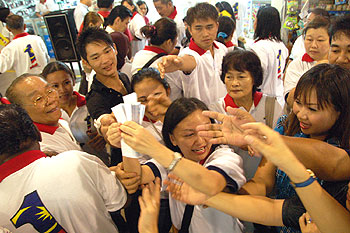 "At about 11am or noon, I understand that the market would be hot, so we allocated these funds to make the market more comfortable.
"But please remember who gave the funds. What we are doing is for the Sarawak people. This is a BN government.
"We will resolve more problems (soon) but you should please resolve April 16 first, can?" said Najib during a short ceremony before leaving.
He heads for the rural township of Betong next.
10am: Following PM Najib's assurance yesterday that Sarawak Chief Minister Taib Mahmud will step down after the state election, DAP Sarawak today challenged the state government, which they now call a "headless cabinet", to announce the name of Taib's successor.
"He wants to step down, but who is the successor?" asks DAP state chief Wong Ho Leng.
"They should announce this now, and let everyone to make the evaluation."
Wong voices scepticism with Najib's announcement, pointing out that Najib maintains Taib will retire at the "appropriate" time.
"What is 'appropriate time'? You can't tell the people that Taib will step down at an appropirate time. This is not sincere."
He said Pakatan has in fact announced their choice of chief minister, the PKR state chief Baru Bian.
"If they don't have any successor, then we should let the Sarawakians pick for them. Just like what is happeneing in Penang," said Wong in reference to the DAP-led state.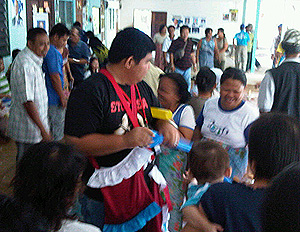 10.30am Saribas: PKR has adopted a new campaign tactic in Saribus: engaging a clown to visit the villages and longhouses.
Today, at the Kemarau longhouse near the town of Debak, PKR workers distribute balloons in the shape of swords, kittens, flowers and other objects to children.
The new approach has brightened the atmosphere considerably, and has helped give the PKR's Saribas candidate Abang Zulkifli Abang Engkeh a warm reception.
11am Simanggang: DAP's Jelutong MP Jeff Ooi accompanies Simanggang candidate Leon Donald to campaign at Rumah Edward Jantong, Sebujok, an Iban longhouse deprived of electricity supply. The house is connected by a 7km untarred road that only can be tackled by 4WDs.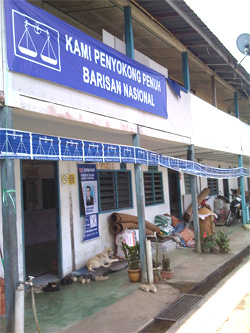 Although a blue banner "We are staunch supporters of BN" ( Kami Penyokong Penuh BN ) hangs outside the longhouse, the residents welcome the DAP party with tea and snacks.
Jackson Suntai, a pastor from a Baptist church at Sarikei, who resigned to become a full-time opposition campaigner during the election, slams the BN government over the Al-Kitab controversy during his speech.
He says that the Al Kitab is crucial to the livelihood and future of the Iban community, because it is the voice of God that has changed the minds, attitude and lives of the Iban.
"Only the Bible can change the people's hearts. How to change if the Bible is not available to us?
"God will guide us to see the truth. We must stand for our rights to get the Bible into the longhouse," he said in Iban language.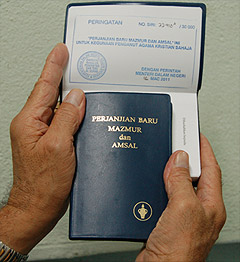 "It is time to change! It is time to stand for our rights!" cries Jackson to an audience of some 80 people in the longhouse, including eight tuai rumah (headmen) from other longhouses nearby.
"If we don't have the Bible, how are we supposed to teach our children?" he asks the audience.
Jackson tells Malaysiakini that the Al Kitab issue has prompted many pastors to campaign for the opposition in this state election, which has never happened before in previous elections.
However, he concedes that Iban people in the interior are not overly concerned about religious issues. Bread and butter issues are still their top concern.
"But they are listening. We hope they can change," he added.
Besides providing basic information on the current political situation, Ooi conducts an impromptu question-and-answer contest to give out two 'Ubah' soft toys.
They also give one shortwave radio to each of the tuai rumah , encouraging them to listen to Radio Free Sarawak to obtain alternative information from the Iban language radio channel broadcast from the UK
11am Betong: About 1,500 residents are waiting for the prime minister's arrival at the Spaoh futsal arena, near Betong town, expected to be around 12 noon.
The residents are being entertained with 'retro' music and live singers.
Bernama meanwhile reports Najib as having arrived by helicopter on a field in the Saratok district, about 80km from Betong, some time before 9am, greeted by Sarawak assistant minister of agriculture Peter Nyarok ak Entrie, who is also the BN candidate for Krian, and Abdullah Wahab Aziz, the BN candidate in Kalaka.
Upon arrival, the prime minister immediately walks towards Saratok town and mingles with traders and members of the public there. He also spends several minutes meeting with the residents at a coffee shop there.
The Saratok district has a population of about 40,000 consisting mostly of padi farmers and oil palm smallholders.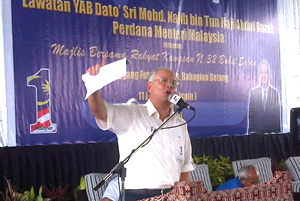 Later, Najib speaks for about five minutes to the approximately 1,000 people present at a recreational park in Saratok town centre.
Najib, who is also BN chairperson, says for the last 50 years the BN government had contributed significantly to improve the lot of the people nationwide.
He adds this is not the first time that he has come to this district; previously he had visited the Juliana longhouse in the Krian district.
Najib also says that he had approved a road construction project as well as a water treatment plant at Sungai Krian in the district.
After completing his speech, the crowd cheers "1Malaysia" and "Hidup Barisan Nasional!" before mobbing the prime minister to shake his hand.
Najib later boards the helicopter to continue his visit to Kampung Beladin, about 80km from Saratok town.
11am Meradong: Approximately a thousand people patiently await the arrival of DPM and Education Minister Muhyiddin Yassin.
The "Majlis Rakyat Bersama Pemimpin" is held by Sarikei Administration Division,which is responsible directly to the state government.
This is the first time Muhyiddin is arriving at Meradong during the 10-day campaign period.
Meradong has been labelled "unpredictable" since the seat fell to Independent candidate Yii Chu Lik back in the 1996 state election. BN-SUPP only managed to grab the seat back in 2001, but lost it again in 2006 to DAP's Ting Tze Fui.
Although a 'big crocodile' rules the waters around the constituency, says DAP, the party is determined to defend the seat.
A quick check with few local voters reveals they have yet to see BN-SUPP's Meradong candidate Ling Kie King in person.
11.13am Kuching: DAP's Kuching MP Chong Chieng Jen ( right ) gives SUPP president George Chan 24 hours to own up to links to conglomerate Titanium Management.
Chan denied the link yesterday in response to DAP allegations raised last year in the media and through the state assembly.
"He has chosen now to deny it, but we have evidence to disprove him, so he has 24 hours before we expose it," says Chong.
Chong claims that DAP has evidence to prove that Titanium was awarded a contract to build 284 bridges by the Sarawak government in 2000, worth RM551 million.
He added that the contract was terminated in 2006 as the company constructed 222 bridges but at a bloated cost of RM947 million.
To pay for the cost overrun, Chong claims, the government alienated state land including 243 acres to a nominated company Monarda, in which Chan's daughter has a 12 percent stake, for only RM80 million when the land is worth about RM400 million.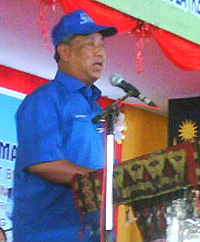 "It's a double rip-off. They build 62 less bridges and overclaimed and got state land at a huge discount.
"Sarawakians were ripped off by approximately RM1 billion by Titanium," he tells a press conference in Kuching.
11.30am Meradong:
Muhyiddin and wife arrives at the 'Majlis Rakyat Bersama Pemimpin'.
Also in attendance are Sarikei MP Ding Kuong Hiing, BN-SUPP Meradong candidate Ling Kie King and BN-PBB candidate Abdullah Saidol.
11.45am Pending: DAP candidate Violet Yong asks her opponent, BN's Dr Sim Kui Hian, to explain why there were fake flyers ( below ) featuring her and a DAP logo distributed at the 1Malaysia rally last night.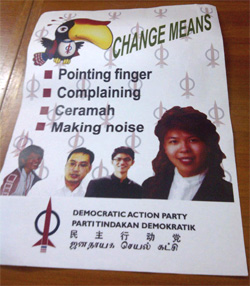 The flyer accuses Yong of using her allocation as Pending assemblyperson to pay for her law degree.
"It's really ridiculous. I was already qualified when I was voted in in 2006," she tells reporters in Kuching.
12pm Betong: Najib arrives at Spaoh to resounding pro-BN cheers.
There is, however, also a group of about 50 flag-waving PKR supporters, who are present to provide 'alternative' sloganeering. Thus far, no untoward incident has occurred.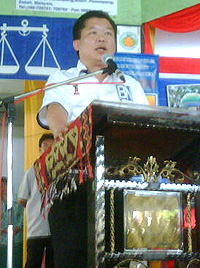 12pm Meradong: The 'mysterious' BN-SUPP candidate Ling Kie King begins delivering his speech.
He lashes out at his DAP rival Ting Tze Fui - who had accused Ling of bringing Miri entrepreneurs to Meradong to take away Meradong's wealth - as a ridiculous statement.
"If I bring Miri entrepreneurs to invest, it should be very good. If she said it is no good, why is Lim Guan Eng getting foreign investors to Penang? Let the Penang people develop themselves", he says.
12.20pm Meradong: DPM Muhyiddin Yassin condemns the way incumbent Sarawak CM Taib Abdul Mahmud is being attacked by Pakatan's campaign machinery.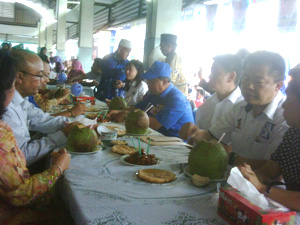 "They did this with no sense of respect, no consideration and sense of appreciation", he adds, saying Taib has brought changes to Sarawak during his 30-year tenure.
The DPM also announces an allocation of RM20 million for Sarawak schools to a crowd of about a thousand people.
He criticises DAP Penang chief Lim Guan Eng for allocating RM 2 million for Chinese schools but acts as if he has contributed "a whole world".
BN has given RM26 million to schools, and tonight will gave another RM 20 million, Muhyiddin continues.
The BN government has done a lot of things but does not show off its contributions, he claims.
"I have come repeatedly to Sarawak to keep the people from being influenced by Pakatan's lies over its 'Ubah!' slogan," says Muhyiddin.
"Anwar (Ibrahim) has many problems - his personal and court (case ) problems - he can't bring change to Sarawak," he exclaims.
As such, he says, voters must think carefully when deciding as to who will form the next state government.
12.30pm Batu Kawah: DAP party workers expect the donations collected from the mammoth rally of about 8,000 people in Batu Kawah, Kuching, last night to reach RM20,000.
"We're still counting!" says a party worker.
12.40pm Meradong: DPM Muhyiddin Yassin walks about at Meradong town, shaking hands and has brief chats with the locals.
The town folk and shop owners line up in front of their shops and shake hands with the DPM.
Meanwhile, the BN entourage clad in blue BN T-shirts and carrying BN flags, shout the "Hidup BN!" slogan and sing " Inilah Barisan Kita " to stir up the election mood.
Earlier, Muhyiddin delivered an 'agitated' speech, but apologises after admitting he was " kasar " (rough) as he was in the election "mood".
1.50pm Sibu: A helicopter believed to be carrying members of the deputy prime minister's entourage has tipped over and landed on its side just as it was attempting take off on a field near Wisma Sanyan.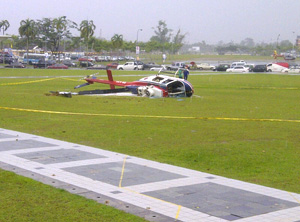 The convoy of helicopters were said to have been about to fly back after ferrying Muhyiddin from Bintangor to Sibu, when the incident took place.
It is understood the accident happened at 1.45pm. Muhyiddin is reportedly uninjured.
The pilot has sustained injuries and has been taken to the nearby hospital for treatment.
Muhyiddin, who was not on the copter, is slated to visit the injured pilot at 3pm.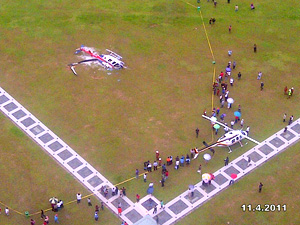 2.30pm Sibu: According to OCPD ACP Shafie Ismail, the incident happened at 1.50pm after the helicopter had unloaded all passengers in Sibu town square.
"The helicopter wanted to fly back to the airport for parking, (but) then fell from about 10 feet above ground."
Before the incident, there were three helicopter bringing the DPM's entourage back from Bintangor to Sibu. Two of them are belonged to Hornbill Skyways. The helicopter that crashed belongs to Sabah Air.
It is believed the accident occured due to heavy rain in Sibu at the time.
3pm Kuching: Anwar Ibrahim scoffs at Najib's claims that Taib Mahmud would step down as chief minister.
The PKR de facto leader challenges Najib to give a date and name a successor, if his claim is to be believed.
Asked when he thinks Taib should step down, Anwar replies, "Five years ago".
3.28pm: The Borneo Post , in its 30-page election pullout, reports that the state government intends to turn Malay-majority area Satok in Kuching into a Venice of sorts by developing the colourful area into a bustling tourist attraction.
Kuching will be expanded to include Satok and other Malay-majority areas Samariang, Demak Laut and Pantai Damai, and transformed into a "happening place" with quality night life up to 11pm.
"What is needed is volume - not unlike Venice which has a small population of 600,000 but the number of tourists going there hits 60 million every year," it reported.
Satok , which sees BN heavyweight PBB deputy president Abang Johari Abang Openg and PKR newbie Ahmad Nazib Johari contesting, is within the city centre but many living there lament about the dismal wages, some as low as RM400 a month.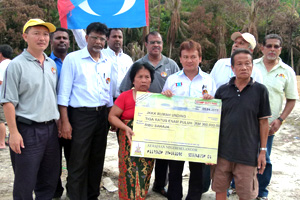 4.09pm Krian: The Selangor government donates RM360,000 to the Rumah Unding JKKK, Sg Jerak, Krian in Saratok to assist in rebuilding of longhouse destroyed in a fire three weeks ago.
Selangor exco Xavier Jayakumar announces this during a brief event at the site of the blaze last month, with PKR's Krian candidate Ali anak Biju present.
2.30pm Sri Aman: Najib arrives at the contentious Sri Aman Hospital, constructed during British colonial time and now highly dilapidated and in dire need of an upgrade.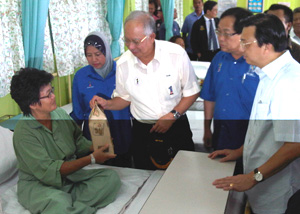 Health Minister Liow Tiong Lai and BN representatives in the area are with the PM. After a short briefing by Liow, he visits several patients in the ward, presenting them with goodie bags prepared by the hospital.
The hospital is flooded with hospital officers, nurses and government servants who keep taking the photographs of Najib with their digital cameras and mobile phones.
Some cannot help but shout " Datuk Seri, sini, sini (over here)" to catch Najib's attention.
Najib holds a press conference at the hospital to announce that construction for a new RM200 million hospital with 108 beds will begin this year and will be completed in two years.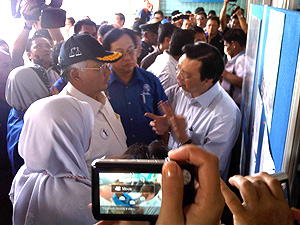 Earlier Liow, in his previous visit to Sri Aman, had announced that the new hospital will be constructed in 2013 under the 10th Malaysia Plan. Najib's visit today has magically fast forwarded the project.
The hospital has been the focus of the opposition's campaign to debunk BN's much-touted half century of development, pointing out an absence of specialists or even a general surgeon or an ICU, as well as basic medical equipment such as a CT scan in the hospital.
Najib also announces that the health ministry will look into the possibility of stationing one or two specialist doctors in the hospital.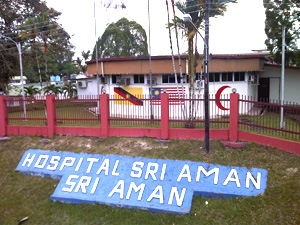 "We know that patients with serious cases need to be sent to Kuching, which takes a three-hour ride in the ambulance. This has exposed them to high risk of danger," he says.
In all, the entire visit and press conference takes him only about 30 minutes. Najib then proceeds to the car park opposite the hospital to meet and shake hands with thousands of people wearing BN T-shirts.
He gives a short speech to the crowd, repeating the announcement on the construction of the new hospital.
He then leads the crowd to chant the slogans "1Malaysia", "Hidup BN" and "Menang BN" three times before leaving in a white Mercedes with number plate that reads 'Yang Amat Berhormat Perdana Menteri Malaysia'.
4.45pm Sibu: DAP strategist Liew Chin Tong has cried foul saying that they have discovered postal ballots being transferred from one constituency to another.
Liew tells reporters at Wisma Sanyan that since the discovery, they have managed to get the returning officers to put the postal votes back to the correct constituencies.
Wisma Sanyan, the tallest building in Sibu at 27 storeys, houses several district government offices.
The returning officers for the Bukit Assek and Bawang Assan state seats happen to be in the same building on different floors.
The Bukit Assek RO had allegedly passed the 113 postal ballots to the ROs for Bawang Assan as well as those for Dudong and Pelawan earlier today, to be passed along to their staff who will be on duty as election workers, allowing them to be eligible for postal voting.
Liew said that the transfer "although harmless" could open doors to discrepancies and irregularities, and that there should have been more transparency in the exercise.
The Bukit Assek RO has since taken back the postal ballots, and will only issue it when the postal voters collect them from him personally, as per Election Commission regulations.
"Every vote counts. We are just concerned that it could give rise to a dispute," said Liew.
5.41pm Kuching: Independent Batu Lintang candidate Soo Lina laments that Pakatan Rakyat and BN are hogging the spotlight in Kuching, leaving no room for candidates like her and Independent Padungan candidate Dominique Ng.
Like Ng, Soo had quit PKR to have a go at contesting on her own and is facing difficulties getting airtime and crowds to her events.
"Mainstream media covers Barisan and alternative media covers Pakatan. Independents don't get fair coverage," she told Malaysiakini .
In her 10-point manifesto, the single mother argued that she is the best candidate as she will only listen to the rakyat and does not have to toe the line as her opponents from PKR and BN.
"I am a full-time politician. No job, no businesses, 100 percent for you.
"I can fight without fear or favour because my political master is you, the rakyat," she said in her manifesto.
Among others, Soo pledges to fight for an increase allocations for Chinese and mission schools to be at least 80 percent of that for national schools, and 50 percent oil royalty instead of the current five percent.
6.30pm Kuching: About 150 people gather at the Kingwood Inn where a DAP event, 'Fellowship with Christians' is taking place ( top photo ).
Seputeh MP Teresa Kok is present along with DAP candidates for Pending, Batu Kawah and Padungan.
Each candidate gives a short statement and Pending candidate Violet Yong ( left ) breaks into tears when she begins hers.
The tiny function room is too small to accommodate the crowd and many have to sit outside or stand.
Kok explains from a Christian perspective why the religion requires followers to take action in terms of policy-making in areas of education, good governance and law-making.
"The government wants us to have a good command of Malay, but when you start praying in Malay, it is an offence. When we use 'Allah', it is an offence. We have to question, 'why?'" she said.
Kok said she was very proud that many Sarawakian churches have spoken up against the government's move to impound the Bible in the Malay language and put government stamps on the copies.
"If not because of the Sarawak state election, 5,000 copies of the Bible in Malay in Port Klang would still be under ISA. It has been two years. Released from ISA is not bad enough, they still have to put a (government) stamp," she says.
8pm Kuching: The 1Malaysia concert is about to start with about 600 people waiting at Padang Merdeka.
Many of them are carrying umbrellas or are using plastic bags to cover their heads from the drizzle.
Prime Minister Najib Abdul Razak is scheduled to speak at the event later.
Popular Taiwanese singer "Shen Mu Yu Tong" and Malaysian singers Rain Lim and Dayang Nurfaizah are expected to entertain the crowd at the free event.
8.30pm Sibu: The pilot of the helicopter that had crashed right after dropping of Deputy Prime Minister Muhyiddin Yassin's aide has succumbed to his injuries.
Captain Sahaimi Ghazali, 36, was a pilot with Sabah Air, which BN charters their helicopters from.
He had earlier dropped off three of the DPM's entourage including his press secretary Hafiz Abdul Halim this afternoon in the Sibu town centre from Bintangor about 50km away.
8:30pm Kuching: The drizzle has stopped and the crowd has grown to about 3,000 people at 1Malaysia night concert at Padang Merdeka.
However, the reception for Najib, who arrived moment ago, was rather cold. The biggest cheer was reserved for the artistes on stage.
Menawhile, speaking to 600 crowds in dinner at the chinese rural area in west bank of Sibu, Bawang Assan candidate Wong Soon Koh reminded the voters that even if they want to protest against Taib at the ballot box, but Taib will still win with the support of other races.
"Soon Koh may lose, but Pek Moh will not lose," he said in Foochew dialect.
"This is because if they want to form government, they still can form it."
8.42pm Kuching: Quiet Malay-majority fishing village Kampung Seberang Bako about 40 minutes drive a short boat ride away from Kuching is all shook up tonight as BN and Pakatan Rakyat square off against each other at side-by-side venues.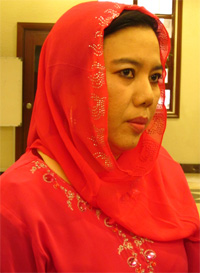 One BN's side is a witness in Anwar's first sodomy trial Umi Hafilda Ali while local leaders are speaking on the Pakatan side.
This was also the first ceramah destination of PKR de facto leader Anwar Ibrahim who came about an hour earlier than Umi.
Umi leads a crowd of about 200, including children and the elderly, to chant "Anwar gila seks!" (Anwar is sex crazy) and "Hidup Mahathir".
In her fiery speech, she swears to God that Mahathir never paid her to say what she had said, and said she is willing to be forsaken by Allah if she is lying.
Most of those cheering her on are children who appear to be aged 12 and under, although the adults too are amused when Umi calls PKR Parti Kencing Rakyat.
Next door about 100 people hear local boy Ali Hossin Abang, who is the PKR candidate in the Demak Laut constituency here, who promises to bring development the humble fishing village.
He is facing a straight fight against PBB.
9pm Kuching: Still in Kampung Seberang Bako, Umi gets the crowd cackling by saying that PKR's symbol is that of Anwar's anus, compared to BN's symbol, the weighscale, which is better.
The light at the tent and the front porch of a house where Umi is speaking from goes on and off due to bad electricity connection.
About 100 people from the PKR side file in to listen to the self-proclaimed 'community activist' as speeches at the PKR stage have concluded.
When asked by Malaysiakini , several villagers admitted not knowing who the woman who is speaking, except for the fact that she is from the peninsular.
9.05pm Sri Aman: Deputy education minister Puad Zarkashi met with some 100 senior teachers and headmasters of Sri Aman district at a hotel here to talk about education issues.
Together with him is BN Sri Aman MP Masir Kujat.
Puad did not explicitly campaign for BN but applauded the leadership of Najib and the transformation plan introduced by the latter.
"We are on the right track under the leadership of prime minister to achieve quality education access," he said.
9.20pm Kuching: Embattled Sarawak Chief Minister Abdul Taib Mahmud has again reassured that he will step down in a few years' time.
"I would like to urge the young generation, the time will come, when I step down in few years' time, I hope the young generation will support the person who take over from me," said Taib in front of Prime Minister Najib Abdul Razak and about 3000 crowd in 1Malaysia night concert at Padang Merdeka, Kuching.
This is despite the fact that Najib had assured Sarawakians that Taib will go soon after the state polls.
9.45pm Sibu: Muhyiddin dishes more goodies to the Chinese community here, saying that the federal government has agreed allocate RM34 million to the Chinese schools in the state.
Out of it, RM20 million would be allocated for its development and RM14 million for the operations.
He also said that all 197 Chinese schools in Sarawak would be given an average of RM50,000 each, with another "RM10 million to RM15 million" in place for additional needs on a case-by-case basis.
"So I hope that the Chinese people of Sibu will support us in the state elections.
"You have to ask yourself if this opposition coalition can form an effective government," he said to applause from the 1,000 strong crowd at a cheque presentation dinner function organised in local Chinese school.
10.05pm Sibu: Muhyiddin Yassin sends condolences over the death of Captain Sahaimi, 38.
"I hope the family will stay patient in this time of adversity," he told reporters after a cheque presentation function in a school here.
Muhyiddin, who had earlier given some personal contribution to the deceased's family, said that he will see if there are other ways to help.
"(Sahaimi) had died while serving his duty and we don't want his efforts to go to waste," he said.
10.41pm Kuching: Cars are parked for a kilometre stretch leading up to the PKR Satok operations room in Kuching where Anwar is now speaking.
There are about 1,000 people completely blocking Jalan Patingan where the operation room in this Malay-majority area is located.
Many can only make do with seeing a glimpse of the projection of Anwar. It is almost impossible to pass through the crowd of people standing close together, in order to get closer to the stage.
Anwar urges the crowd to be fair to all races, and people from other religions as Islam calls for fairness to all.
"This April 17, we will declare Taib Mahmud the opposition leader (in Sarawak)," he said to applause.
Anwar was, however, silent on the issue of appointing Christian PKR Sarawak chief Baru Bian as chief minister - an issue believed to be touchy among the Muslim community.
He had earlier tonight spoke at the Malay-majority area Tupong attracting about 2,000 people.
Other speakers include PKR deputy president Azmin Ali and secretary-general Saifuddin Nasution.
He is now headed to another Malay-majority area Muara Tuang, which is also his fifth and final destination for the night.
10.45pm Sibu: Although today is a working day, the DAP ceramah in Sibu town center still attracted a large crowd of almost 3,000.
Today's speakers include PAS president Abdul Hadi Awang, Sarawak DAP secretary Chong Chieng Jen and DAP Youth chief Anthony Loke.
Speaking to an almost all-Chinese crowd, Hadi in his typical white jubah (robe) stressed on good and clean governance by quoting the Quran and urging the voters to vote for change on polling day.
He said, unlike BN, Pakatan has proven that they are capable of governing a state without corruption.
"Do you know why PAS can work with DAP? This is because DAP is practicing a good governance as PAS in Kelantan and Kedah."
"Lim Kit Siang does not accumulate wealth because his son is chief minister. Nik Aziz also does not accumulate wealth during his 20-year tenure."
He said that election is a "people's court" and he urged the voters to punish those elected representative that "betrayed" the people.
"Let us vote for Rocket, Moon, PKR and Pakatan Rakyat. Let us teach BN a lesson."
11.21pm Kuching: Workers are seen putting up a billboard with the map of Sarawak encircled by sharks near Padang Merdeka here. One of the sharks is red in colour and on its fin are the letters D-A-P.
11:38pm Miri: DAP's official twitter account for the Sarawak polls, @swak4change says that "DAP Miri has hit record donation of RM28,588." Lim Kit Siang spoke at the ceramah which attracted an estimated 8,000 people.
"Is (SUPP president) George Chan's time in Piasau over?" the Twitter account read.
12:09am Sarikei: Serdang MP Teo Nie Ching tweeted that she had managed to raise RM2,888 here thanks to her singing.
"Tonight, I sang a song and humbly asked the crowd to assist us, and we managed to collect RM2,888. The amount is small compared to Miri, Kuching and Sibu, but it's a breakthrough for DAP Sarikei."
DAP candidate and incumbent Ting Tze Fui is said to be facing a tough fight against SUPP's Ling Lie King.