Media practitioners are allowed to spin the facts to paint a "desired picture" to the reader, said Utusan Malaysia 's deputy chief editor Mohd Zaini Hassan.
Mohd Zaini said that spinning the facts was a way to launch a "gentlemanly attack" ( serangan berhemah ) against the opposition.
Opposition parties, he claimed, were after all "controlling public perception" to the point of causing the BN government to be "put on trial" in the national political arena.
"In our style of writing, we have facts, spin and one more - blatant lies.
"From the point of psychological warfare, let's not follow 'blatant lies', let's not write lies.
"Spin we can; no matter how we spin a certain fact to be biased in our favour, that's okay," he said.
He was speaking at a forum on social media this morning at The Regency in Kuala Lumpur, organised by the Prime Minister's Department agency Biro Tata Negara (BTN), and the 1Malaysia Social Media Convention secretariat.
The forum was titled 'Social media: Managing the issues, addressing perceptions and emotions of the rakyat'.
'Media crucial for BN win'
Zaini said in recent times, the psychological war in the social media is in favour of the opposition.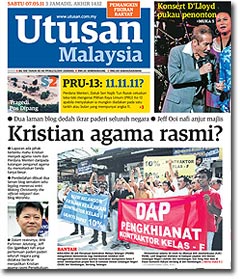 "If we look over there (in the pro-opposition social media), they don't look at money.
"There they work with their hearts, feelings and fisabilillah (the path of Allah)," he said.
"But we over here, I apologise for having to say this, if there is no money, things don't work," said Zaini.
Zaini, known for his column 'Cuit' (squeaks) in the Umno-owned Malay daily, admitted that today's media played a far more important role, as compared to factors of money and election machinery, in winning an election.
"In the Malaysian context, the media occupies the topmost position in importance (in winning an election)," said Zaini.
'Follow Islam, use deception'
Head of the Umno young ulama secretariat Fathul Bari Mat Jahaya, who was a panellist at the forum, however cautioned social media practitioners to first examine the facts behind any political allegations.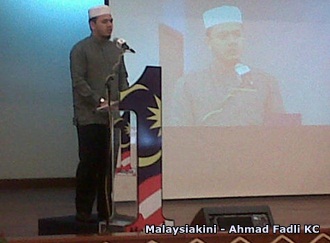 "Islam and other religions teach that if there is an allegation, we have to have proof whether it is true or not," he said.
Nevertheless, he at the same time urged pro-BN social media practitioners to use "deception" in the psychological war against the opposition.
Fathul Bari ( above ) justified this citing how Prophet Muhammad had used deception to fight his enemy.
He said the Prophet once told his Islamic soldiers who were older to darken their hair so they would appear younger and thus stronger in the eyes of the enemy.