Minister in the Prime Minister's Department Jamil Khir Baharom has described as dangerous and misleading a statement by PKR vice-president Nurul Izzah Anwar that religious freedom should be accorded to everyone, including the Malays.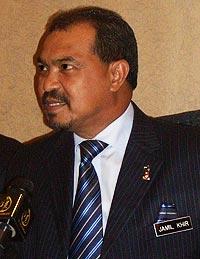 Jamil Khir ( right ) said such a statement was unwarranted for it could deceive society and Muslims on the interpretation of freedom of religion.
"As enshrined in the federal constitution, Islam is the religion of the federation, and every child born a Muslim remains a Muslim," he told reporters after chairing the National Council of Islamic Religious Affairs meeting in Kuala Lumpur today.
In fact, Jamil Khir said, the Quranic verses cited by Nurul Izzah to support her argument were out of context as they were meant for non-Muslims who should not be coerced into embracing Islam.
Speaking at a public forum on "Islamic State: Which version, Whose Responsibility?" in Subang Jaya on Saturday, Nurul Izzah was reported as saying that no one should be compelled to adopt a particular religion and that this applied to Malays as well.
Following public outcry over her statement, she denied that she was supporting 'murtad' (apostasy) or encouraging Muslims to renounce Islam.
In Dungun, Terengganu, Rural and Regional Development Minister Mohd Shafie Apdal said every Muslim had a duty to strengthen the Islamic faith and the bonds among Muslims.
Speaking to reporters after a presenting house keys to recipients of housing assistance in the Central Terengganu Development Authority (Ketengah), Shafie ( right ) said freedom of religion in Malaysia was meant for non-Muslims, and they could not be forced to embrace another religion or Islam.
"But for Muslims, we have a duty to ensure that Islamic values are practised and implemented.
"That's why we set up madrasah (surau), religious schools and Islamic universities, and conduct religious talks and lectures on TV and radio, and other activities so that Muslims will not be derailed from the path of Islam," he said.
- Bernama