INTERVIEW The newly-appointed Minister in Prime Minister's Department Paul Low has dismissed talk that his appointment was merely a public relations move to silence a "vocal critic".
He said that while he was a vocal critic of the government as the Transparency International Malaysia (TI-M) president, he feels that he should be more than a mere armchair critic.
"Put it this way: I believe that he (Prime Minister Najib Abdul Razak) is trying his best to transform his government, and he has said in the past that he will look for the best talent. So I just respond...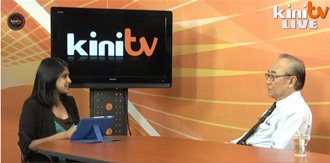 He was asked if his new job was tantamount to a 'critic buyout'. Previously, Penang Chief Minister Lim Guan Eng has put pressure on him to deliver, otherwise, it would prove that Low is merely a ' devotee ' to Najib.
"I believe that I shouldn't just be an armchair critic. If I criticise an institution or agency, and it sincerely approaches me to help out, then it is my duty to respond," he said.
Low was speaking in a live interview with KiniTV today, after which he was approached with further questions from Malaysiakini .
As the TI-M president, Low had voiced out on issues related to transparency, including questioning the tender process for the MRT project , and condemning Sarawak Chief Minister Abdul Taib Mahmud for saying that he won't cooperate with the Malaysian Anti-Corruption Commission's (MACC) investigation against his person.
He said that by taking on his new job, it shows that he is at least starting out somewhere in working against corruption, instead of merely talking about it.
"The measure of my success may be limited, but at least I'm trying," he said.
Low said when he became the TI-M president four years ago, his critics told him that he was fighting a losing battle because corruption is a "way of life'".
However, the scenario has since changed.
"The awareness of corruption is much higher now. People dare to talk about it.
"I mean in the whole (13th general) election, one of the key points is the corruption issue. It is a change there – the awareness and the intolerance of corruption."
Influence public policies
Responding to calls for a crackdown on corruption, however, he said has no power on the matter and does not control any government agencies.
In addition, he said the MACC is structured to be independent - reporting to the Parliament, an advisory body, and an oversight committee.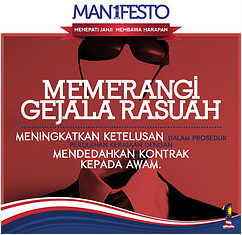 However, he said he will help influence public policies where necessary to reduce corruption, including taking suggestions from MACC.
"This country cannot grow unless its institutions grow in strength and in credibility.
"So my duty as a minister is to make sure that these institutions grow and have the capacity to perform the way that it should be.
Although some areas of his task is not yet finalised, he said his main task as a minister would be to reform the civil service's culture and processes to make it less prone to graft, including convincing his colleagues in the cabinet to join in.
"If we don't tackle corruption or put in good governance, I think we throw away our plan of a high-income economy," he said.
Related stories
Cabinet appointment not to silence me, says Paul Low
TI-M members question president's integrity
Shut up, Hindraf tells Mohan and Uthayakumar
Hunt on for Wahid's replacement at Maybank