S'WAK POLLS | LIVE BLOG DAY 7 Campaigning in Sarawak hits the halfway mark today, with only six more days to go before polling day.
Chief Minister Adenan Satem is bringing his charm to Miri today, following the footsteps of Prime Minister Najib Abdul Razak and Deputy Prime Minister Ahmad Zahid Hamidi.
Opposition leader Wan Azizah Wan Ismail has also made it into the land of the hornbills, and will be campaigning in various seats near and around Sibu.
Follow our LIVE BLOG as the Malaysiakini team in Sarawak brings you the news as it takes place.
---
11.00pm: Pujut, Miri - The DAP ceramah here is drawing a similarly large and enthusiastic crowd as its Sibu counterpart.
Numbering about 4,000 people, the crowd spills over the Jalan Boulevard Utama in front of the stage and occupy both sides of the road.

This also caused congestion on the otherwise lightly trafficked road, as curious drivers slow to gawk at the scene.
The speakers include the DAP candidates contesting in all three of Miri's state assembly seats, as well as personalities like Sabah assemblyperson Chan Foong Hin, DAP's mascot Ubah, and a Skype appearance of DAP publicity chief Tony Pua.
However, by far the most popular speaker is Pending DAP candidate Violet Yong, who takes a break from her own campaigning in Kuching to address the audience in Miri.
Crowds laugh and cheer as she lash out against BN in Hokkien and Chinese languages.
The emcee announces that around RM10,600 donation was collected.
10.45pm: Eastwood Golf Club, Miri - Sarawak Chief Minister Adenan Satem, who has a penchant for Elvis Presley songs, sees a resemblance between BN direct candidate for Pujut Hii King Chiong and the music icon.
"Hii's face is like Elvis," Adenan quips, laughing at his own joke.
He was referring to Hii's thick sideburns, which have become sort of a trademark look for the businessman.
On a more serious note, Adenan calls on the 4,500 strong crowd at the Pekida dinner he is at to throw their support behind Hii and Miri's two other BN candidates in Senadin and Piasau.
"The opposition has done nothing in the past five years. We've only gotten ash and smoke. All they do is complain," he says.
10.40pm: Batu Kitang, Kuching - The DAP ceramah crowd at 4 1/2 Mile grows to over 2,000 people with tomorrow being a public holiday.
DAP party workers distributes "Mana RM2.6 billion" placards as Sarawak DAP chief Chong Chieng Jen encourages those present to use them when the federal cabinet holds its meeting in Kuching on Wednesday.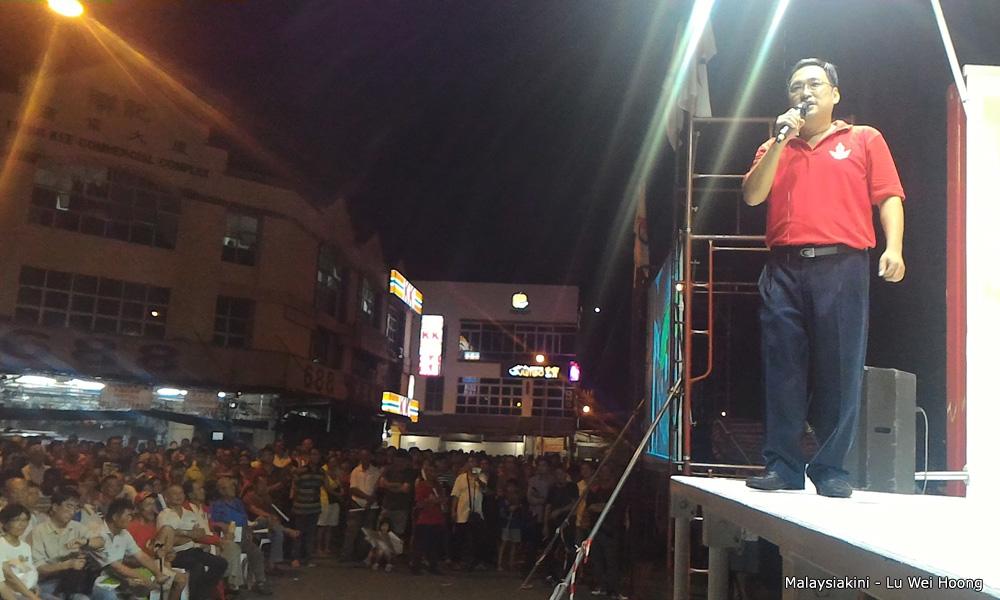 "If you are free (on Wednesday), please take the placard and walk around cabinet meeting venue.
"We want the Kuching public to show their concern on 2.6 billion issue," he adds.
Apart from Chong, DAP's Batu Kitang candidate Abdul Aziz Isa is appear to be among the popular speakers as both were greeted with raucous applause.
10.20pm: Pelawan, Sibu - DAP sees its largest ceramah crowd here since nomination day with more than 4,000 people turning up.
They wave "Tak Nak BN" and "Mana RM2.6 billion" placards to welcome DAP supremo Lim Kit Siang.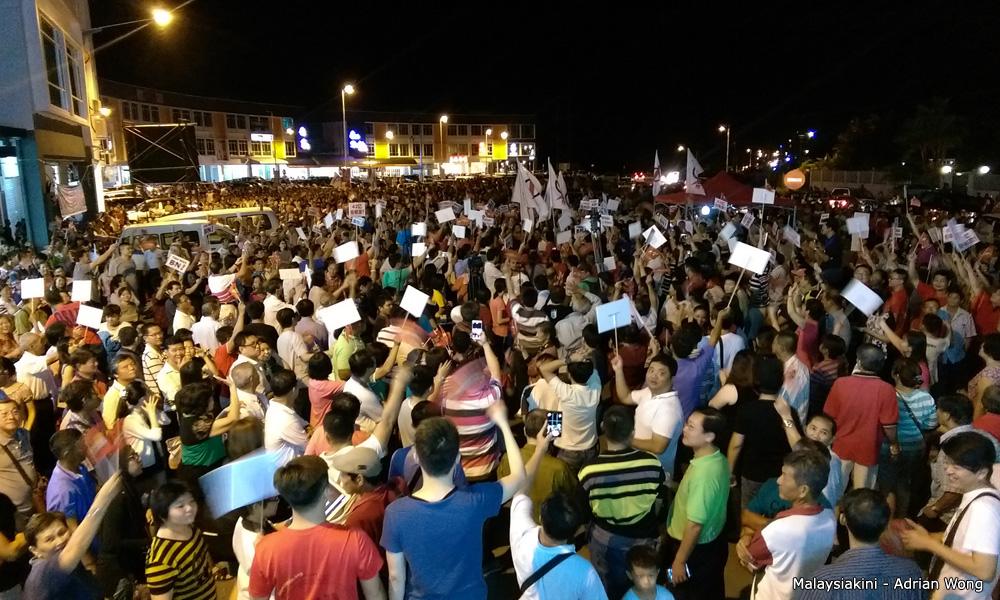 The surrounding roads are congested as traffic police maintain order.
DAP's Dudong candidate Yap energetically slams Sarawak Chief Minister Adenan Satem "bodoh" (stupid) for failing to understand technology.
He refers to the barring of national opposition leaders from the state even though they could still hold live stream remotely.
DAP ceramahs have got off on a slow start as crowd sizes have been smaller compared to the last state election but they appear to be picking up tonight.
This is likely further aided by the fact that tomorrow is a public holiday.
SUPP wants to 'Ubah' DAP
10pm: Kuching - SUPP president Sim Kui Hian finally takes the stage at the ceramah of 1,000 along Jalan Tun Jugah.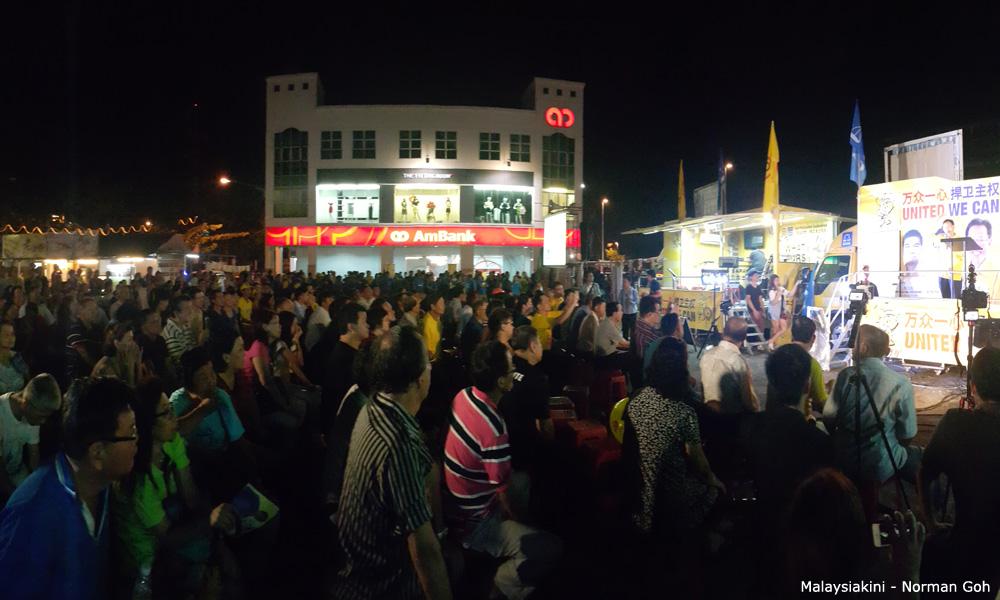 He borrows DAP's 'Ubah' slogan, urging voters to change in Batu Kawah where he is contesting against DAP's incumbent Christina Chiew.
"Come May 7 we 'Ubah'. Vote for BN. Vote for Sim Kui Hian," he says.
He says SUPP candidates are willing to step down after one term if they fail to deliver.
BN candidate plays the 'mother card'
9.30pm: Pelawan, Sibu - BN's direct candidate for Pelawan Janet Lau sings a Mandarin children song titled "Mother is the best in the world" at a ceramah of 300 here.
The emcee asks for the crowd to stand up and sing along with lyrics of the song projected onto a screen.
As they sang, some goes up to Lau to hug her.
In her speech, Lau asks voters for a Mother's Day gift which falls just a day after polling day on May 7.
BN candidate Janet Lau sings "mother is best in the world". Asks for a gift for mother's day, a day after polling. pic.twitter.com/IeZjRnleta

— malaysiakini.com (@malaysiakini) May 1, 2016
Subsequently, Lau's family goes up on stage and chanted "Mother Lau" and "be elected".
PKR turns away from ceramah, screens football
9.00pm: Kuching - Unlike DAP and SUPP's ceramahs, PKR is holding a rather different function here with the screening of a football match between Leicester City and Manchester United at Tabuan Heights.
Before the game started, PKR's candidate for Batu Lintang See Chee How addressed diners at Porkie's BBQ explains why he is holding such an event instead of ceramahs.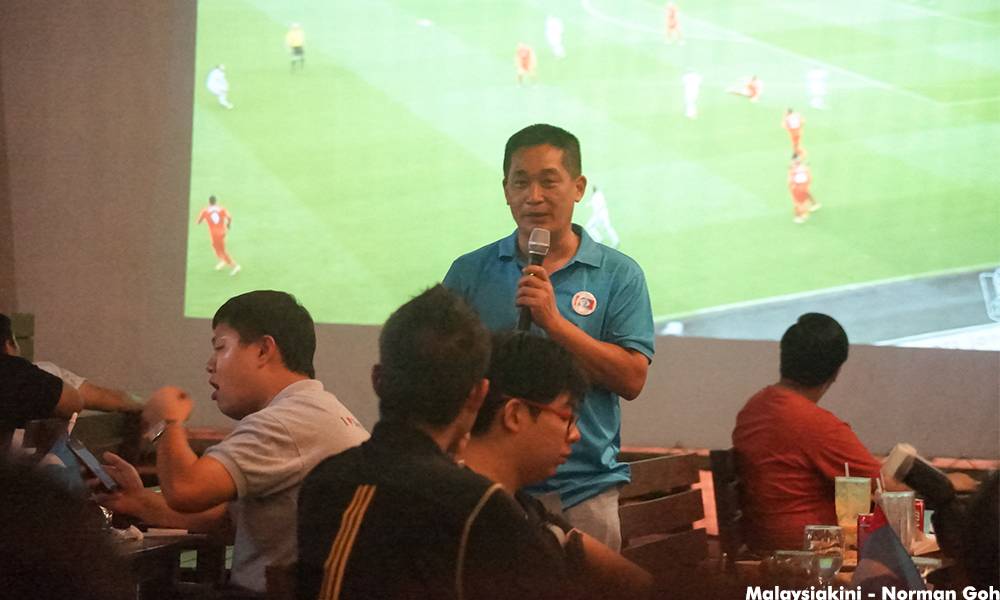 He says this campaign style is more positive and personal, adding that he wants to avoid personal attacks during ceramahs.
"We can make it into a session we can share," he says.
See likens the football to an institution similar to a government.
"For example in the state assembly and the government of Sarawak, there a lot of things that we can all do together for the to make it better,"
"Not just to depend on one chief minister, not just the opposition, but everybody - that includes you and I," he adds.
Strong showing for both DAP and SUPP
8.30pm: Kuching - Both DAP and SUPP's are attracting large crowds at their respective ceramahs which are around 7km apart.
SUPP's ceramah is taking place along Jalan Tun Jugah where some 1,000 people have assembled.
As for DAP, the party's ceramah is at 4 1/2 Mile where an equal number of 1,000 people have also gathered.
The top guns for both ceramahs have yet to arrive and grassroots leaders are taking the stage first with speeches.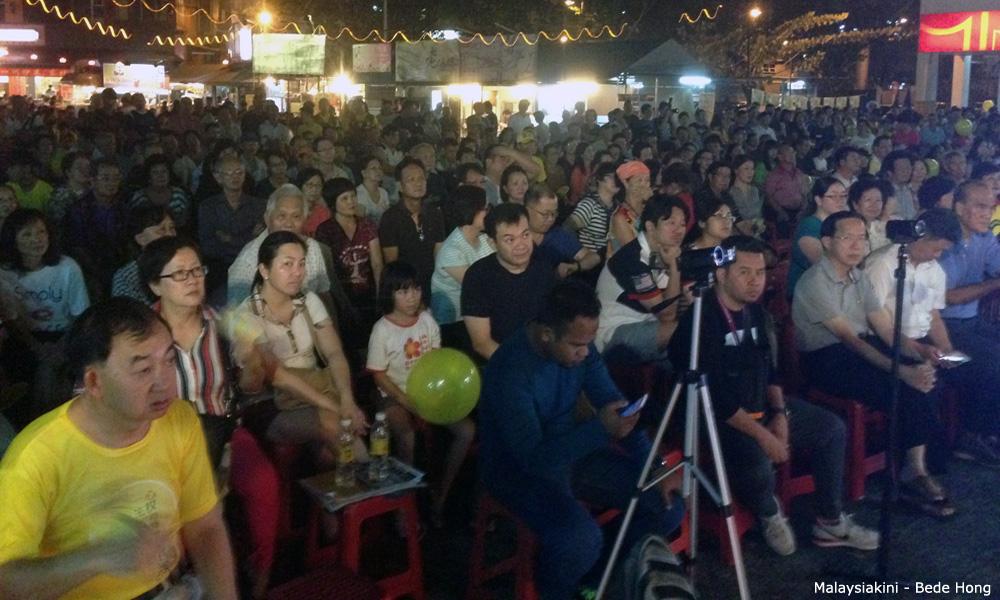 At SUPP's ceramah, its lawyer Michael Tiang takes aim at DAP, calling it a peninsula-based party.
"Only Sarawakians can be trusted to defend Sarawak's rights.
"They cry over their national leaders that have been barred. Can't they rely on local leaders here.
Peninsula people would not give you a chance. They won't give you jobs. You can only trust Sarawakians to provide for their own," he says.
The crowd includes SUPP members as well as other BN component parties.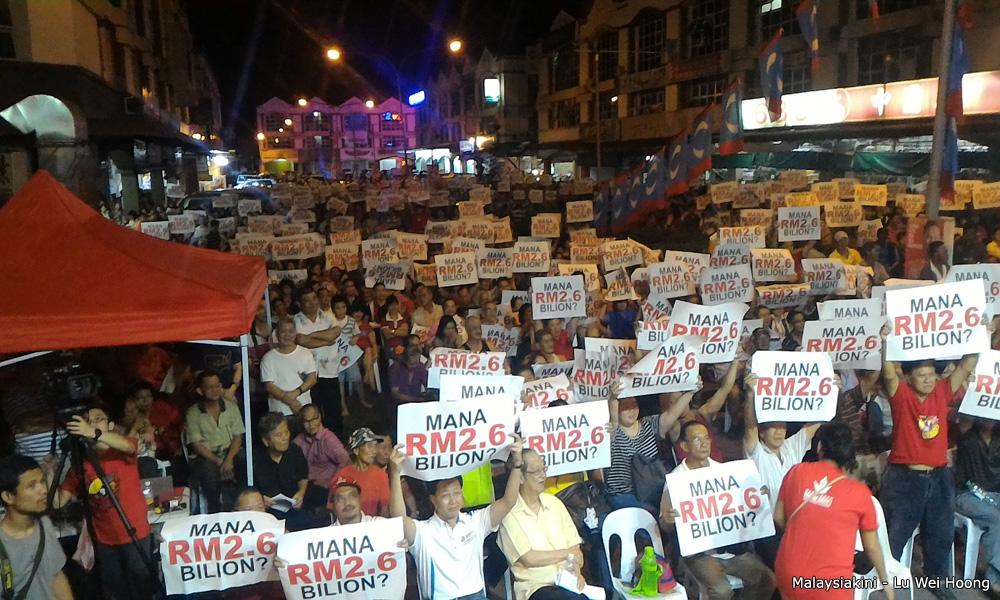 Incumbent DAP Batu Kawah assemblyperson Christina Chiew urged voters to throw their support behind Sarawak DAP chief Chong Chieng Jen, who is also the incumbent for Kota Sentosa.
Chong has had to spend time between his own constituency and also rural constituencies to help bolster other DAP candidates there.
"Chong is not here doesn't mean he didn't work but he has to travel around.
"I hope you all support us in our fight for the rural heartland while retaining urban seats," she says.
DAP workers also distribute "Where is RM2.6 billion" placards in reference to the deposits received by Prime Minister Najib Abdul Razak's as the crowd enthusiastically wave them.
Adenan pokes fun at own candidate
5pm: Miri - Sarawak Chief Minister Adenan Satem displays his humorous side with the electorate, poking fun at BN's Pujut candidate Hii King Chiong when talking about tackling the rising cost of living.
He noted that the ordinary voter is left very little after paying off their bills but this was not an issue for Hii who is a tycoon.
"Just left with RM200. Do we eat rocks?
"Hii can afford (to live after paying his bills) because he is a rich man.
"But the measures I am taking is for the poor people who can't afford it," he says to loud applause.
Among the measures he says, includes cutting ferry fare to just RM1.
"This will benefit small businesses not big businessman like Hii," he quips.
Hii was not present at the BN rally.
Rafizi: Adenan embarrasses Najib
4.30pm: Kuala Lumpur - PKR secretary-general Rafizi Ramli says the Sarawak government's agreement to allow him into the state for five days after promising to only bash Najib Abdul Razak on the state election campaign trail is an embarrassment to the prime minister.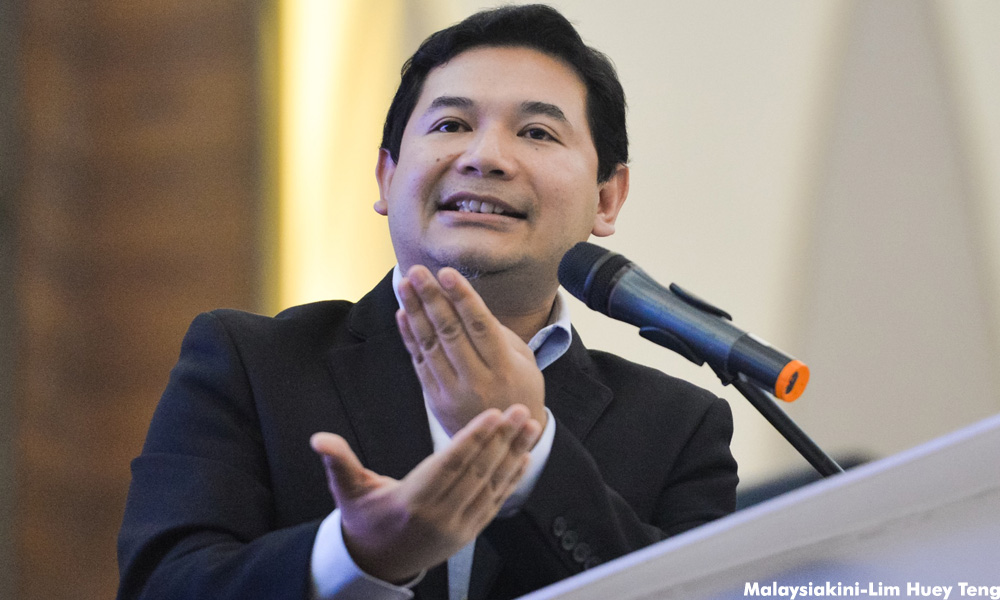 "The letter I sent to Sarawak Chief Minister Adenan Satem had a satirical and joking tone as a dig at Najib.
"I believe that BN Sarawak's support for him is not honest and if there is a slight shift of dynamics in Umno, Sarawak BN will abandon Najib.
"The letter was to test whether Adenan would publicly state that he doesn't care if Najib is criticised as long as it is not directed at Sarawak BN," he says in a statement today.
Rafizi also denies bowing to Adenan by writing to him, stressing that while he disagreed with the chief minister's abuse of immigration powers, he respects Sarawak's autonomy.
Rafizi says he cannot fly to Sarawak yet as he has a court case to attend and will only go on May 5 if he is unable to defer the case.
However, opposition leaders allowed into the state have been instructed to leave before May 5.
Why have Chinese ministers if all 'yes men', rebuts Sibu DAP
2.30pm: Sibu - DAP election director for Sibu Oscar Ling Chai Yew has urged voters to reject "Yes man" Chinese state ministers who only know how to follow majority party PBB's orders.
This is after incumbent Chief Minister Adenan Satem, at SJK(C) Tai Kwang's 85th anniversary dinner last night asked voters to choose between DAP and Chinese ministers in the state cabinet.
"I thought Adenan is a CM for all?" Ling, who is also Sibu MP, tells the reporter after a kopitiam talk in Sibu.
"PPB is the boss among its coalition members. Even if Chinese become ministers, they will obey Adenan and be a 'yes man'……we don't need 'yes men'," he says.
He also slams Adenan for using the school as a political platform to gain votes.
"The Education Ministry should take action. We will discuss if we want to lodge a report to the Election Commission," he says.
Deputy minister warns of mutual hate
2pm: Sibu - Deputy Education Minister Chong Sin Woon suggests that voting for DAP will tear apart society as it will lead to a situation of mutual hate between the Chinese community and government.
"In the past eight years, our society was torn apart - Chinese hates the government, the government hates the Chinese. Is this necessary?" he says.
"We are not a single ethnic community, we are a patriotic and harmonious community.
"Do not let the political situation (where) every Chinese opposes the government (to continue), this is fruitless," he adds.
He says this when campaigning for BN direct candidate in Dudong Tiong Thai King and Pelawan candidate Janet Lau.
He advises the local Chinese to participate in government instead of criticising it.
A single ethnic opposing government will never make a change in the government, he says, thus the community should not be taken in by DAP's slogan.
Citing DAP as example, he claims the opposition party, which grabbed over 30 parliament seats in the general election, failed to bring a better life for the Chinese community.
"This is a state election, don't let this party - DAP - from Peninsular to influence you,".he says.
"If you talk about Najib, 1MDB and Penang, it has nothing to do with us now," he adds.
Ordinary PM, extraordinary donation, sings DAP Pelawan
1.30pm: Pelawan, Sibu - The banner war continues between DAP and BN with the former poking fun on the ruling party's banner slogan, as discovered by Malaysiakini.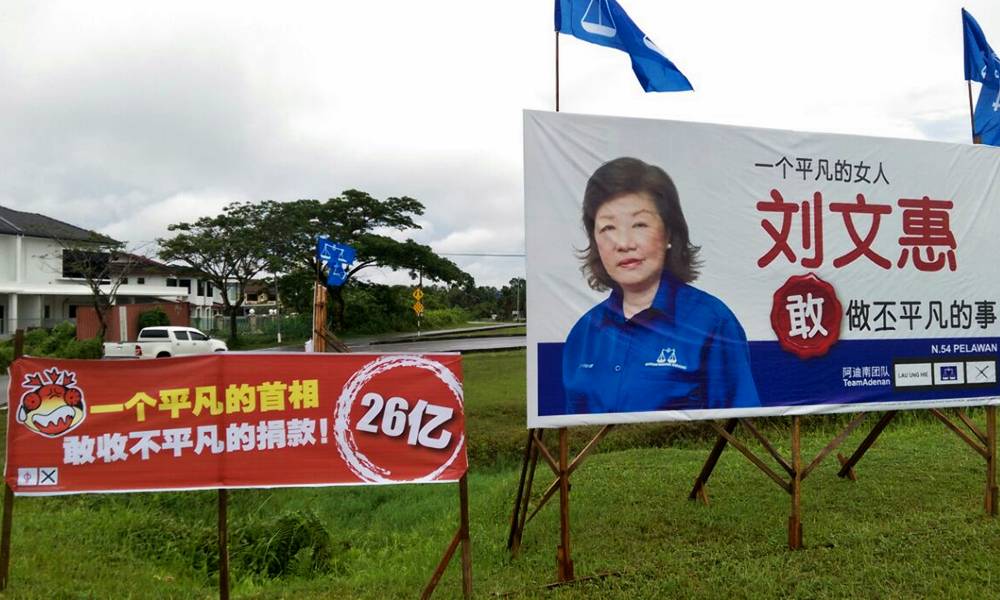 The BN billboard in Mandarin promotes Pelawan candidate Janet Lau as an ordinary woman who dares to do the extraordinary.
Next to it, DAP has planted a wry retort in Mandarin, slamming "an ordinary prime minister who dares to receive donations" along with the figure RM2.6 billion.
The reference to the amount which had been exposed to have been transferred in to Najib's personal accounts has been a regular feature of DAP's campaign.
BN Batu Lintang decries fake SMS Adenan paid ransom
12pm: Kuching - Incumbent Batu Lintang assemblyperson See Chee How denies the party had sent out text messages that Chief Minister Adenan Satem has paid the ransom for four Sarawakian kidnap victims.
"We believe our party volunteer's phone number was hacked," says See.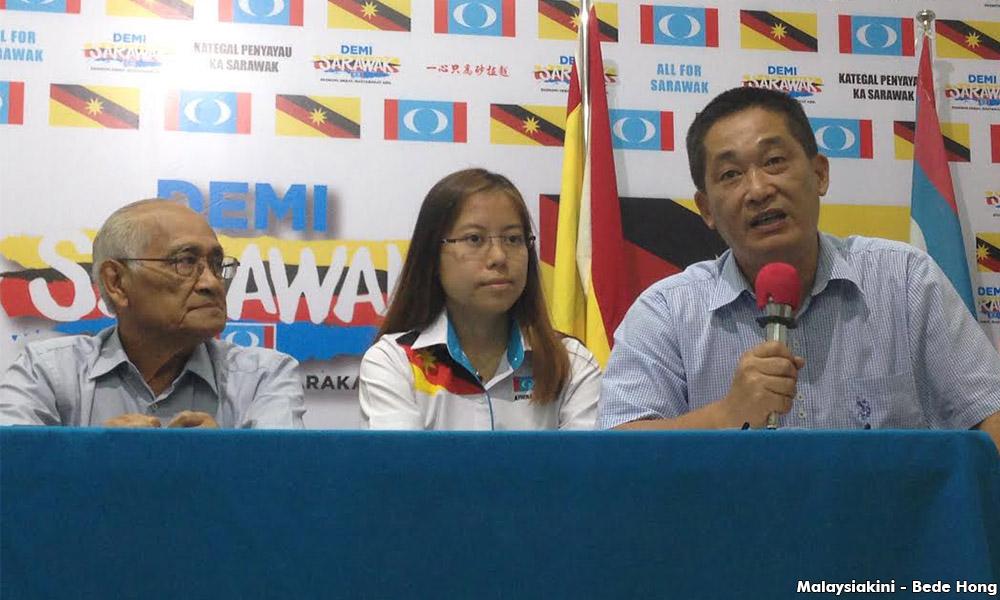 The four Sarawakians were abducted by gunmen off Semporna, Sabah earlier this month.
They are believed to be held captive by the Abu Sayyaf terror group in the southern Philippine island of Jolo.
Party volunteer Liza Bong lodged a police report last night saying her phone was "hacked or manipulated in some way" to send out messages.
Bong claims she had received calls from strangers confirming Adenan was making the payments.
Borneo Post hardsells Adenan with 57-page special
12pm: Miri - The Borneo Post's Sunday edition is extra thick today, thanks to a 57-page special supplement hardselling Adenan's administration titled 'Man on Mission'.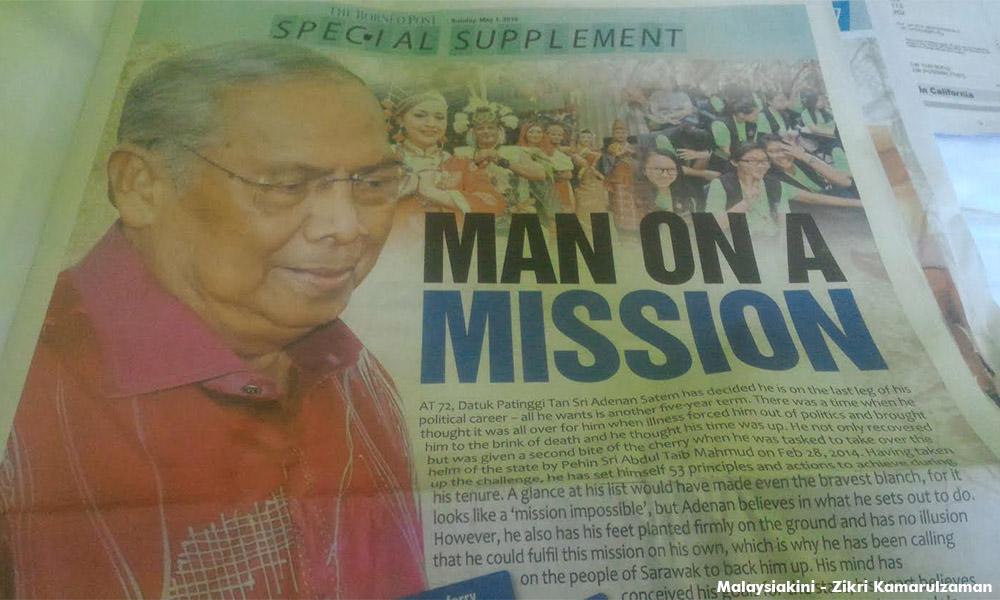 The special spread details the incumbent Sarawak BN government's plans for the state, and individual constituencies such as Marudi, Kota Samarahan and Lubok Antu.
It also includes an appeal by The Borneo Post managing editor Francis Chan for Sarawakians to "give Adenan a chance."
"For what he has done and plans to do, this man - who has 'gone where the brave dare not go' in his quest to bring a better tomorrow for the people - deserves to be given that chance," Chan writes.
Azmin remains adamant, won't write in
11am: Kuala Lumpur - Selangor menteri besar Azmin Ali today repeats he will proceed to try to re-enter Sarawak on May 4 without writing an appeal letter as requested by incumbent chief minister Adenan Satem.
Adenan has been flexing Sarawak's autonomous Immigration powers to bar opposition leaders and activists from entering the state, but has offered to consider applications to enter.
BN Piasau calls on deity to help clinch a win
9.30am: Miri - BN Piasau candidate Sebastian Ting undergoes a traditional Iban ceremony to up his chances of a victory.
The miring ceremony, performed in the Kampung Api-Api hall decked out in BN and SUPP colours, calls on Iban deity Keling to give Ting his blessings.
A pig and a rooster is sacrificed as part of the ceremony.
Ting will be facing DAP incumbent Alan Ling in a straight fight next Saturday.
BN Piasau nominee Sebastian Ting undergoes a traditional Iban ceremony to secure his victory on May 7 @malaysiakini pic.twitter.com/0wj4lmWVLz

— Zikri Kamarulzaman (@zikri) 1 May 2016