The 48th San Francisco International Film Festival (April 21 - May 5) will present a variety of narrative and documentary shorts and features from eight Asian countries representing the region's multicultural, political and religious identity and its burgeoning independent film scene. These films include a strong list of premieres, award winners and nominees.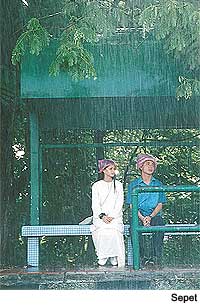 The distinct lineup from Malaysia's inaugural presence in the gestival includes two films reflecting the intermingling of cultures between the country's Chinese, Indian and Malay ethnicities: Princess of Mount Ledang (Saw Teong Hin), Malaysia's first Foreign Language Oscar submission, is a Malay-language period epic of struggle between kingdoms and the romance between a Malaccan general and a Javanese princess and Sepet (Yasmin Ahmad) deals with controversial cross-cultural relationships through a bittersweet love story of a Chinese boy and a Malay girl; it is already a success in Malaysia, though some of its content was censored.
The cutting edge of new Malaysian independent cinema is represented by Amir Muhammad's documentaries: Tokyo Magic Hour , an intimate gay love letter in the form of an experimental film and The Year of Living Vicariously , documenting the making of Riri Reza's political epic ( Gie, 2005 ) against the backdrop of Indonesia's first democratic presidential election.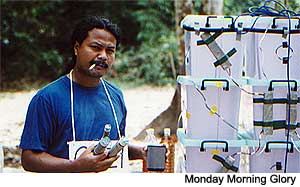 Other selections include Malaysia's first Tamil film about a girl's struggle to have the opportunity for a college education, The Gravel Road (Deepak Kumaran Menon), and the world premiere of Monday Morning Glory (Woo Ming Jin), offering an offbeat indie approach to a movie about terrorists and the pursuing authorities.
On Sunday, May 1, the panel 'Malaysian Cinema: A New Independence' will explore the emergence and features of the new Malaysian cinema with some of its key filmmakers attending the festival.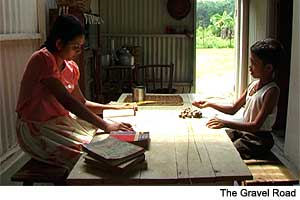 Other films from Asia will be shown too. Indonesia is represented by Garin Nugroho's Of Love and Eggs . Leonard Retel Helmrich's Share of the Moon (Netherlands), winner of the 2005 Sundance Film Festival World Cinema Documentary Grand Jury Prize, documents an Indonesian family navigating their country's myriad partitions between urban and rural, Muslim and Christian, old world and new.
Films from Japan, Thailand, India, Pakistan and South Korea will be shown too. Watch out for Black Friday (Anurag Kashyap), an epic portrayal of the complex politics and religious strife behind the Bombay terrorist bombings in 1993 and Chokher Bali: A Passion Play (Rituparno Ghosh), a melodrama about a turn-of-the-century Bengali widow that serves as a political allegory for the country while exploring the shifting eternal triangles of four young friends. Death in a Garden , a short film from Pakistan promises to be thought provoking and a visual feast.
The 48th San Francisco International Film Festival runs at the AMC Kabuki 8 Theatres, the Home of the Festival, the Castro Theatre, the Palace of Fine Arts, Kanbar Hall at the Jewish Community Center and the Cowell Theater at Fort Mason Center in San Francisco; the Pacific Film Archive Theater in Berkeley; and Landmark's Aquarius Theatre in Palo Alto.
Tickets for San Francisco Film Society members will be available on March 29 and for the general public on April 5. For up-to-date festival information log on to www.sffs.org or call (001) 415.561.5000.
The festival is presented by the San Francisco Film Society, a non-profit arts and educational organization dedicated to celebrating international film and the moving image.