Umno is hoping that the Electoral Commission's redelineation exercise will result in the end of Parti Pribumi Bersatu Malaysia president Muhyiddin Yassin's career, Pakatan Harapan claims.
Harapan Johor leaders Liew Chin Tong of DAP, Mohd Khuzzan Abu Bakar of PKR and Aminolhuda Hassan of Amanah cited as proof the proposed 22.24 percent decrease of voters in Muhyiddin's parliamentary seat of Pagoh, from 46,793 voters in 2013, to 36,387 voters.
"The redelineation of Pagoh is politically-motivated. It is understood that Pagoh has around 20,000 Umno members.
"By reducing the number of voters in this constituency, Umno is hoping that Muhyiddin's political career will end in this (13th) Parliament," Liew, Mohd Khuzzan and Aminolhuda said in a joint statement today.
They highlighted how Pagoh, as a parliamentary seat, has less voters than 14 state seats in Johor, such as Johor Jaya, which has 59,041 voters, and Perling, which has 55,810 voters.
Meanwhile, they said DAP parliamentary leader Lim Kit Siang's seat Gelang Patah will become the largest Parliament seat in the state with 112,081 voters.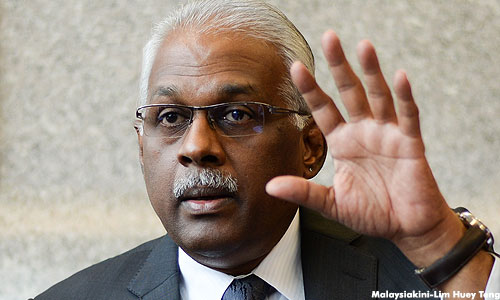 Liew, Mohd Khuzzan and Aminolhuda said the redelineation exercise is clearly meant to keep BN in power, and they urged the people of Johor to object to the proposal.
Klang MP Charles Santiago (photo) echoed this sentiment.
"It's as if the EC is working overtime to ensure a win for Prime Minister Najib Abdul Razak and his coalition," Charles said in a statement today.
However, he is sceptical that objecting to the redelineation proposal would result in anything.
"The commission has announced that it would listen to feedback from the public and elected representatives, including the town councils.
"But we all know that this exercise won't amount to much. As such, the EC must scrap this ridiculous suggestion, or by default, agree that it's doing the bidding for Najib and his government," Charles said.
Najib is widely speculated to be mulling a snap 14th general election soon, with Bloomberg reporting that it may be held next March.