Prime Minister Muhyiddin Yassin says he had not desired to get the top post.
"I only stepped forward to save the situation when both candidates for prime minister did not get majority support from the Dewan Rakyat," Muhyiddin (above) said in a televised address to the nation tonight.
The Pagoh MP was sworn in yesterday as the head of a new Bersatu-BN-PAS coalition dubbed Perikatan Nasional. He is also being supported as prime minister by Sarawak's GPS coalition.
Dr Mahathir Mohamad had blamed Muhyiddin for the political tumult which erupted last week, claiming the latter used Anwar Ibrahim to manufacture a crisis.
In his speech tonight, however, Muhyiddin said it was Mahathir who triggered the crisis by resigning as prime minister.
Mahathir had said he had done this as he refused to work with Umno en bloc, compared to Muhyiddin.
The prime minister said at the onset of the crisis Bersatu had fully backed Mahathir, but the latter failed to get majority support, as announced by Istana Negara last Thursday.
After that, he said, the King then invited party leaders to nominate a different candidate for prime minister, after which MPs from Bersatu and other parties floated his name.
"What choice did I have? To continue supporting Mahathir who did not have majority support, or to accept the candidacy as prime minister.
"If I kept supporting Mahathir, this political crisis would be prolonged and Parliament might be dissolved," he said.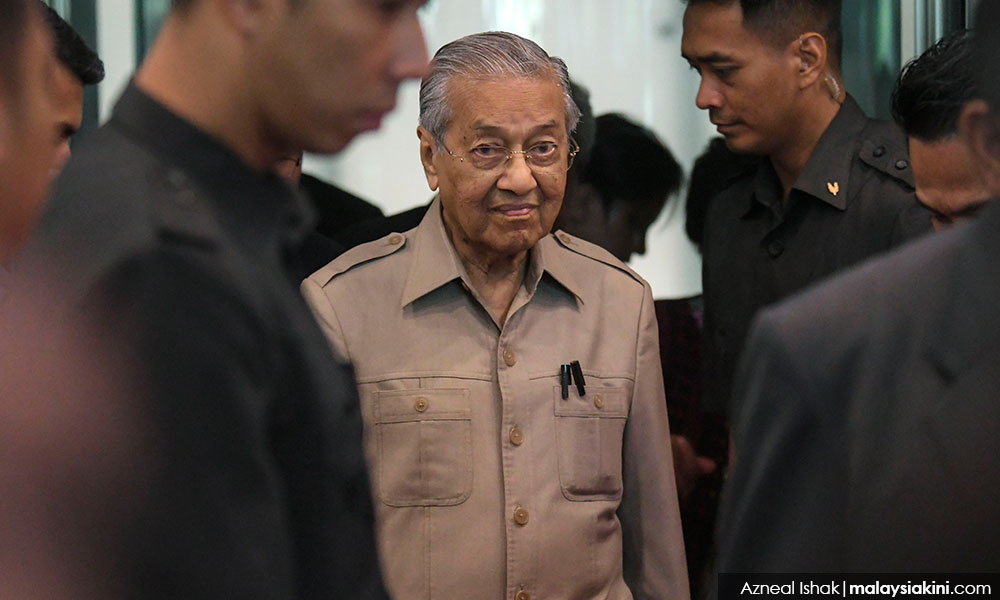 Muhyiddin said he subsequently met Mahathir (above) and asked for the latter's support. The meeting he said, was witnessed by two party leaders.
During the meeting, he claimed Mahathir agreed to make way for him if he got majority support.
"And with that, I accepted my candidacy as prime minister," he said.
Muhyiddin said that he is aware many are angry at him and have labelled him a traitor.
"Listen carefully, I am not a traitor. My intentions are clear, I am here to save the country from a continued crisis," he said.
Muhyiddin thanked Mahathir for his service to the country.
Last week, Muhyiddin led the bulk of Bersatu MPs away from Mahathir to ally with MPs from Umno, PAS, GPS and several smaller parties.
The exact number of MPs loyal to Muhyiddin and Mahathir is uncertain due to shifting loyalties but both claim to have the majority.
The prime minister's support will only be tested when Parliament reconvenes.