A day after one of its cyclists was briefly detained by the police in Kedah, the 'Ride for change' campaign team hit another snag today when the lorry transporting their bicycles across the Penang bridge was stopped.
According to Choo Choon Kai, the event's northern region coordinator, the police stopped the lorry carrying 50 bicycles after it had crossed the bridge in Teluk Kumbar and escorted the lorry to the police station.
However, the lorry and the bicycles were released at 6pm - three hours after they were seized.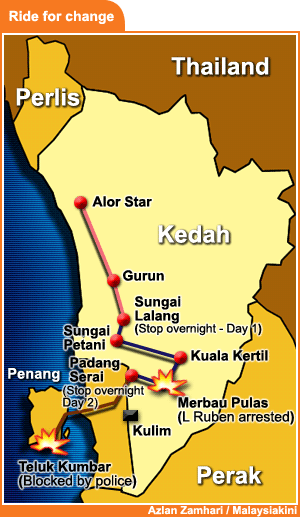 Today marks the third day of the 16-day tour from Alor Star to Kuala Lumpur involving a group of 50 activists organised by grassroots coalition Jaringan Rakyat Tertindas (Jerit).
Choo said none of the riders were arrested unlike yesterday when cyclist L Ruben was detained by the police for distributing leaflets in Kedah. He was released hours later after a statement was recorded by the police.
According to Jerit's Y Kohila, the Penang special branch chief had assured the cyclists that they would be allowed to resume their journey tomorrow.
The police had also promised to provide an escort to the riders who are scheduled to meet with Chief Minister Lim Guan Eng in Komtar where the state government's offices are housed.
Kohila added that the team will leave Penang on Sunday and proceed to Bagan Serai in Perak.
The riders kicked off their first leg of the tour in Alor Star on Monday and subsequently cycled to the village of Merbau Pulas in Kulim yesterday, where Ruben was arrested.
The campaign is Jerit's attempt to raise awareness on issues such as food shortages, environmental problems, draconian laws and the current financial crisis.
Another team to cycle from Johor
Meanwhile, another team of cyclists from Skudai in Johor delivered a memorandum to Mentri Besar Abdul Gani Othman today on the eve of their journey to Kuala Lumpur from the southern state.
According to Nyam Kee Han, the campaign's southern region coordinator, Abdul Ghani's political secretary was at hand to receive the memorandum from some 30 supporters who had gathered at the Sultan Ibrahim building this morning.
Another team of 50 cyclists who were to start from Kota Bahru in Kelantan had to abandon the trip due to the heavy monsoon rains and flooding.
Both the Alor Star and Skudai teams plan to reach Kuala Lumpur next Thursday and converge at the Parliament building.
The group will then hand over their memorandum of demands to Prime Minister Abdullah Ahmad Badawi and Opposition Leader Anwar Ibrahim.
Jerit coordinator Kohila explained at the launch of the event last week the cycling campaign was inspired by Bukit Asahan estate workers in Malacca who marched 150km to Kuala Lumpur in the 1970s to meet the then prime minister to resolve their problems.