Words like artificial intelligence, computer coding and robotics may sound alien to some but for many millennials, it is simply the way the world is heading towards. Virtual assistants like ALEXA, SIRI and BIXBY are very much a part the world our youth occupy and invariably, in our own lives too. Imagine being able to develop enhanced versions of such or other robotics that may change the way we live for the better.
As such, the Orbix Education Group is pleased to be opening a new school at Pier8 in Gravit8, which will start its inaugural term in January 2021.
Orbix Education, a subsidiary of Abric Berhad currently runs two other schools in West Malaysia namely in Muar and Batu Pahat. A pioneer in the education industry in Malaysia, the Orbix schools not only incorporate the Cambridge and Fieldwork Education (UK) curriculum with the National curriculum, but will also be incorporating the following studies in their curriculum. The Orbix International School, Muar will focus on developing business-minded students and will be known as the 'School of Entrepreneurship'. Its Batu Pahat school will be known as the 'School of Adventure Sports and Nature' and the upcoming Klang school will be known as the 'School of Artificial Intelligence (AI) and Robotics'.
The Orbix International School, Muar started last year and just last month, Orbix Education merged with the United International School, Batu Pahat of the Nobel Group of Schools. Its name-change to Orbix International School, Batu Pahat will take place once the school gets the approval from the Ministry of Education.
This new campus at Pier8 @ Gravit8 will be the 3rd Orbix International school to be opened by Orbix Education and will also be the flagship 'School of Artificial Intelligence (AI) and Robotics'. As forward-thinking educators, Orbix and Mitraland is responsible to ensure that our students should be prepared to fit into the new norms of the future especially as we move towards the Fourth Industrial Revolution and its emphasis towards technology. Taking this into consideration, Orbix Education will also be partnering with a large AI based technology company in China, namely IFLYTEK to introduce the first in the country and possibly in the region, an AI syllabus for students aged 6 to 18 years. This comprehensive syllabus will cover areas on coding, machine learning, robotics and big data.
This curriculum will also run concurrently with its core curriculum of Cambridge IGCSE & Fieldwork Education (UK). The AI curriculum is designed in such a way that students are introduced to AI from a young age through games before getting them to design and create at the secondary levels. Orbix Education plans to introduce this AI syllabus in all schools in stages.
Mitraland Group's Chairman, Dato Johan Ariffin said "We are very pleased to have Orbix set up campus within Pier8. This is a significant milestone for us and the surrounding communities. Not only is Orbix a bi-lingual (English and Mandarin) school that offers a comprehensive and holistic curriculum, exposure to AI and robotics is bound to spark curiosity and so applying them in their education syllabus can be an incredibly powerful learning tool".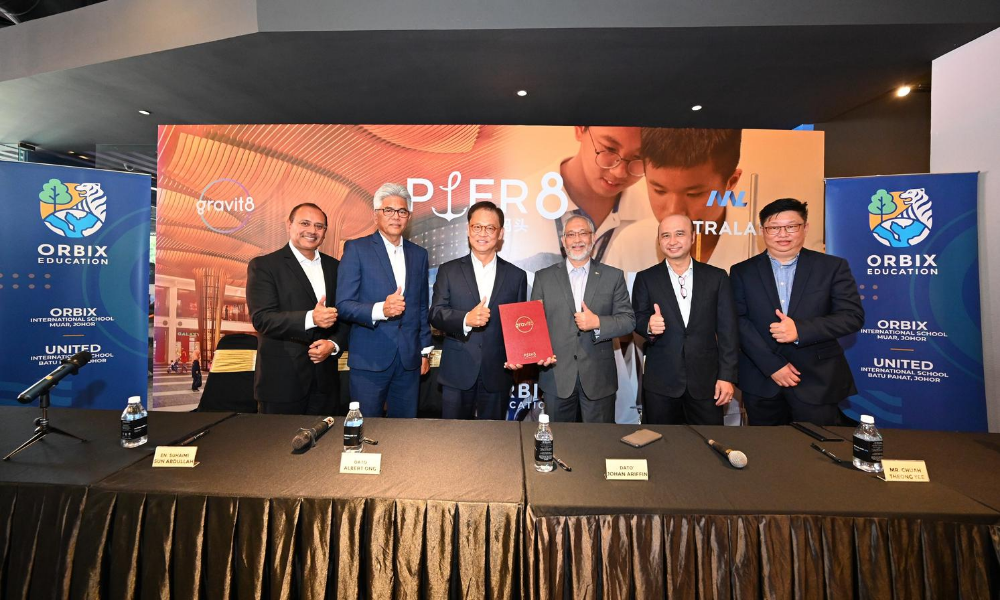 Mr Chuah Theong Yee, Deputy Executive Director of Mitraland also shared that Pier8 retail mall has a total net lettable area of 150,000 sq ft. and offers 700+ car parking space. The mall is part of the integrated development of Gravit8, a 23-acre freehold mixed-use development in Klang South. It also combines residential components and family-friendly facilities like the 8 -acre Lakepark. Gravit8 is a community-driven hub, designed with communities in mind whilst offering a bustling and modern lifestyle.
To quote Dato Albert Ong, Chairman / CEO of Abric Berhad & Orbix Education, "Global Education, Exceptional Experience" sums up Orbix Education's philosophy in education. As educators, we are responsible to ensure that our children are prepared to face the future with confidence, knowledge and courage. We believe in collaborating with Mitraland at Pier8 to provide the ideal conduit of bridging quality education to the community."
The name Orbix is derived from the Latin word orbis, referring to the earth or the world and chosen to reflect the global education that its students receive.
Orbix Education will strive to combine the best of international education from the West with the academic rigour and structure from the East. In an increasingly interconnected world, they hope that their educational programme can help students to develop a globalised worldview whilst embracing Asian customs and values. It holds firm to its belief and responsibility to equip its students with the skills to thrive in the future where learning does not stop. Although academic achievements will be the primary focus, they will also look into developing the skills of their students through co-curricular activities such as sports, performing arts and community service with much emphasis on character building and education with the hope that their students will become educated, responsible and respectful citizens.