In Malaysia, an overwhelming 98.5% of the business establishments are small and medium enterprises (SMEs). Despite being the backbone of the country's business environment, most SMEs are still less aware that through the usage of data, they can enhance more sales and be more competitive in the market.
Many small businesses are hesitant in utilizing data in business decision making as they believe it would be expensive. Another common barrier is the resistance to change operationally and limited knowledge on data adoption. But don't worry because MDEC is here to guide and address your concerns in pursuing a data driven approach!
What is Data Driven?
When a company employs a "data-driven" approach, it means that it is making strategic decisions based on data analysis and interpretation.
A data-driven approach allows businesses to review and organise their data in order to better serve their clients and consumers. For example, by leveraging data to drive their actions, businesses can contextualise and personalise their messaging to their prospects and customers for a more customer-centric approach.
How Malaysian SMEs get value from data?
Better Business Optimisation
With any SME business process that generates data (for example, optimising stock, customer ordering systems, discovering market trends), they can utilize data to make improvements and generate efficiencies. In return, businesses can gain real-time visibility into their operations and look for ways to create new sources of growth.
Target the right customers
If you're a SME owner, you need to pay attention to what your client base looks like. That means understanding your customers — where they shop, what they buy, how much they spend, and who your most profitable customers are. This information is particularly useful in determining how you market to your clients. Adopting data in your business will assist in making the correct marketing decisions specifically tailored to this stage.
Increase Revenue
Do you know data such as financial and customer data can increase your business revenue in various ways? The analytics that it provides will give you the confidence you need to launch a new product or diversify your business, and this could prove lucrative.
SMEs and other business enterprises can make better data driven decisions they need to get ahead of their competition and increase their profitability. To guide businesses to get a better grasp and take charge of the value of data, MDEC brought the Data Driven Enterprise (DDE) Programme to life!
Data Driven Enterprise (DDE) Programme can provide assistance
MDEC's DDE Programme aims to provide an organised and expedited strategy in assisting business enterprises to prepare businesses for better data driven business decisions.
The infographic below gives a visual guide on how to assist SMEs and business enterprises to embark on a data driven journey.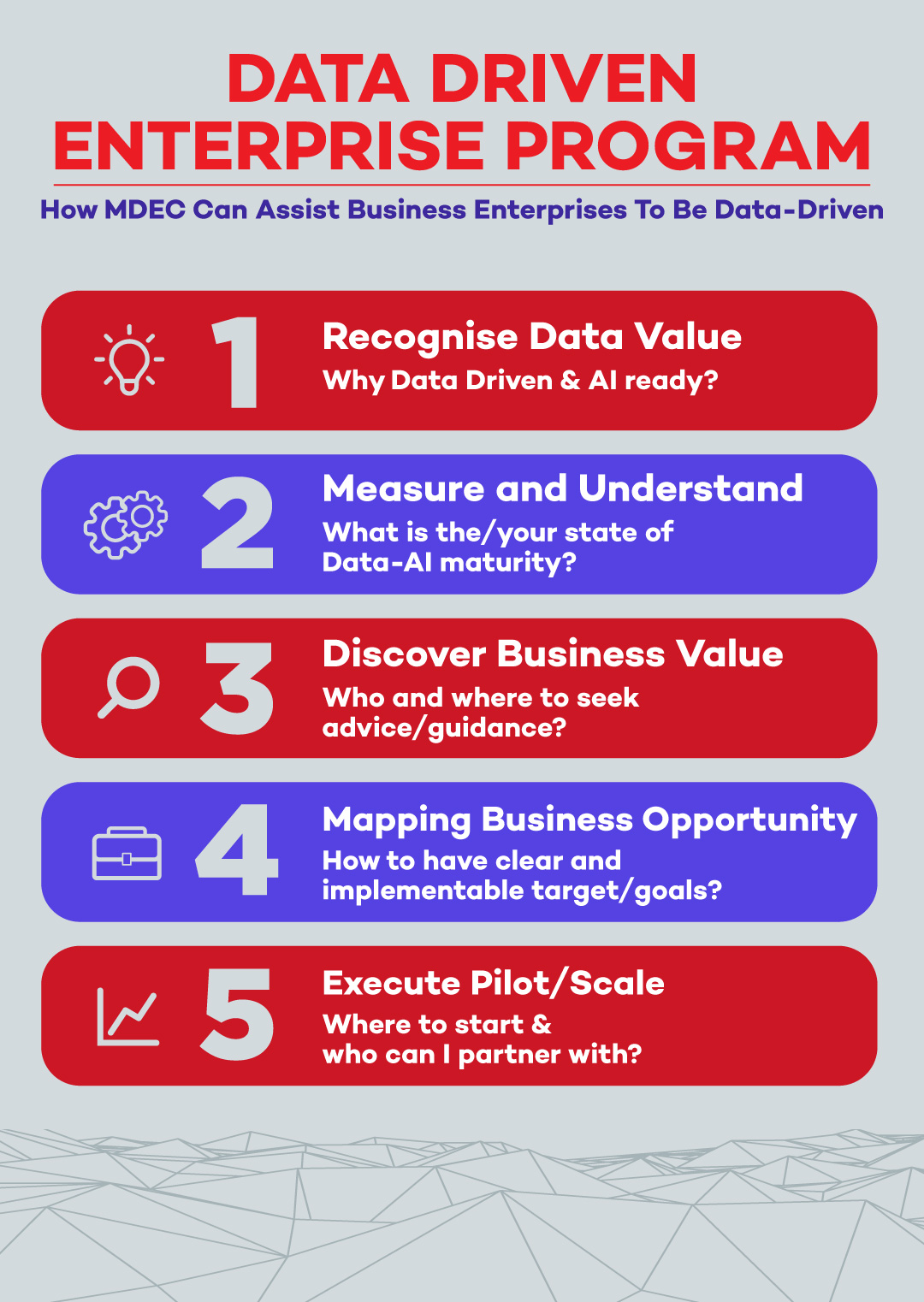 MDEC's DDE Programme offers:
Data knowledge workshops/webinars with nearly 60 data technology providers in the industry.

A complimentary data assessment to outline your business's data-driven readiness.

2 hours of complimentary consultation sessions with MDEC's data & analytics experts.

Access to training, upskilling and talent facilitation, case studies, solution-sharing and references from industry experts.

Business facilitation, matching your business needs with MDEC's Data Technology Providers.
There are so many industries that can leverage the DDE Programme such as manufacturing, transportation, education, utilities, insurance and the list goes on! This programme demonstrates how even minor data-driven insights can yield significant benefits in the way an organisation works.
Complimentary Data, Analytics and Artificial Intelligence (DAAI) Readiness Assessment
There are many local businesses in Malaysia that are unsure in adopting data in their respective businesses. Therefore, MDEC has launched the complimentary Data, Analytics and Artificial Intelligence (DAAI) Readiness Assessment that would gauge the business readiness of companies in data adoption and preparing for a future of intelligence.
Some of Malaysia's leading industry associations such as the National Tech Association of Malaysia (PIKOM), Malaysian Institute of Accountants (MIA), Institute of Corporate Directors Malaysia (ICDM) and Malaysian Alliance of Corporate Directors (MACD) have also welcomed the DAAI assessment as it enable their members to understand their data driven maturity and readiness in their respective companies.
The DAAI assessment has 6 dimensions which comprises Organization (where changes start), People (where changes receive support), Process (where changes are enforced), Technology (where changes are facilitated by leveraging technologies), Data (where changes are fueled) and Used Case (where changes are made real).
After completing the assessment, business enterprises will then receive a complimentary personalised report to help them be on their way to becoming a data driven enterprise!
To compete with other brands and businesses in the market, SMEs need to adopt a data-driven approach to grow their business. Only then can they keep up with the competition and take their business to the next level. Do you aspire for your business to make data-driven decisions? Through the Data Driven Enterprise Program, now you can! For more information on the MDEC's Data Driven Enterprise Program, do visit here. You can also discover your business potential in just 20 minutes by taking the DAAI Assessment here!