Youths are often referred to as our "future leaders" and are seen as the key in building a better and stronger nation.
However, they are often criticised by certain members of society whenever they try to express themselves. From being called too immature to vote in elections, to being patronised when they speak up on issues that matter, this generation of Malaysians have had to deal with all sorts of ageist remarks and pushbacks.
Well, it's time we break these misconceptions, and truly embrace the voices of our youth as they rise to their rightful place as our leaders. Next year, Taylor's College and the Malaysian Institute for Debate and Public Speaking (MIDP) will be organising Youth PACT 2022 (Youth Partnership in Action to Change Tomorrow).
They are calling out to all Malaysian youth to partake in this intellectual discourse surrounding the national issues of leadership, policy, social justice and politics.
This event will be in the form of an online festival, featuring a series of constructive discussions amongst youth on critical human rights and social justice issues of their generation. This includes youth manifesto and mentorship sessions, forum and capacity building workshops.
According to Emellia Shariff, CEO of MIDP, Youth PACT will not only showcase our youth's perspectives on national issues but also would debunk the myth that the younger generation are uninterested or incapable of providing meaningful contribution to discussions across the political, economic and social spectrum."Youth PACT will enable youth to learn, engage, discuss and develop solutions to create societal impact," said Taylor's College Campus Director, Josephine Tan.The event will feature up to 15 youth organisations who are working diligently to raise awareness and educate Malaysians on a wide range of issues, including education equity, climate justice, gender equality, youth employability, and the rights of people with disabilities, among others.
Here are the activities happening at Youth PACT 2022 that you don't want to miss!
Activity 1: Let's Take Into Account the Aspirations of the Youth Leaders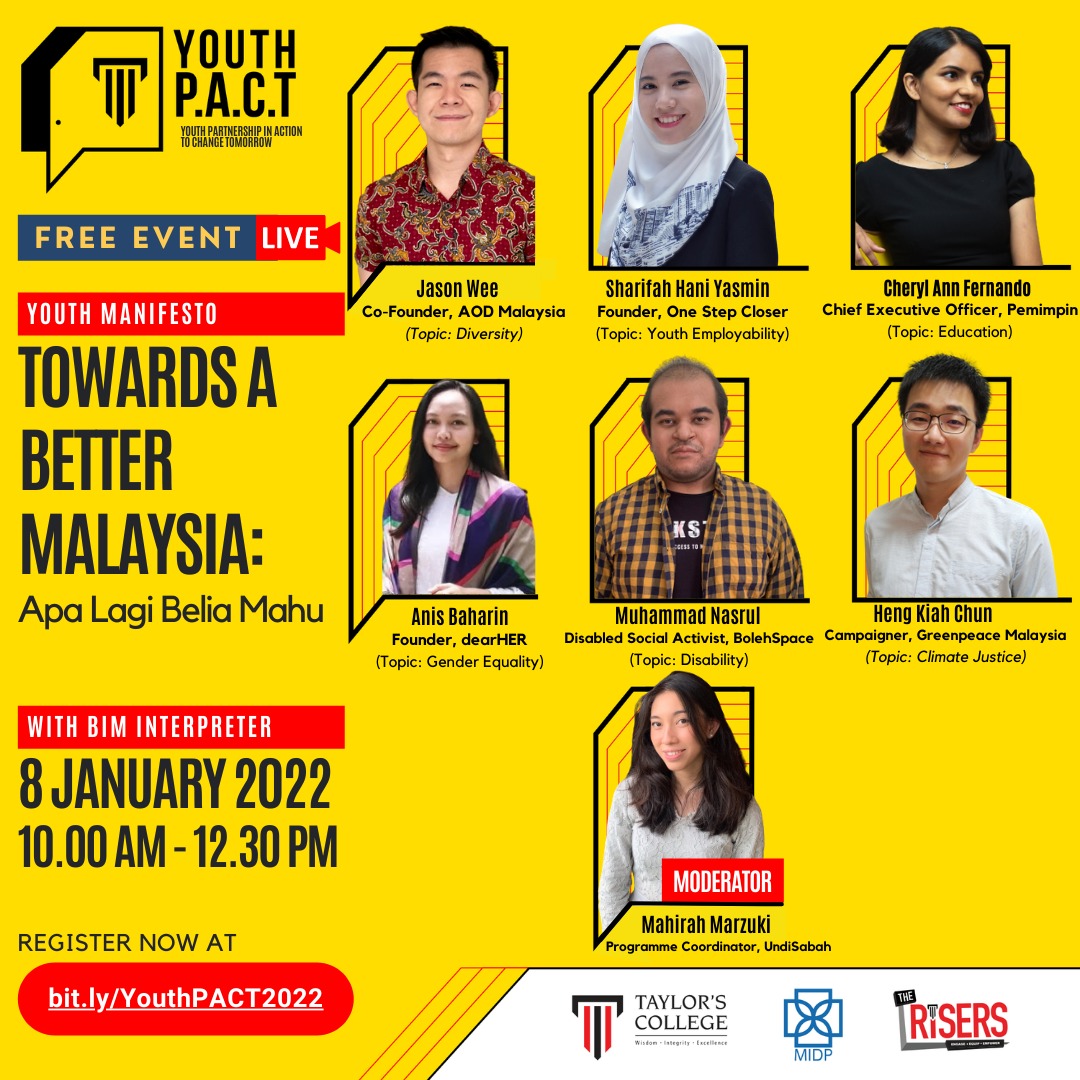 A platform for esteemed youth leaders to present their hopes and demands for the changes they want to see on various issues such as diversity, employability, education, gender equality, disability, climate justice, while also sharing about the initiatives they are championing to achieve a better Malaysia.

Activity 2: Tracking the Results of Your Social Justice Advocacy.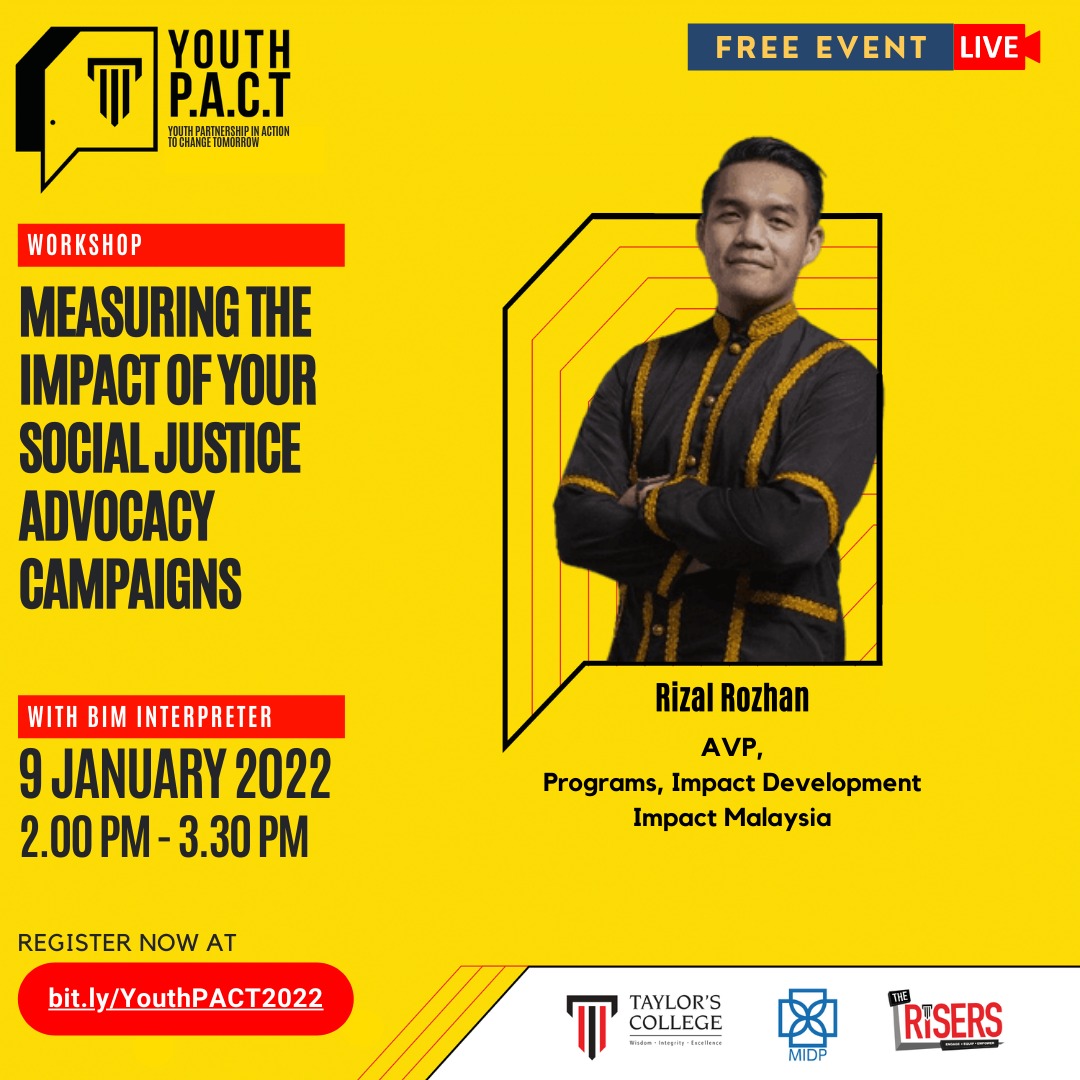 Aside from discussions, Youth PACT will also feature workshops which aim to equip young advocates with the strategy to create innovative solutions to social issues and injustices as well as the tools to measure the impact of their projects and campaigns.
Activity 3: Will Malaysia Ever Be Ready For A Youth Prime Minister?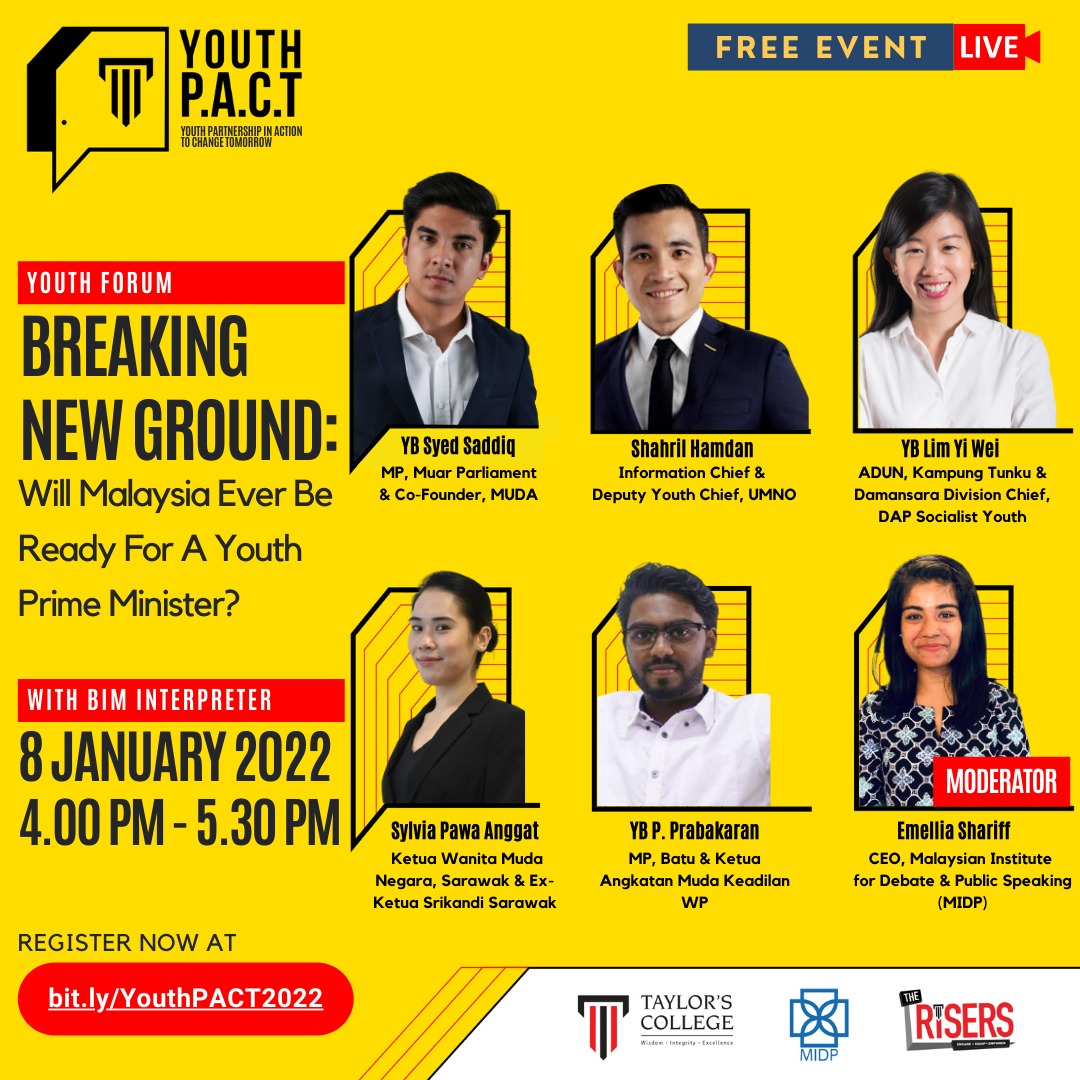 A platform for youth politicians and leaders from various political parties such as:
YB Syed Saddiq bin Syed Abdul Rahman (MP, Muar Parliament)
Shahril Hamdan (Information Chief & Deputy Youth Chief, UMNO)
YB Lim Yi Wei (ADUN, Kampung Tunku)
Sylvia Pawa Anggat (Ex-Ketua Srikandi Sarawak & Ketua Wanita Muda Negara Sarawak)
YB P. Prabakaran (MP, Batu & Ketua Angkatan Muda Keadilan WP)
to discuss the prospects of increasing youth involvement in politics, any shift in the local political landscape as well as their aspirations for a better Malaysia.
Activity 4: It's Time to Make a Change: Disrupting Status Quo
A platform for experienced youth leaders to share their personal stories of success and failures, lessons learnt as well as tips and tricks for young change-makers, particularly in leading for meaningful change on various social justice issues in Malaysia.
Activity 5: Let's Embrace Social Innovation to Make Malaysia a Better Place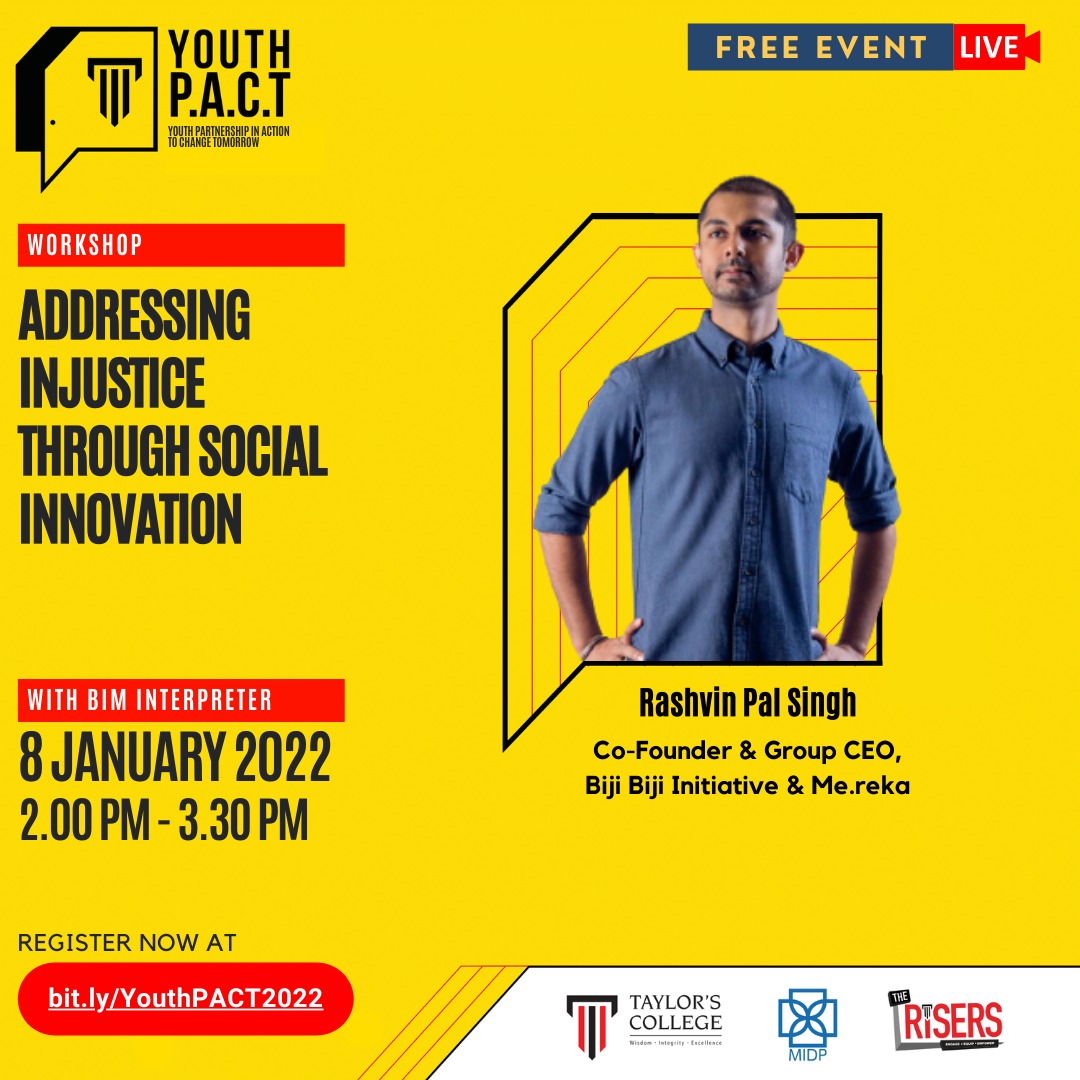 Another great news is, in an effort to be inclusive, diverse and representative of the Malaysian demographics, the festival will feature individuals from various backgrounds and all of the sessions will be translated into Bahasa Isyarat Malaysia (BIM) live, so that the deaf community can also take part and contribute to the conversations.
Interested in attending Youth PACT 2022? Do visit http://bit.ly/YouthPACT2022mk to find out more insights and register your slot today!