As the nation continues its fight against the Covid-19 pandemic, UEM Sunrise Berhad ("UEM Sunrise" or the "Company"), one of Malaysia's leading property developers embarked on a corporate social responsibility effort together with local social enterprise, Projek57, to distribute treats and goodies to the frontliners in Kuala Lumpur and Iskandar Puteri, Johor in conjunction with the Hari Raya Aidilfitri celebrations.
UEM Sunrise which is the pioneer developer of Mont'Kiara and Iskandar Puteri, distributed a total of 1,500 sets of Raya cookies and unity ribbons, all enclosed in a special unity pouch. The pouches were distributed to police, RELA and army personnel manning roadblocks around the Kuala Lumpur and Iskandar Puteri area, as well as hospitals and fire departments in a show of appreciation of their sacrifices and efforts during the Raya period. The Company was represented by its CSR unit and Auxiliary Police frontliners in spreading the festive cheer.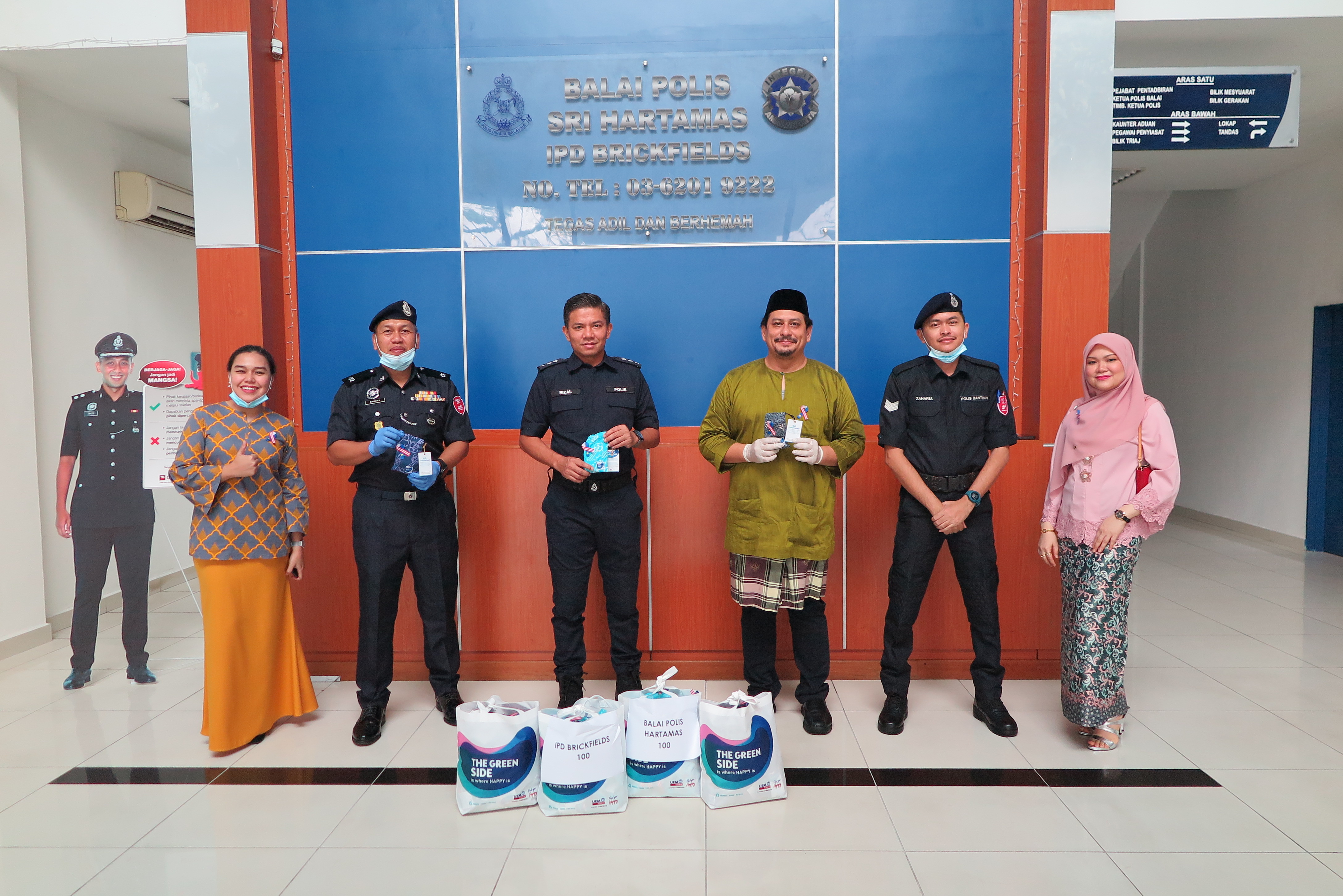 UEM Sunrise Berhad's CSR Unit and Auxiliary Police handing over the unity pouches to the police personnel at Balai Polis Sri Hartamas.
All the items were ethically sourced from social enterprises at every step of the way. Projek57 aspires to inspire Malaysians with patriotism and unity whilst helping the needy and underprivileged youths through designing empowerment programmes for them, with product offerings of locally-designed t-shirts and merchandise.
Cloth for the unity pouches is hand-painted by Kuala Terengganu batik artisans under the Cotton and Sago collective. They were then handsewn by Earth Heir, an organization the empowers artisans from women's cooperatives, indigenous tribes and refugee groups to create one of a kind jewellery, bags and pouches.
Meanwhile, the unity pouches contained baked cookies by youths with learning disabilities from G.O.L.D. (Generating Opportunities for Learning Disables). G.O.L.D. started The Kindness Cookie Project to sustain the training and economic empowerment of secondary school graduates and youths with learning disabilities so that members of the public can reach out with kindness, allowing them to live an independent and productive life.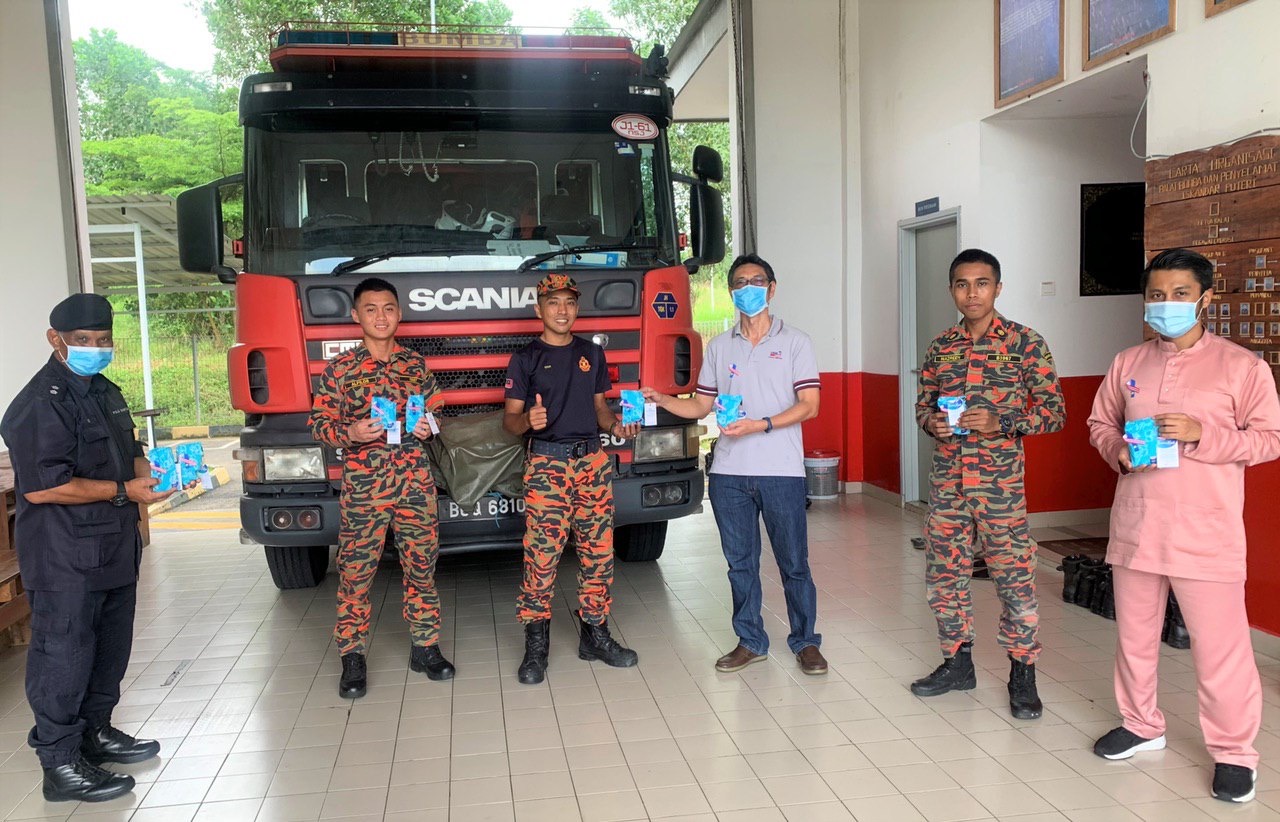 The CSR Unit and Auxiliary Police of UEM Sunrise handing over the unity pouches to the Fire & Rescue team in Iskandar Puteri, Johor.
Along with the cookies, the unity pouches contained two unity ribbons by Projek57. The unity ribbon represents hope for a better future for Malaysia and is handmade by the underprivileged and differently able. All profits from the sale will be channelled back to the needy via Projek57.
"We salute our frontliners who are doing a tremendous job for this nation. We appreciate their efforts and sacrifices for the safety of the public when they could have been at home spending time with their loved ones during this Raya celebrations.
"They have also been working so hard, rain or shine, since the beginning of the Movement Control Order (MCO) and well throughout the fasting month. The only way we can truly show our gratitude to them is by staying home and adhering to all guidelines and protocols to bring down the number of Covid-19 cases," said Anwar Syahrin Abdul Ajib, Managing Director/ Chief Executive Officer of UEM Sunrise.
"We chose to embark on this #UnityIsMyHappy program together with Projek57 - besides showing our appreciation and bringing festive cheer for the frontliners – to also recognise the skills and talents of the less unfortunate and disabled while giving them the opportunity to earn an income" he added.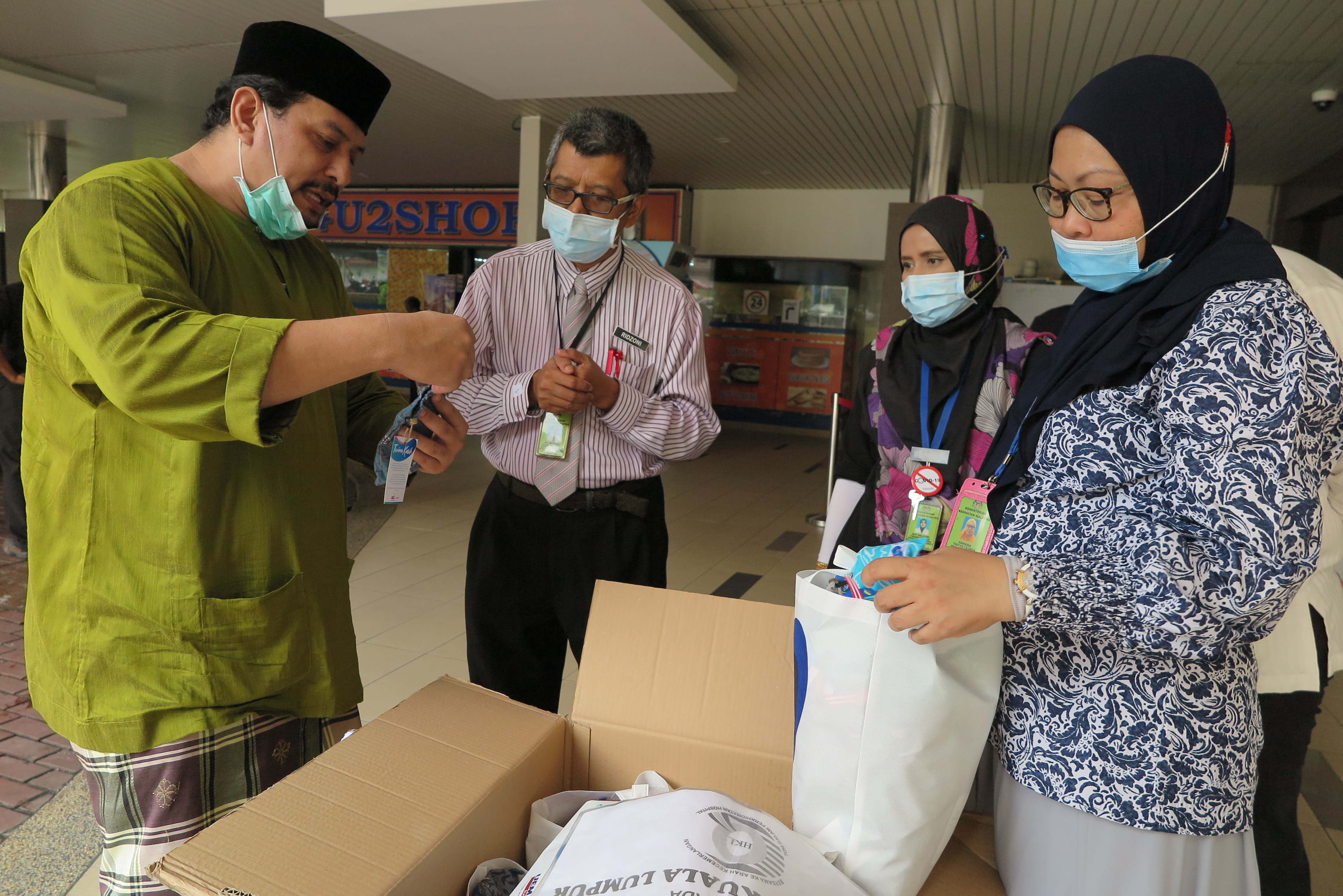 Personnel from Hospital Kuala Lumpur receiving the unity pouches from UEM Sunrise's CSR Unit.
To that Projek57 co-founder Syed Sadiq Albar said: "We are heartened with this effort by UEM Sunrise to give the opportunity to these marginalized communities to earn an income. The MCO is already such a challenge to ordinary Malaysians, and would have no less affected the underprivileged many times fold."
UEM Sunrise previously contributed personal protective equipment (PPE) and facemasks for healthcare frontliners as well as essential items and groceries to families affected by the Extended Movement Control Order. Together with its collaborative partners, Melati Ehsan Group and Pelaburan Hartanah Berhad, the Company also funded Hospital Kuala Lumpur in their purchase of a ventilator machine.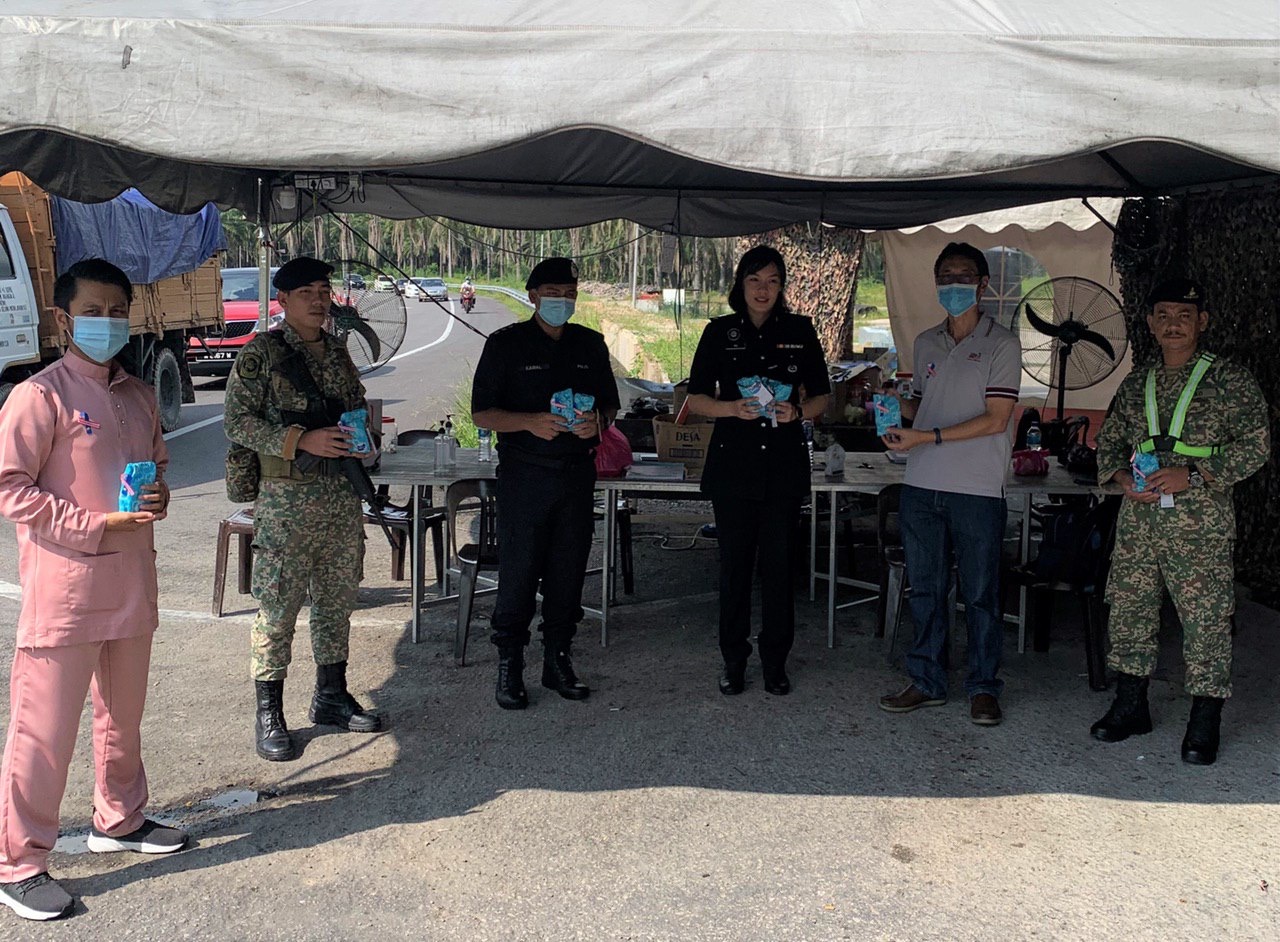 The CSR Unit and Auxiliary Police of UEM Sunrise handing over the unity pouches to traffic police at the roadblock in Iskandar Puteri, Johor.
Driven by its brand values of C.H.I.E.F. which stands for Caring, Honest, Involved, Enthusiastic and Fun-Loving and tagline 'Find Your Happy', UEM Sunrise believes in helping its communities and customers to find their happiness and make the best in whatever circumstances.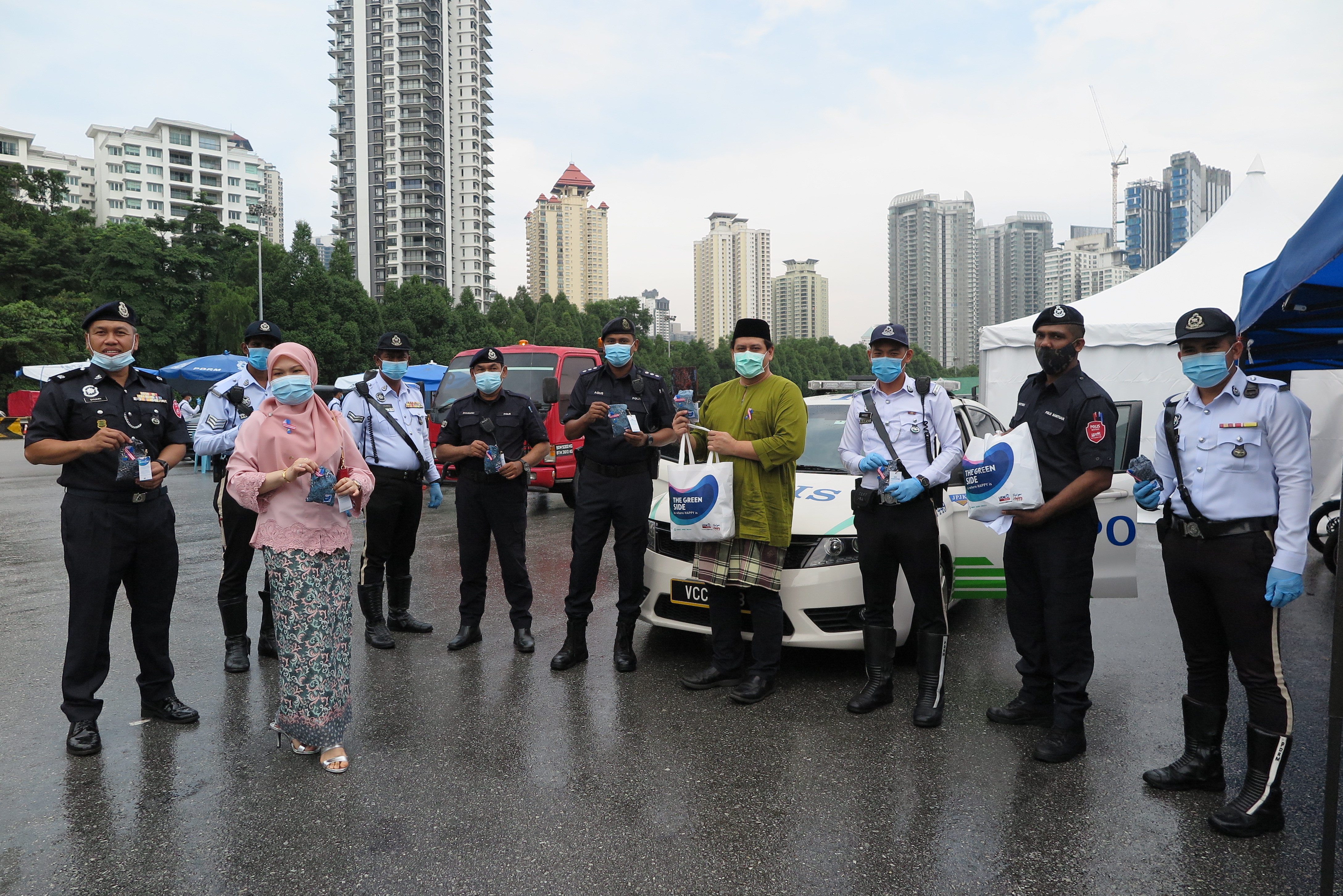 UEM Sunrise CSR Unit and Auxiliary Police handing unity pouches to the traffic police at the Jalan Duta toll roadblock.
---
About UEM Sunrise Berhad
UEM Sunrise Berhad ("UEM Sunrise" or the "Company") is a public-listed Company and one of Malaysia's leading property developers. It is the flagship Company for township and property development businesses of UEM Group Berhad ("UEM Group") and Khazanah Nasional Berhad ("Khazanah"). The Company has core competencies in macro township development; high-rise residential, commercial, retail and integrated developments; as well as property management and project & construction services.
UEM Sunrise is the master developer of Iskandar Puteri, one of the five flagship zones of Iskandar Malaysia and is currently undertaking the development of the area into a regional city. Iskandar Puteri is envisioned to become the largest fully integrated urban development in Southeast Asia that will provide significant investment, financial and business opportunities to the economic growth and development of the region, once fully completed. In the Central Region, the Company is renowned for its award-winning and up-market high-rise residential, commercial and mixed-use developments, located largely in the affluent Mont'Kiara enclave, Serene Heights Bangi, Bukit Jelutong in Shah Alam, Symphony Hills in Cyberjaya and Seremban as well as the creative retail in Solaris Dutamas, known as Publika.
Internationally, the Company extends into Melbourne, Australia, with its 42-storey Conservatory located on Mackenzie Street. In Durban, South Africa, the Company has 30 acres of joint venture beachfront mix development land. UEM Sunrise is also the appointed Project Manager responsible for development and marketing management of the mega mixed-use development Marina One and DUO in Singapore.
Please visit our website at www.uemsunrise.com.
For media enquiries, please contact:
Emilia Azyyati at [email protected] 
017-3806937 / 03-2718 7725
Corporate Communication, UEM Sunrise Berhad
Regina Lee at [email protected] 
016-66170479 / 03-2718 7660
Corporate Communication, UEM Sunrise Berhad