SEGi Group of Colleges and the nation's top university, Universiti Malaya (UM) entered into a course and research collaboration for their engineering programmes.
The tie-up offers an articulation pathway for SEGi-Sunderland Engineering undergraduates to obtain a UK-degree from the University of Sunderland (UoS), and complete their Master's programme at UM, all within 4 years of study.
With this public-private partnership, SGC and UM can now share resources and engage in staff and students exchange to help students and academic staff gain a more comprehensive exposure. They can also share publications, reports, academic materials and information resources while leveraging on their professional networks to widen employment reach and opportunities for their engineering graduates.
SEGi Group of Colleges' Engineering programmes awarded by UoS is in a class of its own, in terms of ranking and research assessments as the colleges share the UK syllabus. The UoS Engineering programmes are ranked among the top 20 in the UK whereas UM's Engineering and Technology programmes are ranked 55th in the world (QS World University Rankings 2020 by Subject). UM also holds the 59th spot in the QS World University Rankings 2020.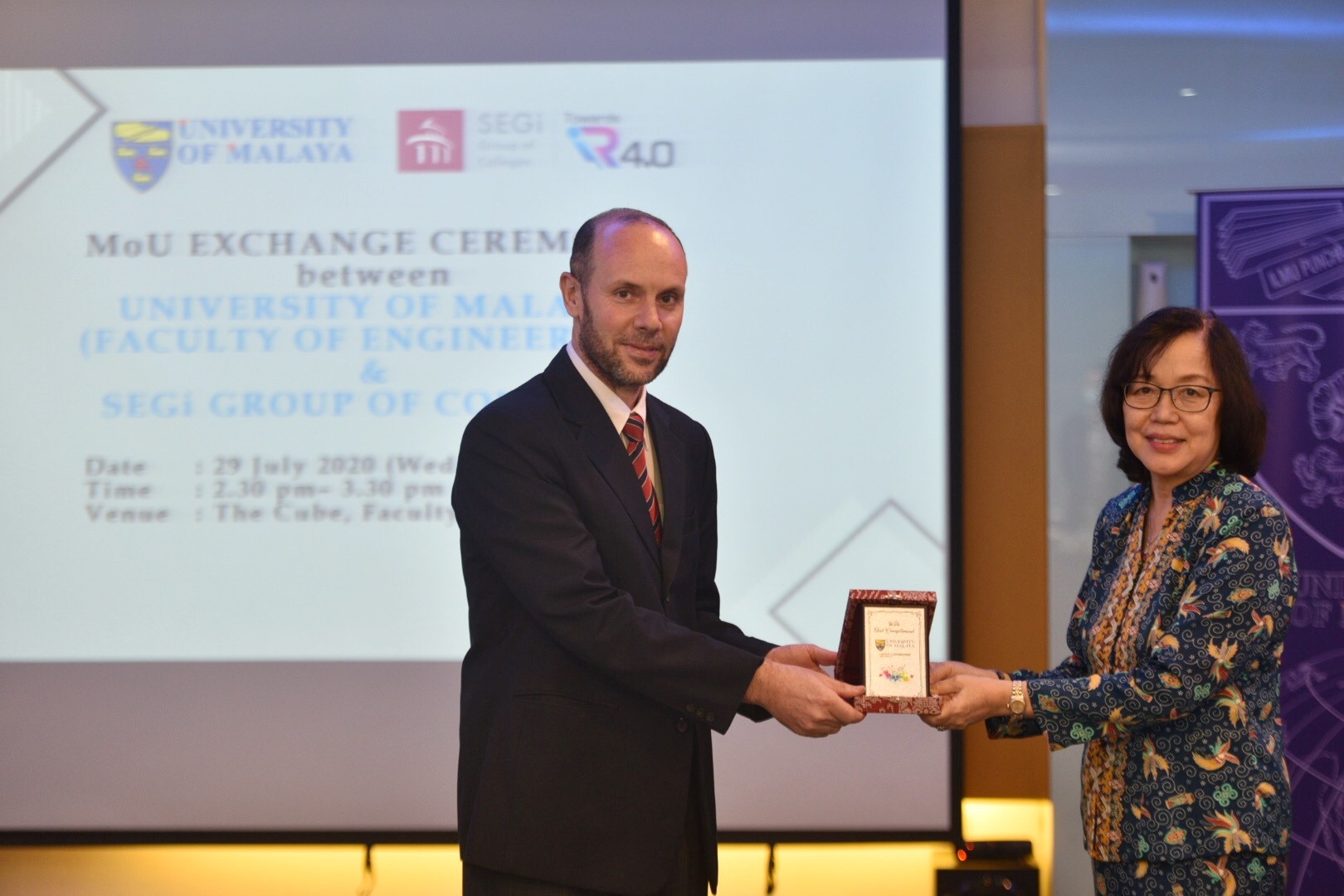 SEGi College Subang Jaya's Faculty of Engineering and IT Head, Dr. Tiu Zian Cheak said under this agreement, SEGi-Sunderland's Mechanical Engineering and Electrical & Electronic Engineering students can articulate into UM's Master of Mechanical Engineering and Master of Industrial Electronics and Control Engineering, respectively.
"SEGi students will benefit tremendously as they will have the opportunity to attend lectures conducted by UM's academic staff and have their final year projects be co-supervised by SGC and UM lecturers. They also gain access to academic materials and information from UM. This will not only promote an enriching learning experience but also open them up to world-class research and innovation activities," said Dr. Tiu.
As a research university, UM's rich R&D experience can supplement SEGi's R&D efforts particularly in the field of Engineering and Information Technology. As an institution that is geared up Towards IR4.0, SEGi has been actively promoting Industry 4.0 elements in its engineering, IT and business programmes to groom a future-ready workforce particularly in these fields.
Research is a key activity within the faculty and we encourage large-scale studies and a flexible approach to interdisciplinary collaborations with other academic institutions and members of the industry to tackle the wider range of issues facing our society and the natural world.
"Faculty of Engineering at Universiti Malaya has invested heavily in the student experience and places research-led teaching at the core of our programme. We endeavour to fully support our students and researchers in their research activities and encourage them to accomplish their aims - regardless of whether their studies focus on a single academic field or address wider challenges that are shaped by the emerging needs of industry and society. In many areas, our students are leading the world with their discoveries and developments and we hope this goes well with students in SGC," said Professor Dr. Saad Mekhilef, Dean of Faculty of Engineering, UM during the MoU Exchange Ceremony.
"Our programme involves finding innovative solutions using a mixture of creativity, application of knowledge for the planning, design and execution of infrastructure works to enhance the quality of life and working together with people from all walks of life. The programme is designed with several elective courses that allow students to specialise in areas of interest," added Professor Saad.
The collaboration which was formalised on July 29 is also expected to further increase graduates' exposure, competencies and expertise by enabling access to high-quality curricula, research and innovative teaching and learning practices.