Encouraging the whole nation to fight the COVID-19 pandemic, Durio is organizing a "One for One" Buy a Box and Donate a Box Mask Relief Campaign to raise more masks for NGO MERCY Malaysia from now till 31st December 2020.
The third wave of COVID-19 in Malaysia is becoming severe. The protective equipment for frontline medical staff is in urgent need of funding from all walks of life. Given this, Durio PPE Sdn Bhd has decided to initiate this campaign to encourage the whole nation to participate in "One for One" Mask Relief Campaign to provide masks for NGO MERCY Malaysia. These will be delivered to various red zones and help vulnerable communities in various regions.
This "One for One" Mask Relief Campaign will be launched in Shopee and Lazada's online E-store. For every box of Durio Patriotic themed masks (Prihatin 532A & 532K and I Love My 531A ) sold at Durio's official online store on Shopee and Lazada, Durio will donate one Box of Prihatin Patriotic Masks to MERCY Malaysia, and the campaign starts now till 31st December 2020.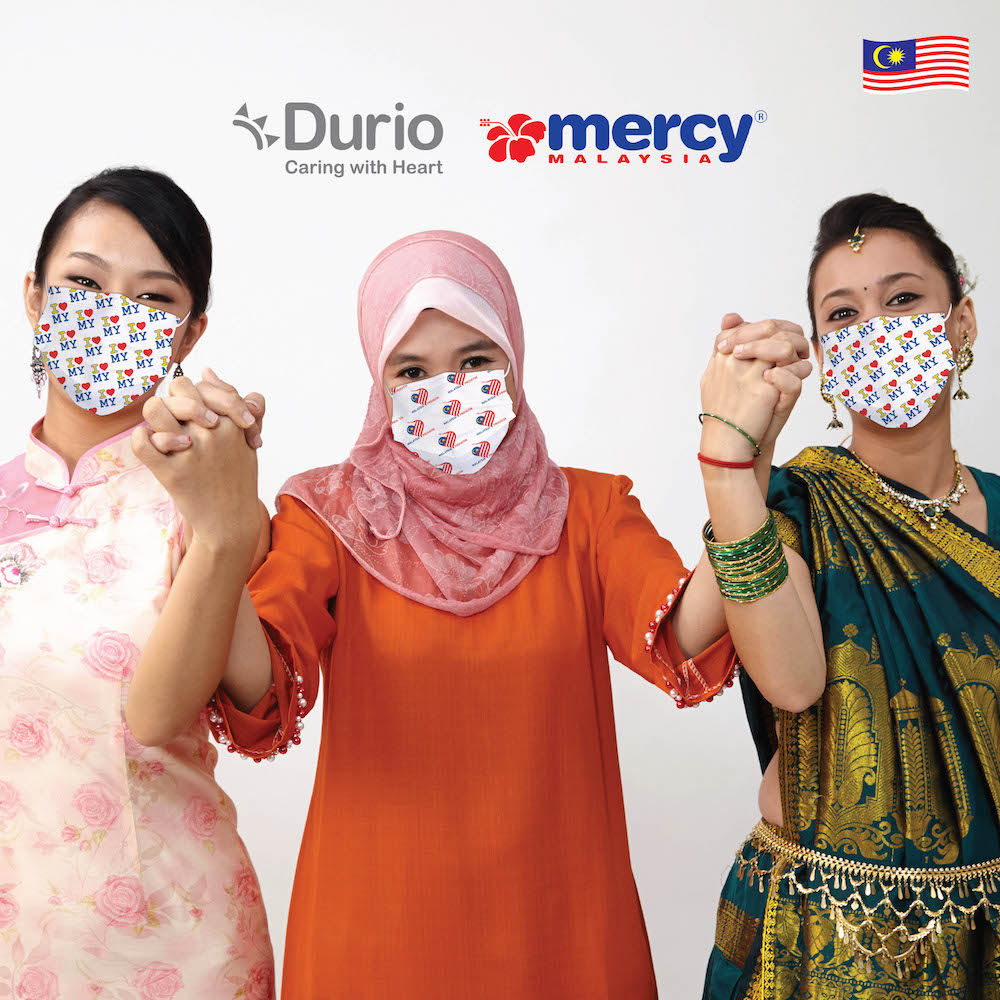 You can click the following links to enter the Durio online store:
Shopee here
Lazada here
About MERCY Malaysia's COVID-19 Pandemic Fund
MERCY Malaysia is an international non-profit organization focusing on providing medical relief, sustainable health-related development and risk reduction activities for vulnerable communities, in both crisis and non-crisis situation.
The COVID-19 pandemic has significantly challenged Malaysia's healthcare systems, economy, community livelihood, safety, and mental health. To reduce the country's and communities' burdens, MERCY Malaysia is actively working with many partners, agencies, donors and stakeholders to prepare the response to this current third wave outbreak, and other possible future pandemics through the COVID-19 Pandemic Fund.
This dedicated fund is currently to implement the COVID-19 Third Wave Strategic Preparedness and Response Plan, which the operational objective is to contribute in reducing morbidity, mortality and social impacts of the outbreak's third wave by preventing or slowing transmission and helping to ensure communities affected by the outbreak maintain access to basic social services and can support themselves in dignity throughout the course of the outbreak. All aid assistance and deliverables are coordinated with Ministry of Health (MOH), the National Crisis Preparedness and Response Centre (CPRC), and the National Agency for Disaster Management (NADMA). MERCY Malaysia website: www.mercy.org.my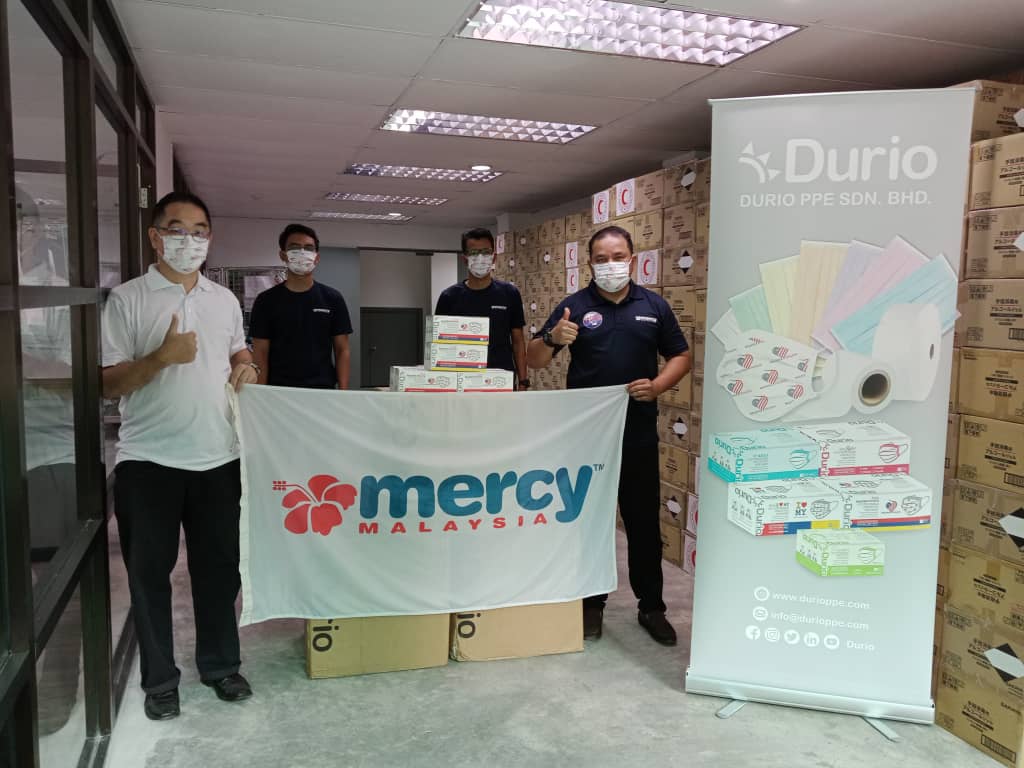 About Durio's efforts to-date
Durio supports MERCY Malaysia's humanitarian spirit and vision by responding in action. Through the "One for One" Mask Relief Campaign, Malaysians can participate in helping the frontliners and people in need of face masks.
Besides, Durio PPE Sdn Bhd has also donated 150 boxes of Prihatin patriotic masks to MERCY Malaysia for emergency rescue prior to this event. Durio will continuously deliver the masks raised by this campaign to MERCY Malaysia's Kuala Lumpur headquarters for distribution. Durio is proud to give citizens access to high-quality and affordable masks and prioritizes social responsibility, by continuing to donate masks to those in need, including Hospital Sultanah Aminah Johor Bahru, SK Gas Sandakan, Primary and Secondary Schools of Johor, Kiwanis Care Centre, Kiwanis Club of Kuala Lumpur, Care United Johor Bahru and other charities etc.
Durio hopes this "One for One" Mask Relief Campaign encourages the whole nation to raise hands and raise masks together. We support the frontline medical staff and people in key epidemic areas by ensuring they have sufficient high-quality masks to prevent virus spread and effectively break the chain of virus transmission. Buy a mask, you can do your part for MERCY Malaysia!
Durio is committed to quality by specialising in high filtration efficiency and airflow comfort of masks. Durio's masks are certified with 99% BFE bacterial filtration rate and 95% PFE particle filtration rate with low airflow resistance, comfortable to wear, and 100% made in Malaysia. Each product is produced in a controlled environment that meets the ISO-13485 certification standard. The outer waterproof non-woven fabric, the middle electrostatic meltblown fabric and inner layer of absorbent non-woven fabrics are of high-standard quality. Moreover, there is a wide selection of masks. There are 3 ply high-protective blue masks, colourful five-colour stylish masks, patriotic-themed masks, kid masks, and the newly launched 4-ply batik printed masks and active carbon grey masks, prices range from RM24.90 to RM29.90; there are also KN95 filter grade 3D three-dimensional folding masks and customized design masks etc.
Details of Durio "One for One" Mask Relief Campaign, please contact: +607-3311385,+6012-6498758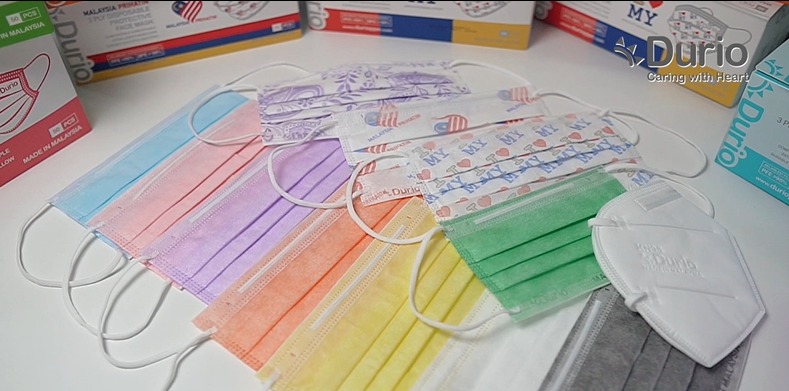 Durio PPE Sdn Bhd
16, Jalan Temenggong, 81100 Johor Bahru, Johor, Malaysia.
+607-3311385, +607-3311389,+607-3311815
[email protected]
www.durioppe.com
https://www.facebook.com/durioofficial
https://www.instagram.com/durioofficial/