In 2015, the National IoT Strategic Roadmap was rolled out by the Ministry of Science, Technology and Innovation (Mosti), with national applied R&D centre Mimos Bhd as the implementation secretariat.
The road map aimed to make Malaysia the premier regional hub for Internet of Things (IoT) development and to leverage the industrialisation of IoT as a new source of growth for the economy. According to the road map, the new industry was expected to contribute RM9.5 billion to the gross national income and create more than 14,000 highly skilled employment opportunities by 2020.
Has this been achieved? Ac­cording to some industry players, it is difficult to ascertain whether those numbers have been recorded for several reasons, including the fact that IoT is a very broad area and they are unsure who is monitoring the achievements and implementation.
Regardless, they say the road map has achieved its goal of increasing the awareness of IoT in Malaysia. Whether it has achieved the other goals is less clear.
Digital Edge reached out to Mosti on the topic, and it directed us to the Ministry of International Trade and Industry (Miti). The IoT road map was put under Miti in 2018 (when Mimos was transferred to Miti).
"At the time, IoT was still quite new. We wanted to focus on three areas, one of which was to create a conducive industry ecosystem, strengthen local technopreneur capabilities in developing applications for IoT and turn Malaysia into a hub where people can outsource their IoT development," says Favoriot Sdn Bhd CEO Dr Mazlan Abbas, who was involved in setting up the road map when he worked at Mimos.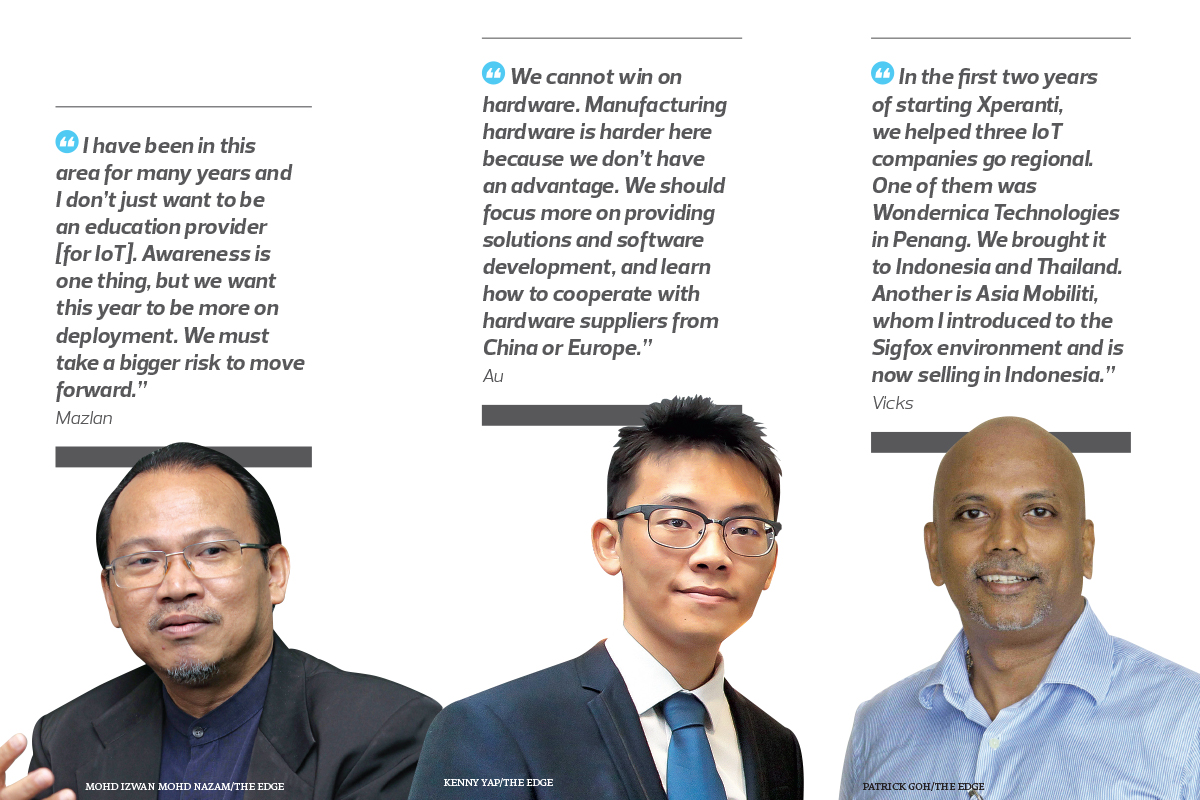 "A main challenge, in my view, is when a road map is not properly monitored and managed. You will not be able to sustain the outcome. If you don't do that, a lot of action items and plans that we put forth cannot be executed.
"Although there were small pockets of initiatives by several parties, there was no concerted effort or a big project [launched]. We wanted the industry and government to make it a national project."
Vicks Kanagasingam, former CEO of Xperanti, a nationwide IoT solutions provider using the Sigfox network, also brought up this challenge with execution. "The road map was good as it gave us a breakdown of the areas we should focus on. I used the road map to present [the business case of] Xperanti to the shareholders. I must give the team credit as it was a good document for people who want to go into the IoT space," he says.
Vicks left Xperanti in December and now acts as an adviser for several tech companies.
What was lacking was the "how", he says. "When I looked at some of the use cases they provided in agriculture and healthcare, they didn't tell me the potential revenue I could generate from implementing IoT in these areas. This is important because I need to use that estimate to build a business case and justify the investment to customers."
Another big challenge is the lack of talent in the industry, Mazlan observes. There needs to be more structured learning opportunities across the areas of IoT device development, telecommunications, middleware or platform, big data analytics and artificial intelligence (AI). "For instance, the hardware and connectivity portions are taught to engineering students, but the middleware and big data analytics are learnt by computer science students. The students may not learn to see the whole picture," he points out.
Malaysian IoT Association chairman James Lai believes that talent is abundant in the country. "We have a talented pool of developers, engineers and scientists who can help build IoT solutions. Unfortunately, there are still gaps worldwide for engineers in embedded development, programming and [those proficient in] newer skill sets such as data science and AI."
The good news?
Regardless, one major achievement of the road map is the rise in awareness of IoT. "We started with seven members in 2016 and have grown to more than 80 members today without any aggressive membership drive," says Lai.
The members include large tech companies such as HP Malaysia, as well as smaller IoT service providers. One of the association's goals is to bring together start-ups and larger companies in the space to collaborate.
Mazlan agrees. The awareness of IoT rose further when the Ministry of International Trade and Industry (Miti) launched its Industry 4.0 policies in 2018.
"But we need more than just awareness. We need people to not only understand but also create new solutions. That's the most important part," he says.
Despite the rise in awareness and the number of industry players, the misconception that IoT can be sold as an IT product still prevails, says Vicks. Many IoT companies sell the devices as products instead of solutions when in fact, these devices have to be tailored to address specific problems.
"Engage the client with a problem-solving approach instead of just telling them that this tech is very good. That is the old way of selling things. You also need to build a business case for the client as the client may find the solutions too expensive," he says.
Meanwhile, another positive trend in Malaysia is that the cost of implementing IoT solutions has fallen over the years. Vicks estimates that the cost of IoT solutions declines about 10% each year as more device makers and connectivity players are entering the space and creating competition. For instance, it has become more affordable to install smart home systems and people are installing these devices themselves.
"Now, we focus more on property developers and commercial buildings. They are more focused on energy monitoring to save energy. That is their main concern," says Patrick Au, CEO of IoT company Vyrox Sdn Bhd.
This has enabled Vicks to help clients cut down on costs associated with idle assets or workers. However, some sensors required to solve certain problems can still be too expensive. That is why he focuses on building business cases for companies to solve their problems without having to break the bank.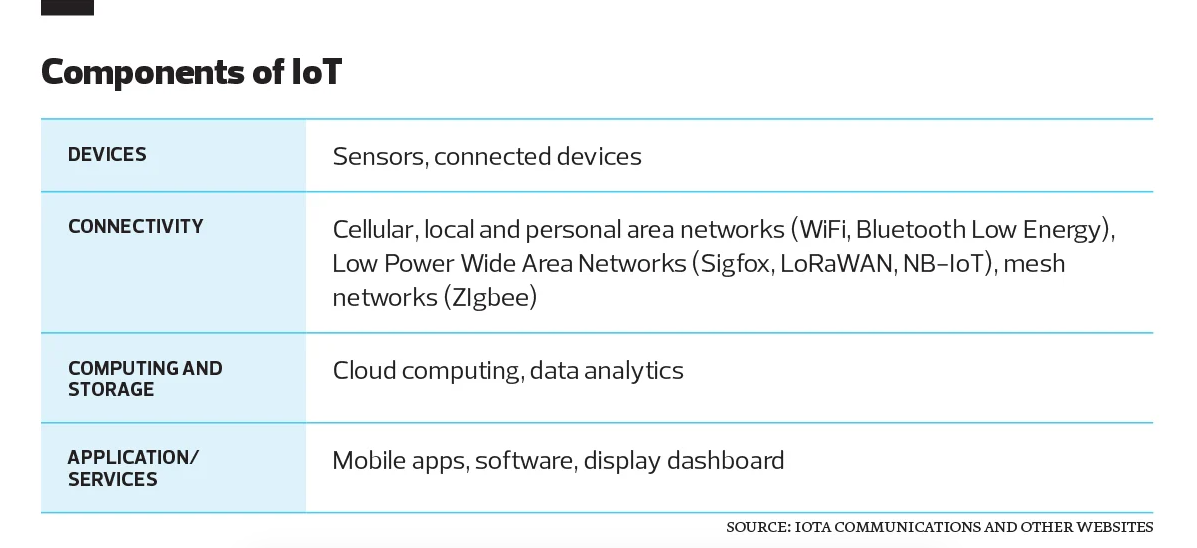 "The minimum investment for a company can start from RM10,000 to RM100,000. So, the business case is very important [for the company to assess its return on investment]," he says.
The pandemic has increased interest in IoT solutions so far, say the interviewees, although there is still some hesitancy among companies in some industries to actually adopt the solutions as they are conserving cash at this time.
At the same time, Covid-19 has highlighted IoT use cases in things such as automated temperature screening, work-from-home-related technologies and deliveries. Use of IoT technologies could accelerate post-pandemic, given this higher level of awareness and sense of urgency.
"I have been in this area for many years and I don't just want to be an education provider [for IoT]. Awareness is one thing, but we want this year to be more on deployment. We must take a bigger risk to move forward," says Mazlan.
"We also see that a new generation of IoT [users and providers] will emerge after all the education [on the subject] since 2015."
What is the big deal about IoT?
IoT is a vertical under Industrial Revolution 4.0 (IR4.0), alongside other verticals such as big data and cloud computing. It comprises four elements: devices or sensors, applications, connectivity, and computing and storage.
Essentially, IoT relies on sensors to collect information, which is then sent to be analysed and displayed on a dashboard, so businesses can utilise the information to make informed decisions. Other technologies such as AI and deep learning can also be integrated to enable automated processes.
This process is crucial for IR4.0 as it transforms manual processes into digital ones, which then result in better decision-making based on data and a reduction in manpower, says Mazlan. "IoT allows you to measure things remotely. You can also understand the utilisation of machines and you will know when it needs to be serviced. Additionally, you can understand the quality and quantity of your materials kept in the warehouse."
There are many growth drivers for the IoT industry. These include IR4.0, smart cities and autonomous vehicles. For instance, Penang has been using Xperanti to install smart parking solutions.
"We've deployed 12,000 parking sensors on Penang Island and 3,000 in Seberang Prai, with another 20,000 to be installed this year. It is designed to reduce traffic because you will know exactly where there are parking spaces before you leave the house," says Vicks.
Other industries interested in IoT solutions include agriculture, logistics and transport, say the interviewees, with use cases ranging from remote water meter reading to advanced telematics for vehicles.
What is special about Malaysia?
The National IoT Roadmap highlights that Malaysia is in a good position to become an IoT development hub because of the strength of the local electrical and electronics (E&E) industry. The interviewees agree and emphasise that a strong local ecosystem must be created.
"If we have the E&E infrastructure and ecosystem in Malaysia, we don't have to rely on components from overseas. We can also decrease the cost and have more widespread adoption of IoT," says Mazlan.
Lai adds, "Malaysia can provide a testbed for all verticals such as agriculture, smart cities, manufacturing, oil and gas, healthcare and retail services. These industries have known problems that IoT can solve."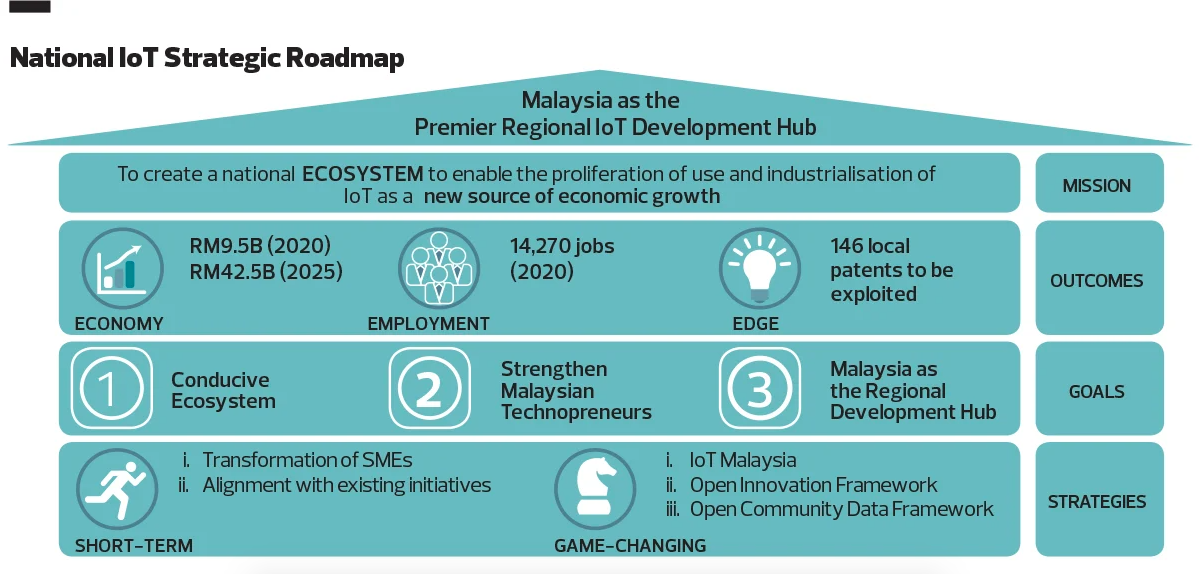 A local supply chain and strong ecosystem can support the customisation of solutions, which is often needed.
"Sometimes, the hardware has to be customised according to the place it will be installed and the available network connectivity. We cannot always depend on overseas suppliers, but we will need volume [to build up the local ecosystem]," says Mazlan.
Duplicating Xperanti's business model is one way to strengthen the ecosystem. Back then, Vicks collaborated with universities, institutions and companies to use the Sigfox network to offer IoT solutions and partner with regional Sigfox players.
"In the first two years of starting Xperanti, we helped three IoT companies go regional. One of them was Wondernica Technologies in Penang. We brought it to Indonesia and Thailand. Another is Asia Mobiliti, whom I introduced to the Sigfox environment and is now selling in Indonesia," says Vicks.
What should Malaysia focus on?
So, where in the value chain do Malaysian IoT companies stand out? Connectivity and computing and storage are typically dominated by huge telecommunications or tech companies. The cost of maintaining data centres or even a local network can be high for start-ups, Vicks observes.
Meanwhile, local companies are unlikely to be able to compete with manufacturers in countries such as China to create devices and sensors that are affordable. "That's why I would say start-ups in Malaysia should go for applications. They should use IoT to solve their customers' problems and build an ecosystem by collaborating with other device makers. I want them to be device-agnostic, which means their solutions or applications can be used anywhere," he says.
This point is echoed by Au, whose company designs IoT software. "I think this is how the IoT industry can exist in Malaysia … I hope the government can give grants or subsidies to companies like us to continue providing solutions that are more focused on software to end users," he says.
"We cannot win on hardware. Manufacturing hardware is harder here because we don't have an advantage. We should focus more on providing solutions and software development, and learn how to cooperate with hardware suppliers from China or Europe."
Vicks suggests that the government, private sector and community members collaborate to make IoT projects more commonplace. For instance, the government could use IoT to monitor rivers and ask community members to participate in the activity. "This is so everyone starts to see the value that IR4.0 brings to the community and they will then push it to their companies."
For such projects to succeed, he believes a Ministry of Data, where data is shared across government sectors and private enterprises to build solutions, could be useful. This is similar to the road map's long-term plan to set up an Open Community Data Framework.
"For instance, data on flash floods in different localities can be shared so university students and enterprises can come up with solutions to help the government and communities. This data can be shared across government agencies," says Vicks.
---
This article first appeared in Digital Edge, The Edge Malaysia Weekly, on February 8, 2021 - February 14, 2021.
Interested in having your announcements on Malaysiakini? Contact the announcements team at [email protected] or whatsapp on +60 17-323 0707 for urgent matters.