It is a stock that has flown under the radar for a long time – but hit new highs in the recent weeks when it surged to a high of AUD 0.40 on 22 February 2021. It has since settled at AUD 0.23 at press time today (9 March 2021).
The company is Netccentric Limited (NCL), which is majority-Malaysian owned, with 'sexy' core businesses as digitisation becomes mainstream, and perhaps even ahead of its time.
This past three weeks, in particular, proved to be an eventful one for the company following its share price surge.
On 23 February, the company announced to the Australian Securities Exchange (ASX) that it had successfully delivered strong revenue growth for FY2020 with underlying revenue touching S$7.9 million, up 15% from FY2019. Profit before tax came in at S$0.1 million for FY2020, representing a significant financial turnaround from having posted net losses in previous years, supported by continued strength in the Group's gross profit margins, which remained at 48% in FY2020.
On 25 February, NCL announced that it had successfully raised S$3.05 million (before costs) through a strongly supported placement to sophisticated and professional investors to accelerate organic and inorganic growth initiatives. This achievement was against total placement demand exceeding S$6 million. With the proceeds of the placement coupled with improving revenue, cash flow and profitability, NCL is "well funded and positioned to invest in accelerating its growth in the rapidly-emerging social commerce market", added the statement.
So, what exactly is NCL which had captured the imagination of the Australian investing community, and spearheaded by a tech icon known as 'the Bill Gates of Malaysia'? Even back in December 2020, investors had chased the stock up to a two-year high then of AUD 0.13, before profit-taking set in. In 2019, the stock mainly hoovered around the 0.005 cents range.
In Stockhead's report entitled "Who's getting into the Christmas spirit" (published on 2 December 2020), the investment portal stated: "The top gainer in ASX Tuesday trade was Netccentric (ASX:NCL) which surged more than 63 per cent without any fresh news." (Note that this was back in December 2020).
"Investors appeared to like the social media marketing company's purchase of business partner Docono Holdings' shares in Asian markets blogging network, Nuffnang Live Commerce. Netccentric is now the largest shareholder at 57 per cent in Nuffnang Live Commerce a social commerce platform," it said.
"The company published an investor presentation on Monday mapping out its growth strategy in Asia's digital marketing sector. Netccentric has 300 clients and 13,000 social media influencers in countries including, Singapore, Taiwan and Malaysia. The presentation said the Asia-Pacific market is set to become the world's largest for social media marketing by 2024," added the report.
Henceforth, what exactly is Netccentric and who is this "Bill Gates of Malaysia", as even the Malaysia's oldest newspaper The New Straits Times has labelled him, and whom an industry observer described as "Malaysia's man with the Midas Touch"?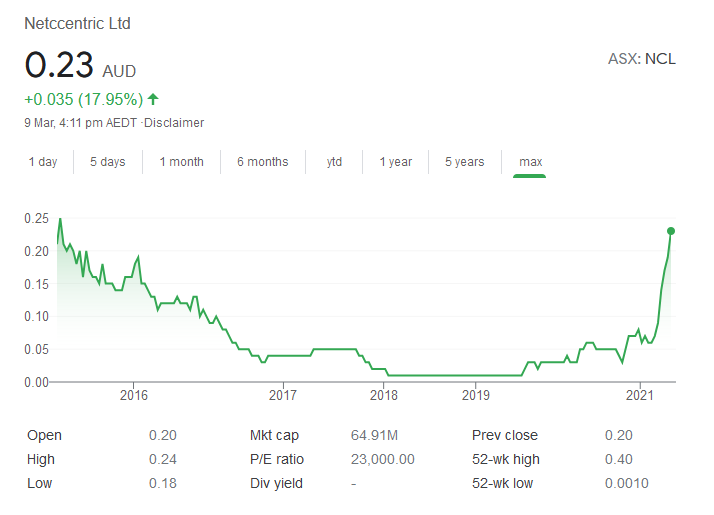 Just who is this 'Bill Gates of Malaysia' and his team of expert professionals?
Born and named Ganesh Kumar Bangah, the Netccentric executive chairman made history in his home country by becoming its youngest CEO of a public listed company at 23 in 20003, a fact testified by the Malaysia Book of Records.
Through a series of acquisitions all over the world, Ganesh then built an online payment gateway group and Southeast Asia's first internet company to be listed on the NASDAQ market of the United States in 2014. Today, Ganesh also owns e-commerce ecosystem builder Commerce.Asia which he had founded in 2016. He was also recognised as EY's Entrepreneur of the Year in 2012.
Netccentric's share price was hovering around the AUD0.005 – AUD0.01 levels before Ganesh had bought into the company in early-2020 for AUD0.015 per share. He had bought his 84% stake in Netccentric from Tiah Ewe Tiam, Tiah Thee Kian, Tiah Thee Seng and Cheo Ming Shen.
At Netccentric, Ganesh is accompanied by an influential and distinguished Board of Directors. They include independent non-executive director Joanne Khoo, who has more than 23 years of experience in corporate finance and business advisory services.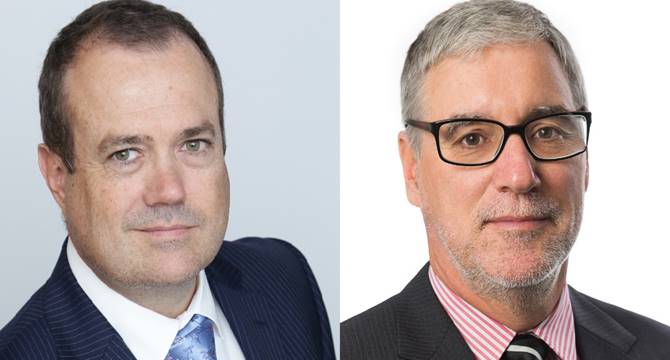 Australians are also onboard, too. Independent non-executive directors Darren Cooper (left in pic) and Robert Sultan are highly experienced leaders within the Australian corporate scene.
With over 25 years senior and executive management experience, Darren is currently managing director of a private consulting business, board chairperson of The Go2 People Ltd and Spectur Ltd and deputy board chairperson of Foundation Housing Ltd. He is also non-executive director of JDSi Consulting Engineers Pty Ltd and Ocean Gardens Retirement Village Inc.
Robert, meanwhile, is a corporate and commercial lawyer as well as former partner of international law firm, Norton Rose Fulbright Australia, with a 30-year portfolio in merger and acquisitions (M&A), corporate advisory and corporate governance. A former member of the Australian Takeovers Panel, Robert is also currently a director of the Gourlay Family Office which includes the Gourlay Family Trust. The Trust, in conjunction with Trinity College Melbourne, had established the Gourlay Visiting Professor of Ethics in Business.
Meanwhile, Ganesh's management team is rounded out by COO Joanne Chen, a season advertising professional with over 20 years of senior and executive-level management experience in the digital industry who pioneered the setup of Malaysia's first digital media agency; CFO Angeline Chiam, who has been with the Netccentric Group since 2010 and who led the core finance team in Netccentric's ASX listing; and CTO Daniel Wong, Head of Software Engineering at MOL Global with over 18 years of experience in financial technology, e-commerce, and solution integration.
Introducing 'Asia's Pioneering Digital Growth Ecosystem'
Incorporated in 2006, Netccentric launched its flagship brand Nuffnang in 2007.
Nuffnang, widely regarded as one of Asia's leading blogging networks, was initially launched in Malaysia and Singapore, expanding into other countries from 2008-2012. In 2013, the company launched social media agency Sashimi and its video production/creative arm RTV.
Netccentric was subsequently listed on the ASX in 2015, raising AUD12.5 million. It expanded into performance marketing through the acquisition of Plata & Punta in 2017, and in 2018, it launched Crunch, Nuffnang's community-driven content platform and event management arm.
The Netccentric Group, which bills itself as "Asia's Pioneering Digital Growth Ecosystem", has attracted investors' attention as a result of its profitable nature, with positive operational cash flow as well as earnings before interest and tax (EBIT). Additionally, the company is not encumbered by any debt.
Capitalising on its core business, which is the provision of social media influencer marketing solutions to its clients throughout Asia, it has seen profitability grow by 10% year-on-year in Q3 2020.
Netccentric offers end-to-end expertise across its fields of operation, spanning influencer marketing (via Nuffnang), social media marketing (via Sashimi/Dejitaru), performance marketing (via Plata & Punta), video and content creation, and social commerce (via Nuffnang Live). The company uses data and insights to grow its diversified revenue streams by empowering communities with innovative digital platforms. Its over 300 clients include various blue-chip brands such as Panasonic, Suzuki, Unilever, and Nestle.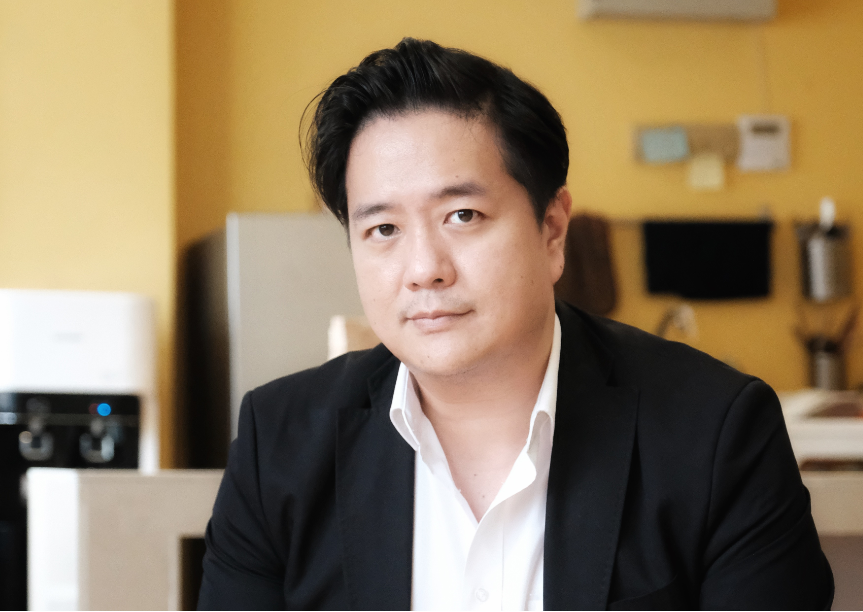 Its flagship brand, Nuffnang, contributed 43% of Netccentric's total revenue for FY2020, a revenue growth of 21% as compared with FY2019. Nuffnang is spearheaded by country manager Kausern Hieu, who is regarded as a 'marketing guru' within the industry.
The company is poised to capitalise on its first-mover advantage within the region, given that the size of the global influencer platform market is expected to grow to US$22.3 billion by 2024, a CAGR of 32.4% since 2019, with Asia Pacific becoming the world's largest influencer marketing platform market by that time.
Of influencers, key opinion leaders, celebrities and content creators
Its flagship influencer marketing platform, Nuffnang, connects Netccentric's clients to more than 13,000 influencers, key opinion leaders, celebrities, and content creators, who collectively reach over 20 million engaged social media followed throughout Southeast Asia, making it the largest social media influencer community in Asia. Nuffnang's services include influencer engagement, brand ambassadorship, and brand advocacy programmes.
Nuffnang's success derives from several factors, including its deep experience, having launched thousands of influencer and content campaigns and produced award-winning YouTube online videos.
It is the only company of its kind to use sophisticated analysis tools for campaign planning and reporting. In addition, it provides idea-driven solutions, integrating influencers, video, design, and content to leverage the full Netccentric growth ecosystem.
The fusion of e-commerce and livestreaming, creating positive 'network effect'
Around July 2020, Netccentric entered into a joint venture with e-commerce infrastructure provider Commerce.Asia, creating Nuffnang Live Commerce. The joint venture fuses e-commerce with livestreaming to create a positive 'network effect', showcasing influencers who promote products and services, and turning the engagement between influencers and their followers into sales and revenue.
Through the new Nuffnang Live Commerce, Netccentric provides its clients an end-to-end, fully-integrated and seamless live video commerce solution from live video production through to payment and fulfilment.
Its services includes Nuffnang Live Pro, a SaaS platform that automates the sales process for current live commerce sellers; Nuffnang Live Business, a one-stop solution; and Nuffnang Live Marketplace, a platform linking current live commerce sellers to product owners. Netccentric expects this industry to grow exponentially in the years ahead.
Rounding out its end-to-end marketing platform is Netccentric's other brands, including its full-service digital agency Sashimi, which provides clients with holistic digital marketing solutions on Web and mobile platforms; and Plata & Punta, through which the company provides digital performance marketing services.
Additionally, Netccentric offers research and data analytics, social media management, digital campaign management, content development, consultation, paid media and digital PR, Web/app development, and design services.
New growth drivers
Moving forwards, the company continues to pursue the fast-growing influencer market opportunity as it develops new growth drivers through expansion into the SME (small and medium enterprises) segment and the social commerce market.
In particular, Netccentric invests into automation in order to ensure its scalability, powering its planned expansion into social commerce and the SME market, as well as actively explores a number of potential M&A opportunities, particularly in the consumer community space.
A Netccentric presentation for investors concludes with the following 'investment highlights':
Trusted by established brands and leading agencies, recognised by media and industry
Profitable and growing core business, operating within the fast-growing influencer marketing industry, cashflow self-sufficient with comfortable cash reserves
Led by a committed and visionary entrepreneur with an experienced Board supported by a management team with a proven track record
A complete business growth ecosystem providing proven end-to-end solutions for effective go-to-market, from creating awareness and generating engagement through to optimising revenue
New investments into Automation & Social Commerce offer potential to deliver scalable growth, and
First mover advantage and barrier to entry secured through a large social media influencer community in Asia.
To view its investor presentation, please click on: https://cdn-api.markitdigital.com/apiman-gateway/ASX/asx-research/1.0/file/2924-02315427-2A1266720?access_token=83ff96335c2d45a094df02a206a39ff4
---
This article was contributed by Selvi Gopal Ang.
Interested in having your announcements on Malaysiakini? Contact the announcements team at [email protected] or WhatsApp on +60 17-323 0707 for urgent matters.