In the day and age of the pandemic, the world seems to stop moving on its axis, even for education. Children are unable to seek knowledge in school due to the physical restrainment caused by COVID-19. Akmal Borhan, a primary school teacher from REAL International and Private Schools, Shah Alam Campus, shares how the current climate affects his students' growth and how one ViewSonic product, in particular, has allowed him to reach out to his students without compromising the level of education he has always provided to his students.
Upon receiving ViewSonic's ViewBoard Pen Display ID 1330 (ViewBoard), Akmal, with immense excitement, unboxed it and instantly connected it to his Windows laptop, and realized its speedy setup process of simply connecting two cables onto the ViewBoard and turning it on. "The future of education in Malaysia is simply done in three steps!", said an astonished Akmal.
The ViewBoard, boasting an impressive 13.3" inch display, also comes with a sleek stylus, which allows Akmal to interact with his students like never before. "Back then, I would simply type what I would like to convey to my students, and let's face it, it's a dull method of communicating with the student." Not anymore, with the addition of the stylus, Akmal can convey his lessons in writing, drawing and colouring!
The ViewBoard aims to tackle the efficacy of remote teaching faced by both students and teachers. As profound as the impact of laptops and portable devices are around us, there are strict limitations when it comes to multitasking, as Akmal was only able to convey his insights to his students with just a keyboard and a screen. "In my class, my favourite tools are Zoom, to communicate with my students, together with a digital whiteboard Learning Management System called myViewBoard®. With the ViewBoard, it simply makes a seamless pairing which allows my students to absorb the learning material with such ease."
As an art teacher, Akmal aims to inspire his students through artistic representation of colour, sounds and beauty. "With the ViewBoard Pen Display ID 1330, I can showcase my teachings and artwork in a manner that is no different than a canvas, and my students have also taken a strong liking on my current approach during these recent remote classes".
Akmal, along with other teachers nationwide, is learning to cope with The New Normal, looking for innovative solutions to teach their students virtually, without compromising the quality of education and not risking the safety of their students. Upon having a hands-on experience with the ViewBoard Pen Display ID 1330, Akmal sees no way of heading back to the conventional method of teaching. Interestingly enough, Akmal does intend on using the ViewBoard in a physical classroom setup, due to its ease of use. The ViewBoard Pen Display ID 1330 is here to stay in Akmal's life for good.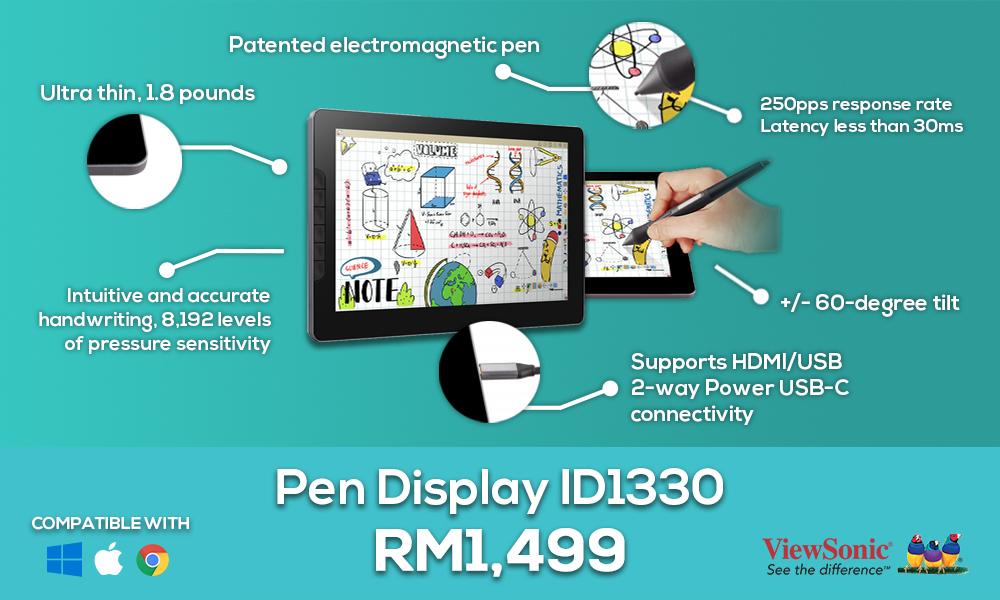 For more details on the ViewBoard Pen Display ID 1330:
13.3-inch interactive display equipped with a patented electromagnetic pen
Delivers intuitive and accurate handwriting with 8,192 levels of pressure sensitivity, along with a +/- 60-degree tilt
250pps response rate minimizes latency to less than 30ms
Ultra-thin design and weighs 1.8 pounds
Supports HDMI/USB or 2-way Power with USB-C connectivity
Compatible with Windows, macOS, and Chome operating systems
Available now for an estimated street price of RM1,499
To get your hands on the ViewBoard Pen Display ID 1330, it is available at the ViewSonic Lazada store.
---
This content is provided by ViewSonic International Corporation.
Interested in having your announcements on Malaysiakini? Contact the announcements team at [email protected] or WhatsApp on +60 17-323 0707 for urgent matters.