"What is the speciality of TimeTec smart home or smart office system when you compare it with others? This is the question frequently asked by our customers. I always like to quote this example. Normally for a smart home system, when there is a break-in, it will trigger the intrusion alarm and alert you, your family and some closed contacts on your smartphones. Besides, you and the people inside the house also can hear the siren installed at home. But if there is no siren installed outdoor, and usually, this is the case for a smart home system, even your neighbours can't hear it, not to mention the guardhouse that's located quite far away." Teh Hon Seng, CEO of TimeTec Group, introduced i-TimeTec Smart Home/Office products in this Digital Building announcement series.
"Where is the immediate rescue? It is supposed to come from the guards that your JMB (Joint Management Body) paid monthly to take care of the gated and guarded community's security issue. But it usually won't happen due to the lack of connectivity between systems. It means that your smart home system doesn't talk with your community system. And the outcome is, delayed security is denied security," added Teh Hon Seng.
Teh Hon Seng, CEO of TimeTec Group
"Our TimeTec smart home/office system can connect to our guardhouse i-Vizit panel as part of the community system for residential (i-Neighbour) and commercial buildings (TimeTec Building). It also connects to our Guard Patrol system. When an alarm goes off in a particular unit, it will alert the guardhouse and the guards on patrol duty. The guard can call the unit owner or tenant directly to check and decide whether to dispatch a guard over immediately or not."
"This is the power of cloud computing and the power of connectivity in an ecosystem."
"Our TimeTec Smart Home/Office products are all SIRIM and MCMC certified. A clear advantage for any housing projects that need smart home devices to create their bundled package. In Malaysia, a person who uses non-certified communication equipment commits an offence and shall, on conviction, be liable to a fine not exceeding one hundred thousand ringgit (RM100,000.00) or imprisonment for a term not exceeding six (6) months or both."
Smart home/office can feature either wireless or hardwired systems—or both. Wireless systems are easier to install. Fixing a wireless home automation system with features such as smart lighting, climate control, and security cost only several thousand dollars, making it a very cost-friendly solution. On the other hand, hardwired systems are considered more reliable, but it is also way more expensive than the wireless system.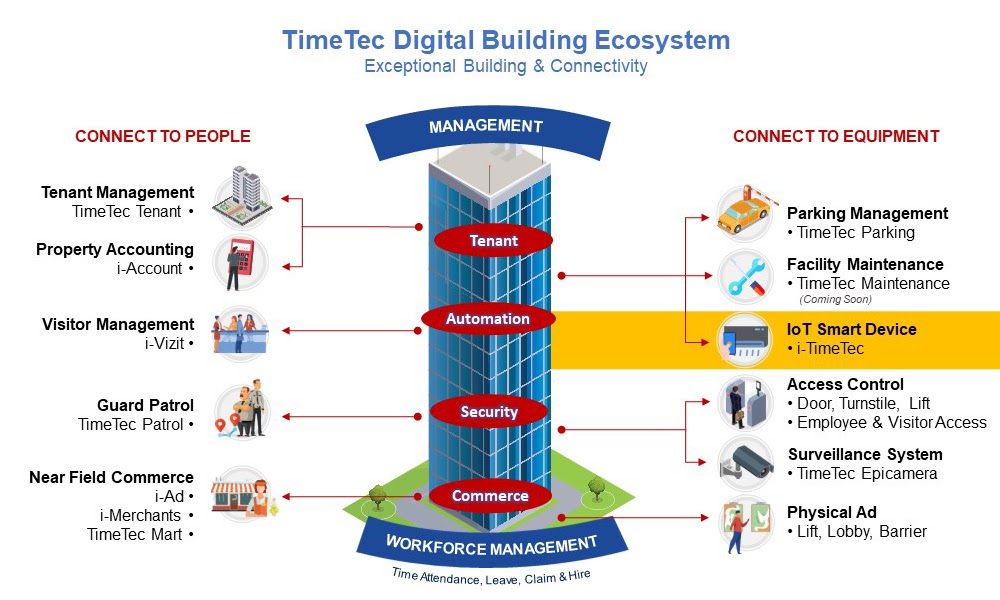 "And the trend now has shifted towards wireless smart home/office systems. It is easier to deploy, and it costs lower, especially suited to new smart home/office housing projects in Malaysia, as most of the new house owners will renovate the house before moving in. Wiring the whole house would add that extra cost many unwilling to fork out. I had the experience of spending several thousand extra to rewire my pre-installed smart home alarm system given "free" by the developer. Besides, I got a spoiled and warranty void smart home panel due to the slight relocation of the item I have made during renovation," explained Teh.
"If it is a wireless system, they just need to hand over the 'free' smart items to me upon vacant possession. I will handle the rest all by myself or with a guide from the developer after the renovation."
"As for automation, the connectivity of TimeTec smart office devices to TimeTec smart building and smart community added extra advantages. For example, a facility booking connects to our smart lock or access control devices, allowing temporary access rights to the user to unlock the facility via his/her smartphone during the booking period and automatically turn on and off the lighting and air-conditioning to conserve energy, etc."
For more information about TimeTec Smart Home/Office IoT devices, refer towww.i-timetec.com and contact Ms Haw Lee Chin, Business Development Manager at [email protected] (012-2297303) or General line and email: 03-80709933 and [email protected].
Stay tuned with TimeTec for the next digital building ecosystem announcement every Wednesday! Click here for Series 8 of 13
https://www.malaysiakini.com/announcement/576263
Malay version: https://www.malaysiakini.com/announcement/576259
Chinese version: https://www.malaysiakini.com/bulletin/576260
About TimeTec
TimeTec Group was established in 2000. Over 20 years, the Group had developed three homegrown globally recognized IT brands, FingerTec, TimeTec and iNeighbour, for workforce management, security, smart office, smart residential and smart township solutions unleashing the power of biometrics, cloud & edge computing, IoT and AI technologies. All these solutions connect and change the landscape of work life and home life in a larger ecosystem. Through a vast network, TimeTec Group distributes its biometric hardware products and 16 cloud applications, including IoT devices, to more than 150 countries worldwide. Visit our company websites at 
Various renowned clients have subscribed to TimeTec various solutions, including IOI Properties, Putrajaya Holdings, Ibraco, Binastra, Thriven, Hock Seng Lee, QSR Brands, Central Sugars Refinery CSR, Sunway Constructions, Mamee, Yakult, Nano Malaysia Berhad, and many more. The versatility and feasibility of TimeTec products also attract various international customers from all over the world, including Hong Kong, Dubai, Australia, etc.
---
This content is provided by TimeTec Cloud Sdn Bhd.
Interested in having your announcements on Malaysiakini? Contact the announcements team at [email protected] or WhatsApp on +60 17-323 0707 for urgent matters.