KUALA LUMPUR: Ganesh Kumar Bangah, Executive Chairman of Netccentric NCL, believes that the Netccentric-Nuffnang Group is well-poised to capitalise on the growth of the digital commerce industry in Southeast Asia (SEA).
"The Netccentric-Nuffnang Group is a leading player in the influencer marketing and live commerce space, and influencer marketing is one of the fastest-growing sectors within digital marketing. Live commerce, in turn, is one of the fastest-growing sectors within e-commerce. And both digital marketing and e-commerce are some of the fastest-growing sectors in SEA, which is one of the fastest-growing economic regions in the world. Investing in Netccentric means investing in all of this," he told Niv Dagan, Executive Director of Peak Asset Management, in a video interview.
Touted as the 'Bill Gates of Malaysia', Ganesh is a veteran Internet entrepreneur. He started his first Internet technology business in 2000 and listed on in Bursa Malaysia (formerly the Kuala Lumpur Stock Exchange up to 2014) when he was 23, which made him the youngest CEO of a listed company in Malaysia. His company subsequently acquired Friendster, the world's pioneer social network, and was later listed on NASDAQ in late 2013.
Ganesh describes Netccentric as a 'digital growth ecosystem' of marketing growth enablers.
"We are a digital marketing group that helps brands grow their businesses online over e-commerce. In Nuffnang, we have the largest influencer marketing platform in Malaysia, and influencer marketing is a growing industry – growing from US$6 billion in 2020 to US$24 billion by 2025, and Asia Pacific is expected to lead that growth," said Ganesh.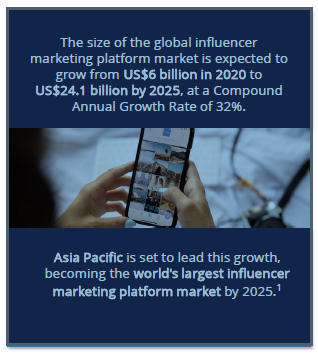 Source: https://www.marketsandmarkets.com/Market-Reports/influencer-marketing-platform-market-294138.html
Influencer marketing is where people who have a lot of fans on social media (e.g. Facebook, Instagram, TikTok) get paid to promote products on social media. He explains that over the last couple of years, the cost of advertising on those social media platforms have gone up – hence, the growth of influencer marketing.
"Whether celebrities or mega influencers who have hundreds of thousands of followers or even nano-influencers with a few thousand followers on today's Top 5 social media platforms, more and more Brands find it effective to be advertising through them. We have enabled large brands such as KFC and P&G to advertise and educate their target audience through influencers. Hence, as this industry grows, we have grown in tandem with it."
In Q1 2021, the Netccentric Group's revenues leapt approximately 40% year-on-year.
The Group has also invested in a 'live commerce' platform. "Using our platform, people can sell products via services such as Facebook Live, which is essentially TV shopping over Facebook. It's proven to have grown quite tremendously in China. So we get our influencers to sell products over live commerce, and we happened to launch that during the lockdown in Malaysia last year, so we've seen that sector of our business grow," said Ganesh.
There are many revenue streams that Ganesh sees his platforms can leverage. "We charge brands a cost for advertising, and we share that with the influencers. When influencers use our platform to sell products for brands, we also earn a transaction fee.
"Further, as we roll out premium services, we charge a percentage of sales or a subscription fee. When it comes to our live commerce platform, we're providing it free of charge to our influencers to get them started. As they start to get used to the platform, we build a lot of data around it. We can then use that data to promote our platform to the influencers, and also to the brands, so that they can effectively use the influencers. We're moving from a marketing platform to a commerce platform, and that is what social commerce is all about."
According to Ganesh, 'social commerce' is the next growth area within e-commerce. "Marketplace commerce, such as Amazon or Lazada or eBay, has been around for 15-20 years now. Social commerce is the next step, where people like you and me start promoting products to our fan base, and given the size of social media like Facebook in Malaysia, this is a very effective way of promoting and even selling product via live commerce."
Ganesh also pointed out that the company has added features in direct response to customer demand, such as its strategic partnerships and integration with Shopify and eShoplive. "We see ourselves as an enabler that localises features for both influencers and brands to both promote themselves and sell their products."
Source: Netccentric Limited. For more information, please contact [email protected]
---
Interested in having your announcements on Malaysiakini? Contact the announcements team at [email protected] or WhatsApp on +60 17-323 0707 for urgent matters.