Driven by the motto of 'Empowering local communities to deliver positive change', Lalamove is extending its Deliver Care initiative to Uncle Kentang's charity organisation, the Community Policing Malaysia. The collaboration will enable faster and seamless distribution of essential items from Community Policing Malaysia to underprivileged communities and frontliners.
Lalamove launched the Deliver Care initiative in March 2020. The initiative also doubles as a viable logistics solution for NGOs amidst the restricted movement order against vehicles that don't fall under essential sectors.
This year, more than 30 NGOs have taken advantage of Lalamove's on-demand delivery fleet to deliver essential items to medical frontliners and communities that need them in Klang Valley, Penang and Johor.
Community policing Malaysia and Uncle Kentang
Besides its track record in serving underprivileged communities, Community Policing Malaysia owes its credentials to the reputation of its founder, Kuan Chee Heng, or more affectionately known as Uncle Kentang.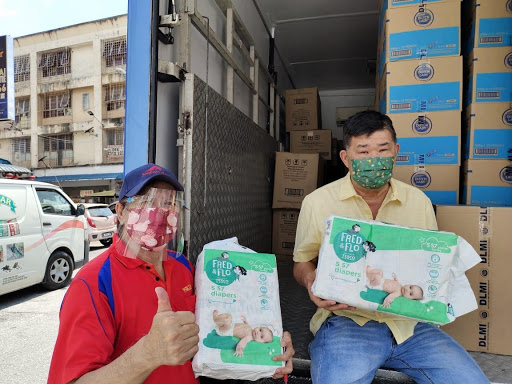 The moniker Uncle Kentang came from his early days of donating potatoes as an essential diet to the needy. Kuan believes that there is more variety to cook and serve potatoes, unlike rice, which will end up consumed with salt or soy sauce in a household with limited to no ingredients.
As a result, those who received Kuan's aid had warmed up to him with the moniker 'Uncle Kentang'. The nickname is close to the hearts of people graced by Kuan's helping hand.
Kuan was recently awarded the Commonwealth Points of Light Award by Queen Elizabeth II in recognition of his charitable work. Instead of claiming the accolade for himself, Kuan dedicated the award to Malaysians that are committed to humanitarian services.
Challenges in reaching out to the needy during lockdown
According to Kuan, the present situation with pandemic and lockdown is not only tough on the rakyat, since his non-profit organisation is also affected by lockdown measures.
Precautions, such as physical distancing and masking up are on the top of to-do-list during charitable handouts. There are also logistics issues to deal with since only authorised vehicles and drivers are allowed to ply the road for permissible activities.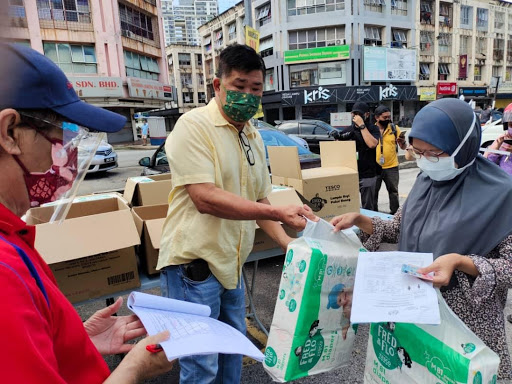 As such, the Community Policing Malaysia has been facing unique challenges when it comes to assigning vehicles for their charity deliveries.
"The pandemic and MCO have made it more difficult for lower income households to put food on the table. We have been receiving up to 300 calls for help from the needy in a single day. We are trying our best to make sure these voices are heard with the follow-up aid to them regardless of how limited our resources and manpower are," said Kuan.
Delivering care with Lalamove
"Lalamove is the first delivery service to extend free logistics support to Community Policing Malaysia. We are grateful to have Lalamove's fleet at our disposal to deliver essential items to the needy. Plus, I am quite familiar with Lalamove's delivery services. I regularly use their services to deliver Uncle Kentang White Coffee to my customers! "
"With Lalamove's Deliver Care, it will be easier to arrange multiple large-scale deliveries of essential items to deserving recipients around Klang Valley. Since this delivery service comes at no cost, we don't need to worry about stretching the limits of our budget. We welcome more collaborations from businesses and the public to ease the hardship of our fellow Malaysians," Kuan further commented.
Jane Teh, the managing director of Lalamove Malaysia, has nothing but praises for the charitable activities of Community Policing Malaysia. "We hope this partnership with Uncle Kentang will encourage more NGOs to take advantage of our free delivery initiative."
"We have more than enough vehicles and trained drivers to alleviate the logistics burden of NGOs. Therefore, we welcome NGOs, not just in Klang Valley, but Penang and Johor, to work with us and improve the lives of Malaysians that are affected by the pandemic," stated Jane.
Currently, Lalamove is accepting applications from NGOs to enrol in its Deliver Care initiative at no charges. Lalamove will continue to empower and connect communities during this challenging period with its delivery sponsorship for charities. For more details on the free delivery initiative and registration, please visit Lalamove's Deliver Care page.
---
This content is provided by Lalamove Malaysia.
Interested in having your announcements on Malaysiakini? Contact the announcements team at [email protected] or whatsapp on +60 17-323 0707 for urgent matters.