Malaysia's first on-demand transit service Trek Rides is being prepared for launch by homegrown mobility tech startup Asia Mobiliti following a successful pilot in Petaling Jaya in September.
Trek Rides merges the digital experience of ride-hailing with public transport, enabling demand responsive transit services for effective and viable first-mile/last-mile connectivity. Designed around zones, passengers book a ride on an app and are matched to a suitable vehicle which are typically larger capacity vehicles such as 10-seater vans. Multiple passengers are ferried on trips that are routed by software to optimize pick-up and travel time. This intelligence enables more efficient movement of passengers and replaces the traditional fixed-route, timetabled nature of public transport.
The fleet partnership service model was showcased in the pilot in Petaling Jaya with a fleet of vehicles operated by Trek Rides' first fleet-partner, KR Travel & Tours. With a dedicated fleet and professional drivers servicing each on-demand transit zone, Trek Rides is geared to service many zones within a city. With average fare rates being 60-80% lower compared to conventional ride-hailing services and without surge pricing, it will cater to a large segment of the population by connecting people to traditional public transport services and enabling economical and convenient car-less travel within a neighborhood.
Asia Mobiliti's CEO & Co-founder, Ramachandran Muniandy adds, "We have demonstrated that on-demand transit or DRT (demand responsive transit) is a viable solution for first-mile/last-mile connectivity which has been a long-standing problem here in Malaysia. It's been the toughest nut to crack in the passenger journey. Our service model involving fleet-partners coupled with the technology that runs off a mobility-as-a-service platform enables nationwide scale and integration with traditional public transit services."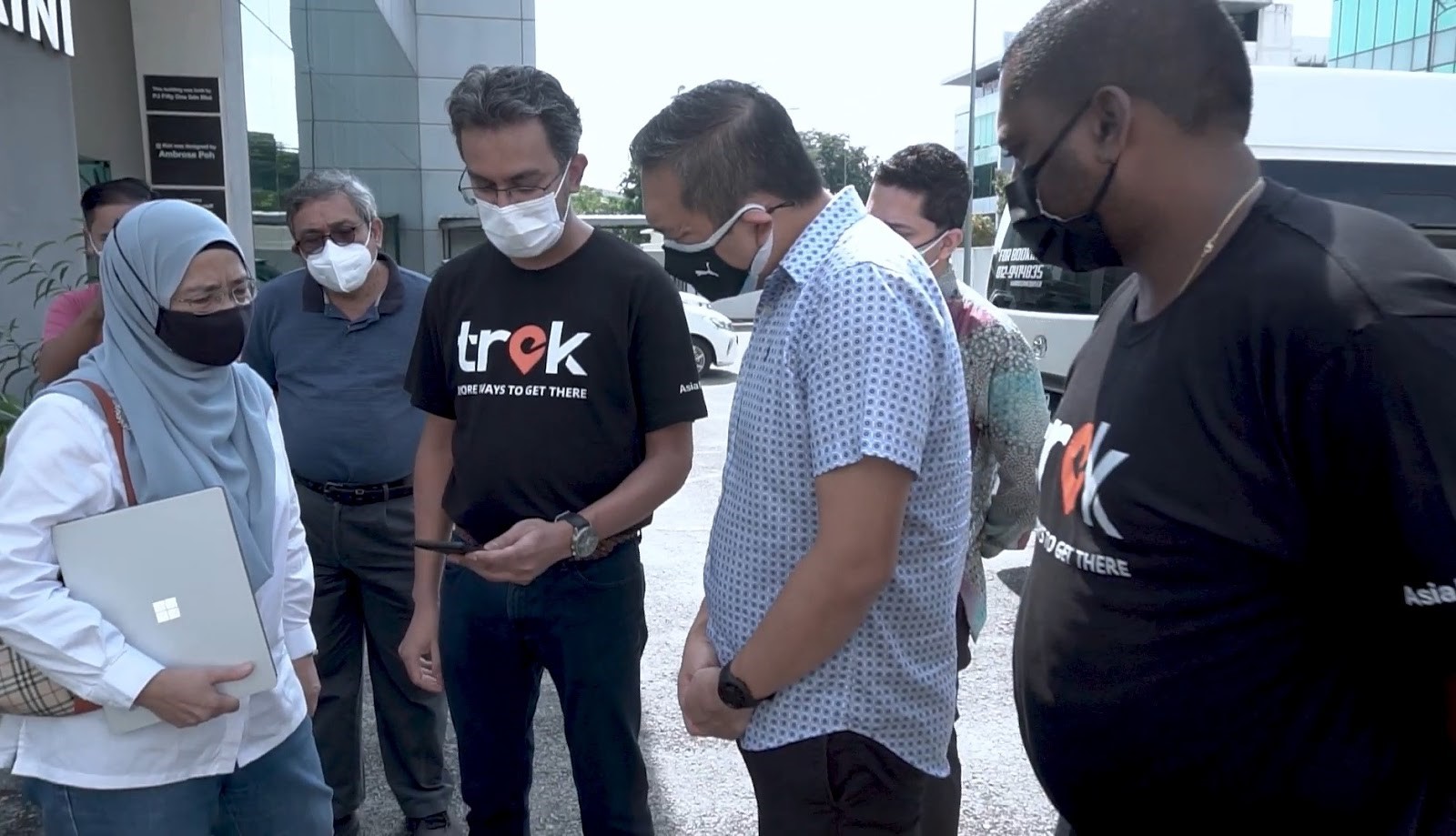 According to Selangor State Exco for Local Government & Public Transportation, YB Ng Sze Han who participated in the pilot, "The state government will fully support this new initiative that can help Selangor to achieve the goal of 60% public transport modal share in Selangor by 2035".
The other guests of the pilot included State Assemblyman for Bukit Gasing YB Rajiv Rishyakaran, CEO of MBI Pn. Hajah Norita Mohd Sidek, and CEO of Smart Selangor Delivery Unit (SSDU) Dr Fahmi Ngah. YB Rajiv adds, "People want a door-to-door service. With this one that can reduce ride-hailing costs by half is absolutely welcomed and necessary, and I hope it can take off immediately."
With the first zones earmarked for launch next year, Trek Rides is designed to integrate with and boost public transport usage. On-demand shared rides in people movers such as vans and buses reduce traffic congestion and lower travel costs. Just as importantly, this contributes to reduction of carbon emissions as Malaysia moves toward net zero targets. Over the long term, dynamic first-mile/last-mile services allow urban spaces to sustainably reshape by replacing spaces traditionally reserved for parking, traffic and vehicles with healthier, more natural spaces for living.
---
This content is provided by Asia Mobiliti.
Interested in having your announcements on Malaysiakini? Contact the announcements team at [email protected] or whatsapp on +60 17-323 0707 for urgent matters.