It has been a confusing two years with the COVID-19 pandemic, causing havoc in our daily lives.
This global crisis has also been an extraordinarily trying time for education.
The biggest challenge in online teaching is how to sustain the learner's level of engagement and interest. Therefore, there is a need to adopt technology and seek out other pedagogical adaptations to help online education.
Photo above by Soumil Kumar from Pexels
What is gamification?
Gamification is applying game design features and ideas to non-game situations. It may also be defined as a set of actions and procedures that use or utilise the features of game components to solve issues.
It aims to engage customers, workers, and partners to encourage them to cooperate, share, and interact.
The art of gamification
The art of gamification is about applying video game mechanics to a non-game based environment or system to increase its users' engagement, participation, and loyalty.
In theory, this means applying the general principles which video games use to drive player and game experience to other contexts or environments. Gamification itself is nothing new. It predates video games.
The act of rewarding scouts with badges for performing a task that normal kids would not seek out or partake in is one example. Same as loyalty cards to earn points for redemption.
All humans feel a compulsion to be competent or successful. It is an intrinsic desire to seek control and mastery over a particular moment, action, or situation. We yearn to be validated. We want to be rewarded for a job well done.
This perpetual desire to achieve a sense of growth, accomplishment and reward is what psychologists term as the psychological need for competence.
Video games excel in this.
The use of high scores, badges, points and awards are typical video game elements used in video games to reward players.
Over the past few decades, video games have successfully employed a rewards-based mechanism to promote positive player engagement.
The theory is that the rewards-based elements can be used in virtually any context and makes gamification an effective method of promoting engagement in learners.
How does gamification work?
Gamification works by using game mechanics and game dynamics to provide proactive directions and feedback to audiences, resulting in achieving corporate goals and objectives.
An engaging gamification experience taps into a participant's emotions and simply illustrates the best actions an audience can do to contribute to mutually agreed-on goals. Students that interact with gamification software receive quick feedback on their performance and are led toward new goals.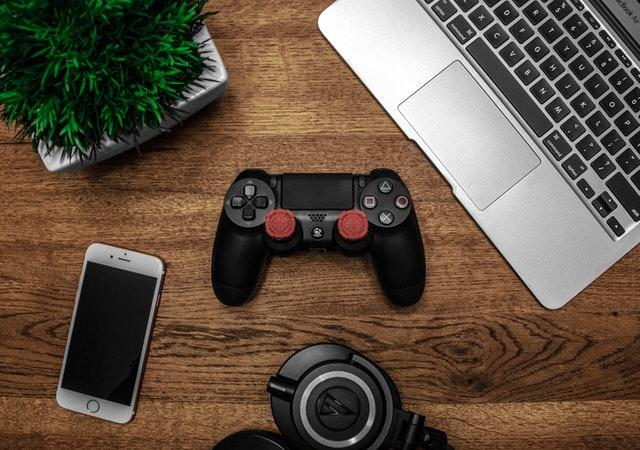 Photo by Garrett Morrow from Pexels
Benefits of gamification
Here are a few reasons why gamification is beneficial for learning:
It makes learning more enjoyable and participatory
The gamification of learning may help you generate innovative, instructional, and entertaining material regardless of your audience or topic matter.
It's not designed to transform work into a game, but tap into the psychology motivating people to participate.
One of the primary advantages of gamification is that it makes learning more exciting and instructive, owing to its interaction.
Role-playing and competitive components offer an immersive element that, when done right, may make learning enjoyable.
Allows students to experience how the real-world works
Learning on the job may be an excellent method to solidify skills by using them in real-world situations.
Gamification of learning helps students see the subject's real-world applications and advantages.
They may see first-hand how their actions in the game affect the repercussions or rewards they get.
You can get instant feedback
Students may work toward real-time, quantifiable, and relevant goals and receive upper-level feedback as they achieve them, thanks to the gamification of learning.
After all, you won't be able to improve until you figure out what you need to work on or how to upskill.
Lessens fear of failure
Failure is an inevitable aspect of learning, yet it is often viewed as a cause of shame and humiliation in the classroom.
However, research has found that gamification motivates students to fail and retry learning activities without feeling embarrassed. This perseverance is linked to academic success, and it also fosters the grit and resilience that our pupils will need in adulthood.
Makes learning a more personal experience
Making learning more personal using gamification increases engagement and reminds students that their learning path is their own.
You'll notice this shift when they start asking if they can do any other things to practice or pursue good grades at home even if you haven't assigned homework.
How can gamification be applied in teaching?
Learner engagement is a crucial factor in ensuring that what is being taught is absorbed and the learners desire to learn is present.
The truth is that traditional in-person teaching models do not translate to an effective remote learning environment.
The key question then is how can teachers and educators ensure that learners are constantly engaged?
Many teachers have explored simple gamification tools to accompany online class applications such as Kahoot and Quizizz. Gamification has been making a comeback over the past two years since the pandemic has forced many teachers to online platforms.
I know a lot of people have used the term 'gamification' in applying concepts of rewards-based mechanisms in their classrooms. But true gamification is more than merely using leader boards, badges and tools.
Rewards are not the only element that makes a video game engaging.
There are other elements such as challenges, social interactions and player-to-player competitions, which are arguably factors that set a great game apart from a mediocre one.
How is UOW Malaysia KDU applying gamification?
I am advocating the concept of gamifying gamification using these advanced principles of game design in the application of gamification to online classes.
Social interactions through a competitive player-versus-player setting are the very thing that makes party card games such as UNO, Exploding Kittens and Unstable Unicorn so effective in being fun.
The element of social competition and interaction are a few examples of what makes video games successful.
A few lecturers in the School of Computing and Creative Media have been experimenting with gamifying gamification and came out with a proof-of-concept termed the horizontal gameful system, which uses the player-vs-player and collaborative social game mechanics to push the level of engagement of our students.
The School of Computing and Creative Media conducted a survey to compare the effectiveness of a rewards-based only gamification element against the more holistic play and social-based horizontal gameful system.
We also compared the efficiency and productivity of students in a non-gamified online class, a rewards-only traditional gamified online class and an online class using the horizontal gameful system.
The results were phenomenal. Assignments and weekly tasks were completed more quickly with greater eagerness in the online class using the horizontal gameful system.
The level of student engagement in classrooms was higher with a more social competitive and gamified system at play.
The research showed that a horizontal gameful system enhances the interaction between learners and creates a more immersive learning environment.
Final thoughts
Online classes employing the horizontal gameful system techniques are shown to be significantly more effective than online classes that just utilize straightforward rewards-based gamification systems.
So, are you up to gamifying your online classes?
---
This content is provided by UOW Malaysia KDU Penang University College Sdn Bhd.
Interested in having your announcements on Malaysiakini? Contact the announcements team at [email protected] or whatsapp on +60 17-323 0707 for urgent matters.