About 800 local bazaar merchants across Kuala Lumpur, Selangor, Pahang, Kelantan, Terengganu, and Sarawak have 'Boost-ed' their business
Boost users can redeem RM10 Duit Raya on the app every Friday as an incentive to support local bazaar merchants*
Kuala Lumpur, 14 April 2022 – As Malaysia enters its transitional phase towards an endemic status, about 800 local bazaar merchants have opted to digitalise their business operations with Boost, the fintech arm of Axiata, for better convenience and safety this month of Ramadan.
Local legends and Ramadan favourites, such as Mat Rock Ayam Goreng Kunyit, Air Balang Laksamana, Syakiya Nasi Lemak Kukus, Murtabak Muslim KL, and many others, are amongst the hundreds of bazaar merchants that have embraced Boost as their preferred cashless payment solution this year.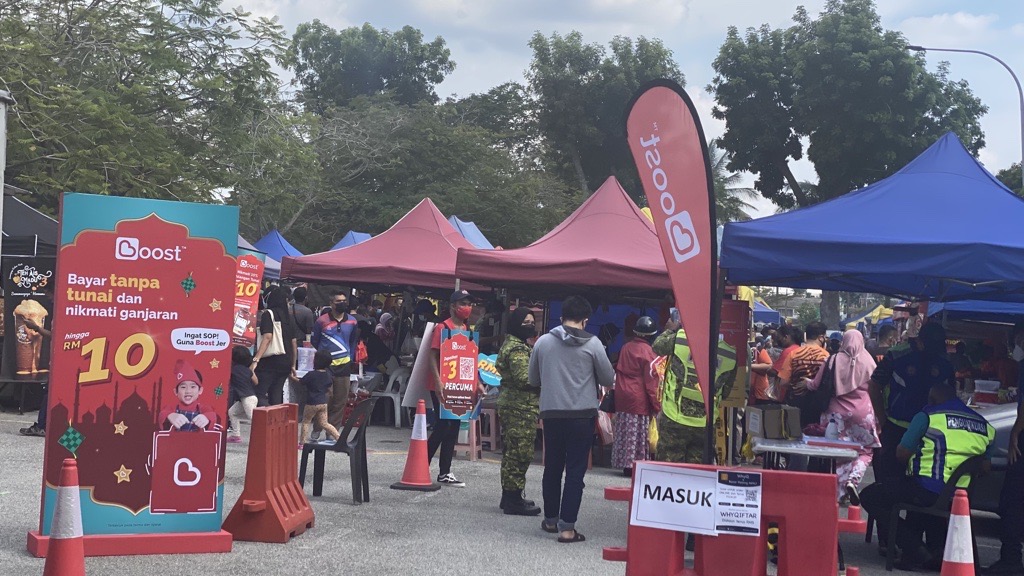 One of the local bazaar merchants on-ground, Mohd Ridzuan bin Kihi, owner of Mat Rock Ayam Goreng Kunyit, said: "We are thrilled that Ramadan bazaars can operate in full swing again after about 2 years of restrictions due to COVID-19. Our team is very excited to be able to connect with our supportive customers and cook their favourite dishes onsite at the Bazaar. As a community, we are doing all that we can to keep both our customers and staff safe by providing contactless alternatives for daily transactions, like Boost. Let's continue protecting each other so that our economy can remain open and recover."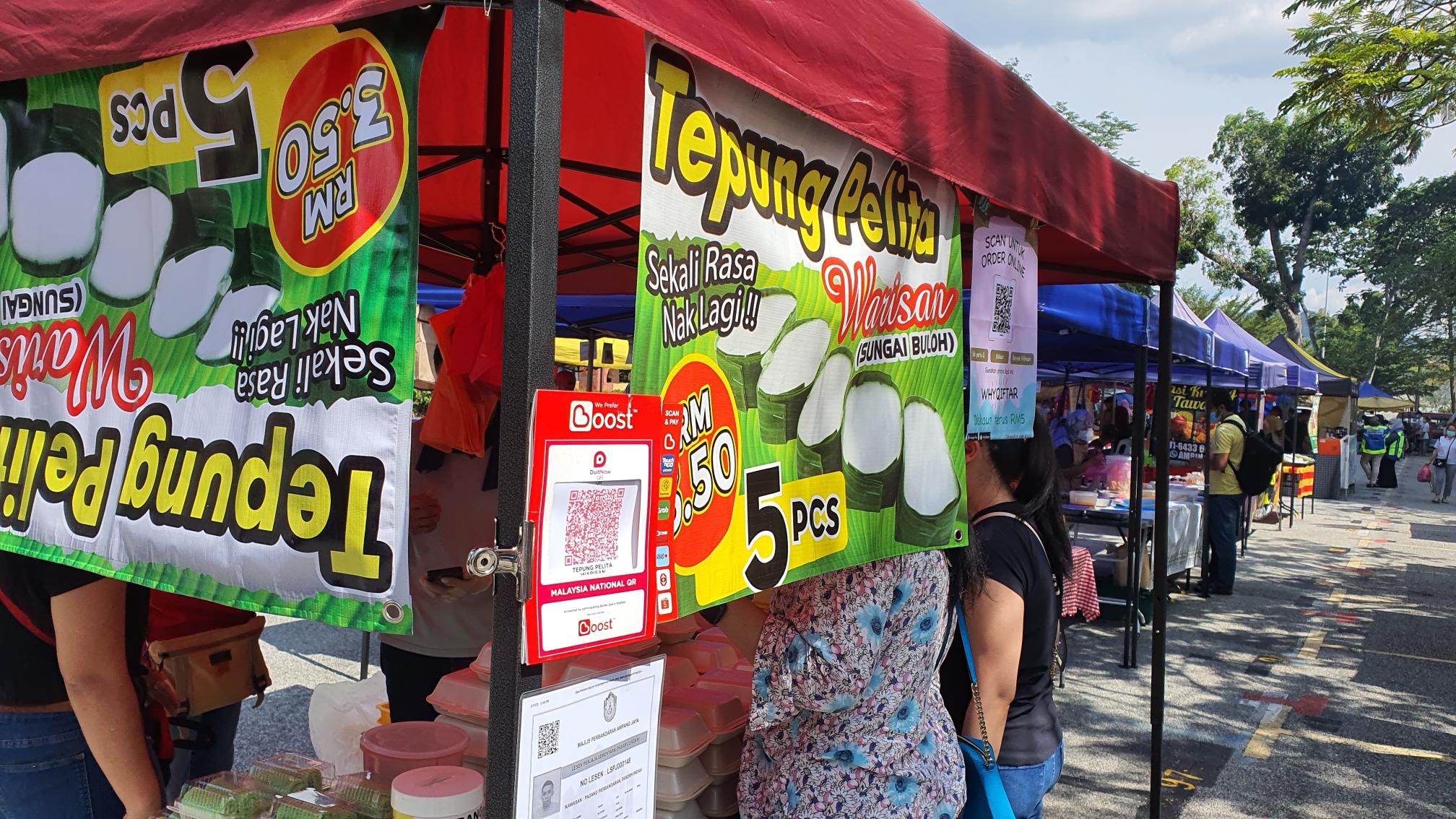 Joe Qamarul Bin Abdul Razak, owner of Air Balang Laksamana, a refreshment drink stall that has been operating at Pandan Indah's bazaar for the past 15 years, stated that small businesses, such as his, rely on festive seasons as their primary source of income to cover cost and stay afloat throughout the year. He added that he is thankful to Boost for making cashless payments more accessible to everyone, which helps minimise business disruptions during Ramadan, enabling him to continue earning a living as the sole breadwinner of his family.
In addition to empowering micro-small-and-medium-sized enterprises (MSMEs) by providing an extra layer of protection through its easy-to-use and seamless fintech solutions, Boost has also injected incentives for shoppers to support merchants and businesses.
Every Friday at 12PM to 4PM from now until the end of April 2022, Malaysians can redeem RM10 Duit Raya credit on their Boost app as part of Boost's 'Kongsikan KeberkaTEN Ramadan' campaign, in support of local merchants*.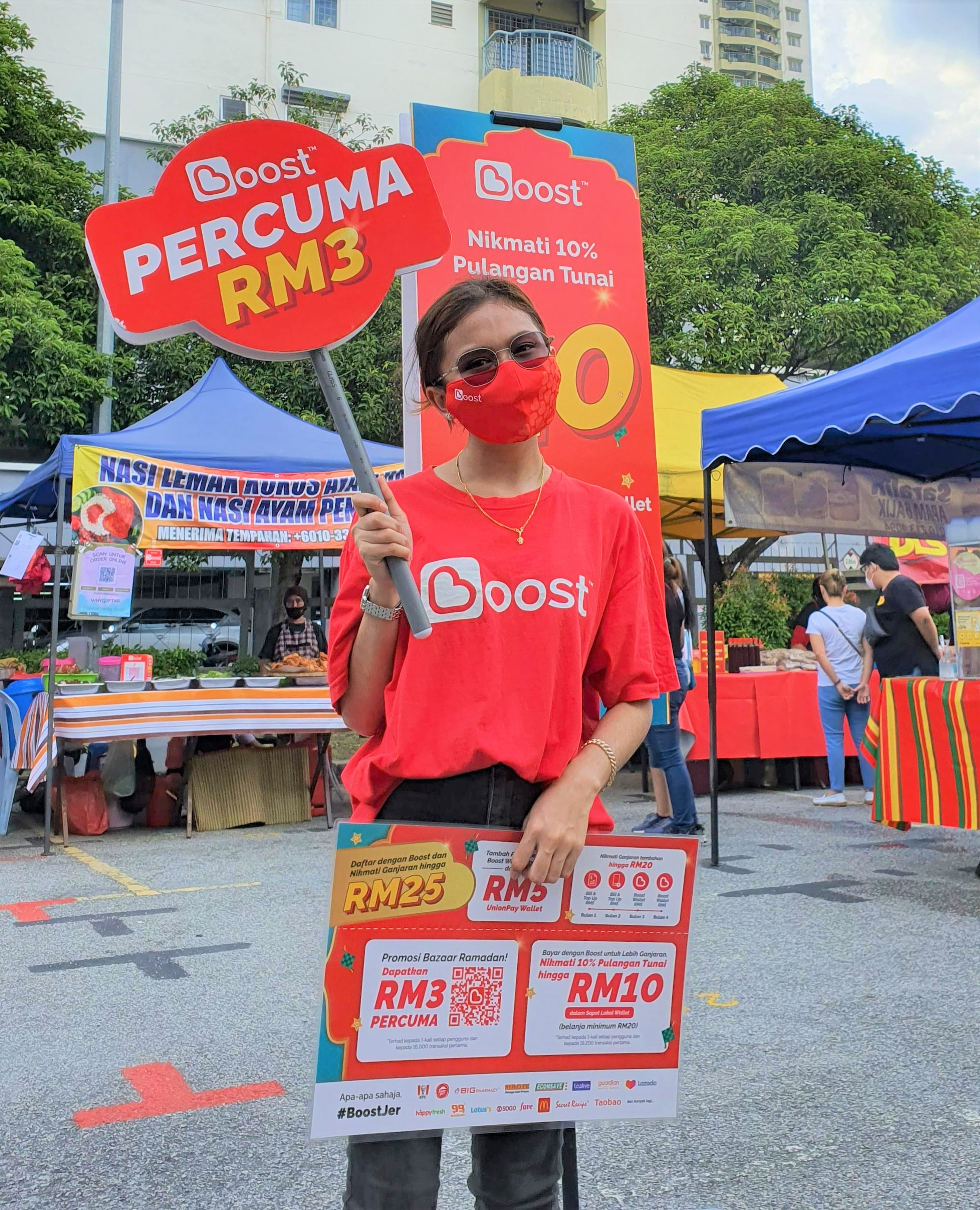 "After 2 years of subdued Ramadan bazaars, it's heartening to see the rakyat becoming more comfortable to resume daily life with footfall and sales in bazaars reaching nearly pre-pandemic levels. This is in no small part due to the support provided by Boost, which has helped us to attract more customers with its attractive offers and smooth digital payments," said Kak Long, owner of Syakiya Nasi Lemak Kukus.
Malaysians can be on the lookout for their favourite buka-puasa delicacies in preparation for iftar this Ramadan season and enjoy massive rewards from 'Boost-ed' bazaar merchants at these locations:
Padang Perbandaran Ampang Jaya (Pandan Indah), Kuala Lumpur

Cyberjaya, Selangor

Mahkota Square, Kuantan, Pahang

Jalan Dato Pati, Kelantan

Shahbandar, Terengganu

Metro City, Sarawak
Eric Chong, Chief Executive Officer of Boost Biz, said: "It is encouraging to see hundreds of bazaar merchants nationwide adopting Boost as their preferred cashless payment platform this Ramadan season. This reflects our continuous effort to make digital solutions more accessible to MSMEs by empowering them with the necessary tools and support to eliminate customer pain points and accelerate their business growth in an increasingly mobile-first market. With half a million merchant touchpoints nationwide, we stand ready to help our community of merchants and MSMEs. This aims to help them continue their business aspirations through our ecosystem of innovative technology that also offers financing application through the merchant app, along with a seamless offline-to-online retail experience, as Malaysia transitions towards the endemic phase."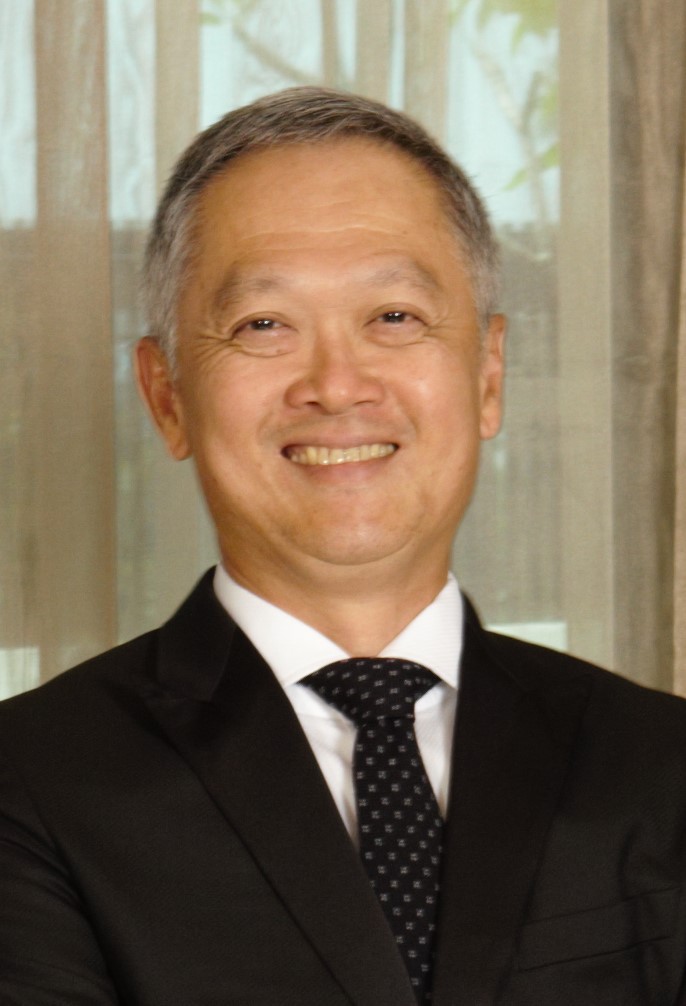 Ungku Norliza Syazwan Ungku Halmie, Chief Executive Officer of Boost Life, added that: "As we observe the holy month of Ramadan with renewed hope and some semblance of normalcy, we have ramped up our offerings to delight our large base of nearly 10 million customers with our amazing 'Kongsikan KeberkaTEN Ramadan' rewards. From simplifying bill payments, online transactions, e-donations, contactless payments, and more, Malaysians can continue to rely on Boost as their one-stop lifestyle companion for their everyday needs, especially during this Ramadan season, to enjoy a seamless bazaar shopping experience with attractive incentives and discounts."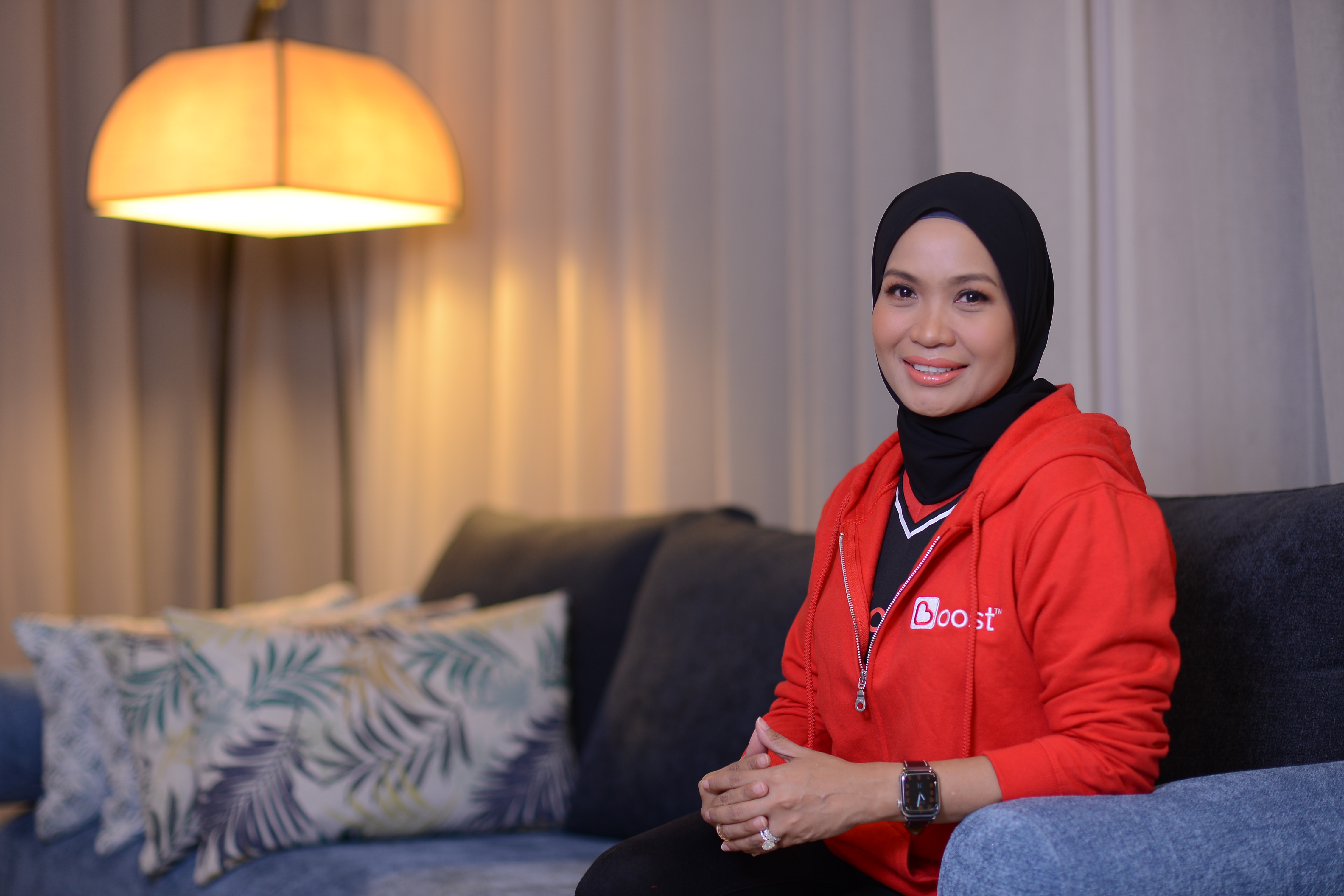 Bazaar merchants at any of the 'Boost-ed' locations above can sign up as a participating Boost seller and offer greater convenience and safety for their staff and customers by registering here: https://bit.ly/boostbizramadan
For smart shoppers seeking to maximise their savings through the Boost app, please visit https://bit.ly/BoostKeberkaTENRamadan
For local entrepreneurs who are in need of a Shariah-compliant micro-financing, please visit https://bit.ly/KongsikanKeberkaTEN
About Boost
Boost is the fintech arm of Axiata that unifies financial services spanning payments, micro-financing, micro-insurance, cross border content services and merchant solutions. As your preferred lifestyle & digital financial services app, we combine deep fintech, in-house data and AI to meet growing and diverse needs of our customers and merchants across the region, with the aim of becoming a full-spectrum fintech player in Southeast Asia. Our businesses are streamlined into four core brands:
Boost Life
Provides financial services beyond eWallet and is a consumer platform that serves the needs of all Malaysians through extensive digital features ranging from bill payments to online shopping, buying groceries, food delivery, insurance purchase and many more.
Boost Biz
The merchant business platform that offers more than just payment solutions for enterprises of all sizes, through self-serve online business tools and digitalisation solutions, such as, MSME financial plans, food delivery, online shopping, and more.
Boost Credit
Formerly Aspirasi, it houses the micro-financing & micro-insurance business and is a pioneering Digital Alternative financier in Malaysia and Indonesia. Boost Credit also became the first regional digital alternative financier to secure an investment-grade A1 Rating from RAM Ratings for our maiden tranche of Senior Class A Medium Term Notes of securitised financing receivables.
Boost Connect
Formerly Apigate, Boost Connect is a global digital monetization and customer growth payment platform ecosystem provider with innovative products and services.
Users can download Boost from the Google Play Store, App Store or HUAWEI AppGallery. For more information, check out the website at www.myboost.com.my, newsroom https://bit.ly/3pRQGBd, or follow Boost on Facebook (facebook.com/myboostapp) and Instagram (instagram.com/myboostapp).
---
This content is provided by Boost Malaysia
Interested in having your announcements on Malaysiakini? Contact the announcements team at [email protected] or whatsapp on +60 17-323 0707 for urgent matters.