What was at first 'just another final-year project' helped nine game development students score a hat-trick, winning a treble of awards in a row.
The cool game they built to earn their Bachelor of Game Development (Hons) was called 'Water Child'.
Global warming has left a once-beautiful city for dead, and only the Water Child is left to carry all the remaining hope of its kind.
Unwilling to leave its beloved city to its arid fate, Water Child roams the parched land and uses its aqua powers to beat obstacles against all odds in a bid to breathe life back into the land.
It was not just the game itself; just Google '"water child" game' and you will see how much online traction these nine students built for their creation.
The students were in their final year pursuing the Bachelor of Game Development (Hons) at UOW Malaysia KDU.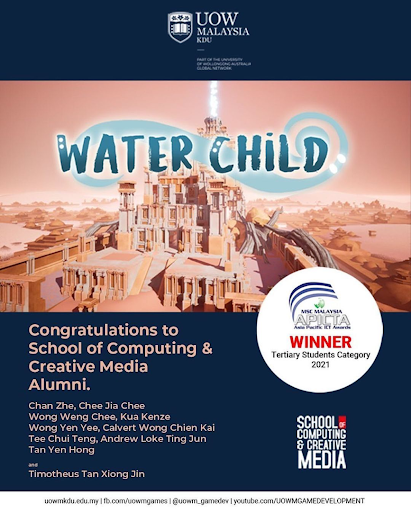 They first clinched the Gold Medal in the Sintok International Games and Gamification Challenge (SIGGC) 2021. SIGGC is a national-level competition organised and hosted by the Innovation and Commercialization Centre, Universiti Utara Malaysia (UUM).
They then went on to clinch the Best Student Game Award at the 5th Annual South-East Asian Video Games Award 2021. The game also was nominated and progressed to the finals for the Best Technology Award – Industry Category. The prestigious South-East Asian Games Awards, part of the Level UP KL conference, is Southeast Asia's premier industry event for game developers.
This regional event, organised by Malaysia Digital Economy Corporation (MDEC) was conducted virtually and attracted gamers, developers, distributors, and visitors from across 30 countries. Not satisfied with just two awards, these budding game developers went on to secure their third win and bagged the MSC-APICTA 2021's Best Tertiary Student Category.
The MSC- APICTA awards are initiated by MDEC together with PIKOM (National ICT Association of Malaysia) and received the patronage of the Prime Minister since its inception in 1999.
Its aim is to provide recognition to outstanding achievements of individuals, students, entrepreneurs, SMEs, and organisations with operations in Malaysia who contribute to the development of MSC Malaysia initiatives or in building applications and services for the benefit of Malaysia. It recognizes creativity, innovation, and excellence in Malaysian ICT.
Water Child is the students' Final Year Student Project, supervised by Yap Chun Fei and C.W. Shern, part-time game lecturers in the School of Computing and Creative Media.
Yap is the CEO of Liquid Rock Games Studio, an independent studio focusing on 2D/3D games, interactive apps and systems development services.
Shern is the Founder of ForGoya Creations and is an award-winning game writer and narrative designer.
Both are Game Development Industry veterans.
Yap said: "Part of what we do for their final year project game is to ensure that the students learn the pipeline methodology and processes that is required and practised in the game development industry. The same level of detail, polish and finishing is methodically instilled in the students, and it shows in their project.
"This game is the culmination of three semesters of hard work, dedication and passion from the students."
According to Shern, 'Water Child' was the team's valiant effort to capture what renowned game designer Jenova Chen did with the ground-breaking game 'Journey'.
His studio, the Los Angeles-based thatgamecompany, believed in the importance of infusing emotions and empathy into the essences of games.
In essence, both teams aspire to bring the human spirit into the machine.
The nine game development students who proved themselves are:
TEAM SKYJUS WORKS
Rachel Wong Yen Yee, Game Design Lead and Project Manager

Chee Jia Qi, Game Art Lead and Animator

Chan Zhe, Game Tech Lead and Gameplay Designer/Programmer

Calvert Wong Chien Kai, Level Designer, Sound Designer

Tee Chui Teng, Prop modeller and VFX Artist

Wong Weng Chee, Environment and Lighting Artist

Andrew Loke Ting Jun, Environment and Materials Artist

Kua Kenze, Audio and Graphics Programmer

Tan Yen Hong, Environmental Systems and Camera Controls
---
This content is provided by UOW Malaysia KDU.
Interested in having your announcements on Malaysiakini? Contact the announcements team at [email protected] or whatsapp on +60 17-323 0707 for urgent matters.