National Tech Association of Malaysia, PIKOM has signed a memorandum of understanding with Malaysiakini and Digital News Asia as their media partners. The aim of this MoU is to promote awareness and exposure of the 26th edition of the World Congress on Innovation and Technology (WCIT 2022) which will be held on September 13 to 15 in Penang.
As one of the world's largest and most influential ICT events, it features discussions with visionaries, captains of industry, government leaders, innovators and academics from over 80 countries and 4000 delegates.
Commonly referred to as the 'Olympics of the World's Information Technology Industry', WCIT 2022 Malaysia aspires to be the gateway to Southeast Asia, engaging and shaping the world through a major global technology event.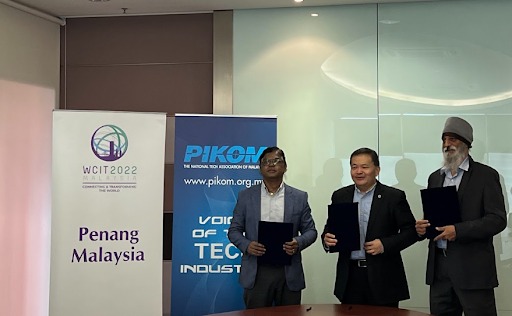 WCIT 2022 highlights the future of technology
PIKOM chairman Dr. Sean Seah said, "WCIT 2022 promises a power-packed three day event which draws together a unique network of senior business executives, ICT industry leaders, government officials and internationally recognized institutions that showcases the future of technology.
"WCIT 2022 will see new digital and tech-related sectors, such as space technology, health technology, fintech, cybersecurity, smart cities and many more that have evolved very quickly in the past couple of years. It will cover a wider spectrum of the tech industry compared to 2008, therefore it will be a larger scope."
On top of that, WCIT 2022 will be rolling-out their marketing plans via roadshows, engaging with heads of the various sectors and industry partners to be part of this event. These are some efforts conducted to deliver an exceptional experience for everyone in WCIT 2022.
To encourage local participation, the delegation tickets for WCIT 2022 are HRDF-claimable and that the association is also working with Malaysia External Trade Development Corporation (Matrade) to assist participants to apply for the Market Development Grant (MDG).
PIKOM membership currently stands at more than 1,000 active companies involved in a whole spectrum of tech products and services, and which command 80% of the total TECH business in Malaysia.
For more information about WCIT 2022, delegate registration, sponsorship opportunities and exhibitor inquiries, visit www.WCIT2022.com. Don't miss this opportunity and get your tickets HERE!