Have a look below at how champions are made.
Chan Sieu Pheng, was walking along Nagore Square in Penang's George Town, an area with quaint, old shophouses, when the stonework of one shop caught her eye.
The stonework near the top of the façade and the lintel of the windows were meticulously shaped into aquatic plants and symmetrical, geometric patterns.
One look told her that the stonework was newly made; it was not pre-war décor.
But she was so entranced by how modern-day builders had striven to use olden day means to decorate the shophouse that she could not resist taking pictures of it.
Fast forward to 10 months later, in September 2021, her lecturer at UOW Malaysia KDU urged her to join the George Town Heritage Photo Contest organised by the state government via George Town World Heritage Incorporated.
She felt a great urge to pull out and submit that Nagore Square stonework photo and just like that, she won.
"I was stunned to be one of the winners. I wasn't trying to take a nice photo at all. I just loved the stonework and what it meant to Penang's heritage value.
"Our lecturers frequently alerted us when there was a competition somewhere related to our studies and they would urge us to join.
"I have many sweet memories of joining competitions. I won prizes a few times," she reminisced.
Chan has graduated with a Bachelor of Arts (Hons) in Interior Architecture and is now an interior designer.
Jasmine Peh's eyebrows rose when her UOW Malaysia KDU lecturer picked her to join an international "online cooking competition" in 2021, with judges from China and around the world.
How were the judges going to taste her cooking?
She and her team won the silver medal, beating many contestants in the global arena of the China International Culinary Arts Young Chef Online Competition.
They went with a ribeye steak for the main course, accompanied by a seafood breaded roll, using scallops as the main ingredient.
It turned out that there were real world judges at the competition site to taste their cooking, while online judges assessed their plating and preparation skills.
Peh was certain that her team's winning glory was the steak's burn, which was seared "perfectly medium rare" on a pan with butter, topped with diligently thickened red wine reduction and brown sauce.
Is it easy to get a steak to be perfectly medium rare?
"Can. It's easy," she said with a laugh.
Peh earned her Diploma in Culinary Arts at UOW Malaysia KDU and she is now pursuing a Bachelor of Arts in International Culinary.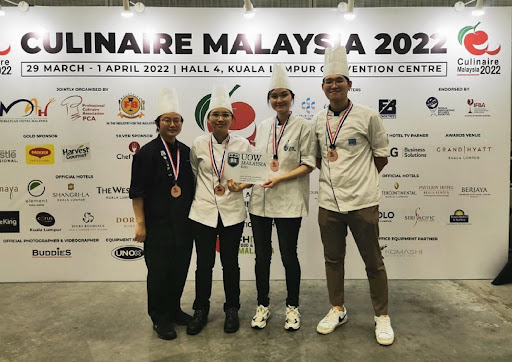 Jonathan Tang is a gamer and never regretted pursuing a Bachelor of Game Development (Hons) at UOW Malaysia KDU.
But he never expected to win dual gold medals by submitting his final year project for the Sintok International Games and Gamification in 2021.
He and his teammates decided to programme a game featuring undersea submarine battles against demonic leviathans.
Halfway through, his lecturer urged his team to sign up for that international competition, and their efforts were no longer just a campus-only effort.
"It took us eight months to build it. It was the hardest thing we ever did that time," he recalled.
The hardest part of the game development was the artificial intelligence (AI) of the game.
"We wanted so much to make the AI to learn the players' tactics.
"For the game to be good, we needed the AI to be adaptive, recognise the human players' strategies, and then outflank or ambush the players," he added.
They did bring the AI to heel, because Tang and his team won the overall gold medal and the gold medal for the Best Undergraduate game.
Tang has graduated and is now a game programmer in a large game development house in Bangsar, Kuala Lumpur.
Confidentiality agreements prevent him from revealing what he is doing now, but he is allowed to say he is building a "massively multiplayer online role-playing game", called MMORPG in game development lingo.
A long-standing culture of fostering the competitive spirit exists at UOW Malaysia KDU, said its Students and Alumni Centre's senior manager Mitchell Liong.
Countless hundreds of its students have joined competitions and last year alone, pandemic notwithstanding, about 110 of its students' won prizes in myriad national and international competitions.
"We try to think of ourselves as a university of champions, because it is not enough to just pass exams and earn diplomas and degrees.
"We want our students to dare to put forth their abilities in an arena of peers to see for themselves how they would compare.
"It is not because we want them to win. It is because we want them to dare to fail," Liong said.
---
This content is provided by UOW Malaysia KDU.
Interested in having your announcements on Malaysiakini? Contact the announcements team at [email protected] or whatsapp on +60 17-323 0707 for urgent matters.