Though doctors always get the credit, nurses are the backbone of the healthcare system. Nurses dedicate their careers to addressing societal health needs and ensuring ongoing education about health issues.
They work tirelessly caring for patients and offer emotional support to patients and grieving family members. Besides that, they also provide first aid during emergencies, help babies take their first breaths and the elderly during their last. In short, nurses are essential in safeguarding public health.
Image above: Photo by Tara Winstead
What is nursing?
Nursing is a profession integral to the healthcare system. Nurses provide care for sick, disabled, and terminally ill individuals. They work tirelessly and compassionately to address society's ever-changing needs due to different health risks and progressive healthcare systems. Other than that, they do their best to ensure patients are well-informed about the procedures and treatments they undergo. As the nursing profession consists of an expansive range of specialisations, every nurse will possess different strengths and expertise.
Why study nursing?
a. Fulfilling career path
Nurses are greatly respected by many for being an essential part of the healthcare industry. Though it is a physically and emotionally demanding career, you get to connect with patients and build wonderful relationships by assisting and caring for them. Ensuring patients and their families feel safe and secure is one of the greatest satisfactions you can get while working, knowing that you did your utmost best to care for them.
b. Job security
As the healthcare industry advances, the demand for nurses to care for the sick is rapidly growing worldwide. New diseases such as COVID-19 have also played a role in the increasing need for nurses. Consequently, this creates a bright outlook and job security for professional nurses.
c. Exciting working environment
As a nurse, no single day is boring. New patients with different conditions and challenges are admitted every day. Hence, there is a constant need to establish priorities and ensure that everyone is taken care of. The type of work may also depend on your specialisation and the department you are in.
d. Varied employment choices
One of the advantages of pursuing a nursing profession is the privilege to work in diverse settings and roles. Though medical equipment and systems may differ, the responsibilities of nurses remain the same. Therefore, there are many open positions to apply for as long as you speak the local language and possess a recognised nursing diploma. Besides that, they are also free to work in places such as public hospitals, private clinics, nursing homes, military bases, and schools.
Who should study nursing?
a. You are motivated to help others
A nursing course is a great choice if you are passionate about helping sick and injured people. You'll learn how to assure patients at their most vulnerable points in life. You will touch lives and make a real difference in the world. What would be more rewarding than being able to pursue your studies in a course that leads you to improve other people's lives?
b. You are compassionate and empathetic
If you're compassionate and empathetic, nursing could be the right course for you. During your postings, you will meet patients who suffer from anxiety and distress due to their conditions.
Thus, compassion and empathy are needed to establish trust and respect. With that, patients are more at ease and willing to share. A lack of compassion and empathy can cause frustration and confusion, leading to less effective care and treatment.
c. You are good at keeping emotions in check and are a critical thinker
Though nursing is a rewarding career, it can also be quite stressful. You will have to face traumatic situations and medical emergencies on a constant basis. Watching patients suffer and pass away will be part and parcel of your career.
Thus, you must be someone who is good at controlling your emotions and thinking on your feet when crises arise. If you believe that you can weather the ups and downs and think critically under pressure, nursing may be the right for you.
d. You are looking for global opportunities
Nurses play significant roles in supporting the healthcare system all around the world. When studying nursing, you open up yourself to endless global opportunities. After graduating, you can use your nursing degree or relevant certifications to secure employment anywhere in the country or abroad. You have the freedom to explore different options available and settings.
So, if you aspire to help people of different cultures from various parts of the world, studying nursing gives you the privilege to do so.
Career path for a nursing graduate
Upon completing your Malaysian Certificate of Education, or Sijil Pelajaran Malaysia (SPM), you can enrol into a 3-year Diploma in Nursing. After that, you may proceed to sit for the Malaysian Nursing Board Exam to become a registered nurse. Then, you will have to serve two to three years service in a hospital, clinic, or a relevant institution in the industry.
Shortly after, you may pursue a post-basic nursing course to receive advanced level training in a specific area before proceeding with an undergraduate degree. On the other hand, you can enrol in an undergraduate programme immediately after your service.
To become an advanced practice registered nurse in a specialised field, you will need to get a Master's Degree. With that, you can be a certified nurse specialist, nurse anaesthetist, or nurse practitioner.
Nurses who desire to advance further can choose to enter a doctoral programme. This option is perfect for those who intend to pursue a career as scientific researchers or university professors. With a Doctorate Degree, you can be a clinical nurse specialist before becoming a nurse administrator or be a clinical instructor before advancing to become a lecturer.
How can I become a registered nurse in Malaysia?
There are four steps to becoming a registered nurse in Malaysia.
Step 1 – Complete an accredited nursing programme
First, you must complete your studies in an accredited nursing course at a university. Options include pursuing a nursing diploma, an associate degree, or a Bachelor's degree.
An associate degree lasts two years, while a bachelor's degree would take four years. However, if you have previously taken an associate degree, you would only need two years to acquire a bachelor's degree.
Step 2 – Pass the Malaysian Nursing Board Exam
Following that, you must take the Malaysian Nursing Board Examination to become a registered nurse. The exam recognises and acknowledges nursing graduates who have completed their tertiary studies.
Those who would like to sit for the exam must complete their application two months before the exam, which happens ten times a year. Each student is allowed to repeat the exam up to three times only.
Step 3 – Register with the Malaysian Nursing Board
To ensure that only licensed and competent nurses are providing care, the Malaysian Nursing Board was founded to protect the welfare of patients. It outlines safe nursing care standards and issues licences to practise nursing according to the Nurses Act 1950. As such, student nurses trained locally or abroad must register themselves with the board to be eligible to practise nursing legally in Malaysia.
Step 4 – Obtain your Annual Practising Certificate (APC)
Next, you must obtain your Annual Practising Certificate from the board to prove that you have fulfilled all requirements to become a registered nurse. After demonstrating that you have met the required standard of continuing competence, an Annual Practising Certificate will be issued with your details recorded on the Register of Practising Nurses in Malaysia.
After completing these steps, you will officially be a Registered Nurse in Malaysia. You can practice in places like hospitals, private clinics, schools, government organisations, and nursing homes.
Nursing course requirements
To pursue a diploma in nursing, you will need to meet the minimum requirements below:
For local students
SPM/O-Level/UEC: 5 credits
Including Bahasa Melayu and Mathematics

One of any subjects in Science/Chemistry/Physics/Biology/Applied Science
For international students
5 credits
Including Mathematics

One of any subjects in Science/Chemistry/Physics/Biology/Applied Science

Credit in three other subjects
Additionally, local students must achieve at least a pass in English at the SPM level or equivalent. Meanwhile, local sponsorship students must have at least a credit at the SPM level or equivalent.
International students must pass Band 5.5 in The International English Language Testing System (IELTS), score a minimum of 80 marks (IBT) or 515 marks (PBT) in TOEFL, and attain a minimum of 160 marks in Cambridge English CAE & CPE (154), or a minimum of 51 points in PTE Academic.
If you are keen to study nursing but do not meet the minimum English language requirements, UOW Malaysia KDU offers additional English modules to help you achieve your dreams of becoming a nurse.
Kindly note that different institutions will have varying entry requirements that you will need to fulfil.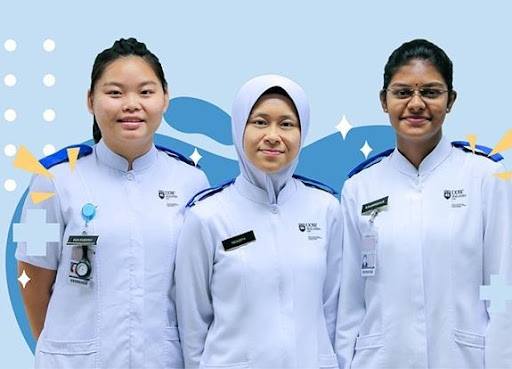 Nursing specialisations
a. Accident and emergency
Accident and emergency nurses work in hospitals and treat patients suffering from critical injuries and acute illnesses. They take patients' vital signs, examine their physical condition, administer medication, and perform treatment procedures.
b. Paediatrics
Paediatric nurses care for children from infancy through the late teen years. They are skilled in communicating with children and dispelling their fears to gather accurate information for diagnosis and treatment.
c. Obstetrics
Obstetrics nurses specialise in the female reproductive system and provide care for pregnant women, new mothers, and newborn babies immediately after delivery. This branch covers pre-pregnancy, pregnancy, labour and delivery, and postpartum care.
d. Oncology
Oncology nurses provide care for patients who have or are at risk of getting cancer. They conduct necessary assessments, administer treatments, and communicate with patient care providers to create treatment plans tailored to each patient's needs.
e. Ophthalmology
Ophthalmology nurses help to prevent, diagnose, and treat patients with eye disorders and injuries. Most patients in this field are elderly individuals as they are more susceptible to eye disorders and degenerative diseases.
f. Outpatient Department (OPD)
Nurses in outpatient facilities draw blood, check vital signs, monitor blood pressure and pulse, help doctors prepare equipment, and provide treatment according to the doctor's instructions.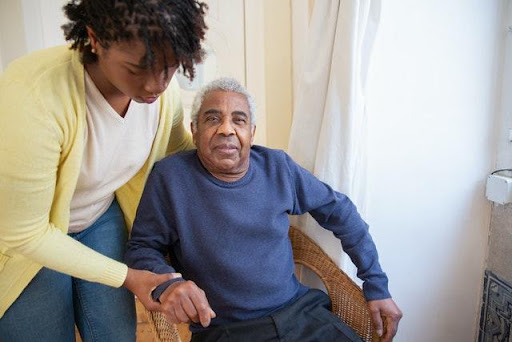 Nurse salary
According to Salary Experts survey data, the average salary of a registered nurse is RM102,652 per year. An entry-level registered nurse with one to three years of experience earns an average salary of RM73,272 yearly. Meanwhile, a senior-level registered nurse with more than eight years of experience receives an average pay of RM127,937 per year.
Private nursing college in Malaysia
UOW Malaysia KDU offers a specially designed Diploma in Nursing to equip graduates with the required knowledge and skills to be competent nurses that meet global demands.
With the supervision of our experienced lecturers and dedicated clinical instructors, students will learn through structured classes, laboratory work, and clinical placements that will prepare them for challenges in the healthcare industry. There will be opportunities to experience nursing in health institutions as well.
Besides that, we also have post-basic courses like Post-Basic in Oncology Nursing to prepare graduates for challenges in the oncology field. Students will learn how to effectively respond to the needs of sick and terminally ill patients with cancer. Besides that, they will be trained to conduct pre-screenings before chemotherapy administration, manage general symptoms, and care for bone marrow transplant patients.
Nursing course fees in Malaysia
A Diploma in Nursing in Malaysia is estimated to be RM45,525 for local students and RM54,225 for international students.
For specialised post-basic courses, they cost around RM14,150 for local students. Fees for international students may vary.
How long does it take to become a nurse in Malaysia?
A diploma in nursing takes three years to complete. After that, you may register to become a registered nurse with the Malaysian Nursing Board Malaysia and start serving in hospitals, clinics, and other institutions.
UOW Malaysia KDU provides intensive nursing programmes that encourage the development of skills and professional competency of a nurse. You will gain exposure to fundamental concepts of health promotion, prevention, and recovery through nursing care. Apart from that, you will also be guided through different nursing procedures to identify varying patient needs and how to provide holistic care.
Should you have any queries, get in touch with us for assistance or to find out more!
---
This content is provided by UOW Malaysia KDU.
Interested in having your announcements on Malaysiakini? Contact the announcements team at [email protected] or whatsapp on +60 17-323 0707 for urgent matters.