The travel and tourism industry has shown a strong start in 2022 as most tourist destinations across the country now are flooded with local and international travellers. Realising the importance of the industry, KOPETRO Travel & Tours, a subsidiary company of Koperasi Kakitangan PETRONAS Berhad (KOPETRO) has launched a "Cuti Sakan" campaign that offers a variety of holiday packages within and outside Malaysia to promote exciting tourist destinations and attractions besides supporting the government's efforts to improve the economy through the travel and tourism industry.
Chief Executive Officer of KOPETRO, Ahmad Shakir Ahmad Ubaidah said the transition to the endemic phase has brought new hope to the business sector, especially the tourism industry which was heavily affected by the COVID-19 pandemic.
"It is expected that when things return to normal, the tourism industry will be one of the industries that will be able to generate revenue quickly. Therefore, we hope the launching of "Cuti Sakan" will help increase the company's revenue and further contribute to the economy of Malaysia," said Ahmad Shakir.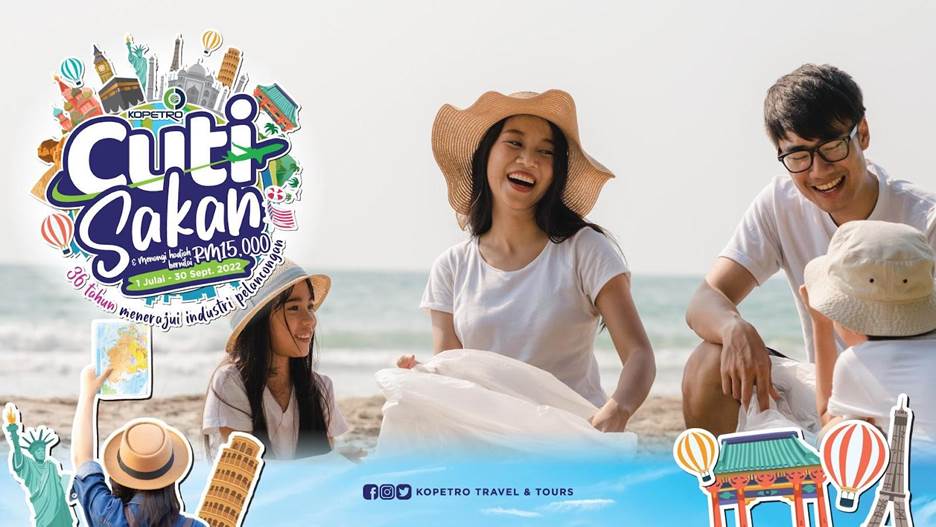 The "Cuti Sakan" campaign which was launched on 1 July 2022 will run until 30 September 2022, targeting parents, couples and group travelers as the main target group. "Cuti Sakan" offers more than 100 travel and tour packages that include both domestic and international destinations. Theme park passes such as Sunway Lagoon, Genting Skyworld, Lost World of Tambun, Bangi Wonderland and Legoland Malaysia which are offered for as low as RM38, are among the packages which are expected to be in demand.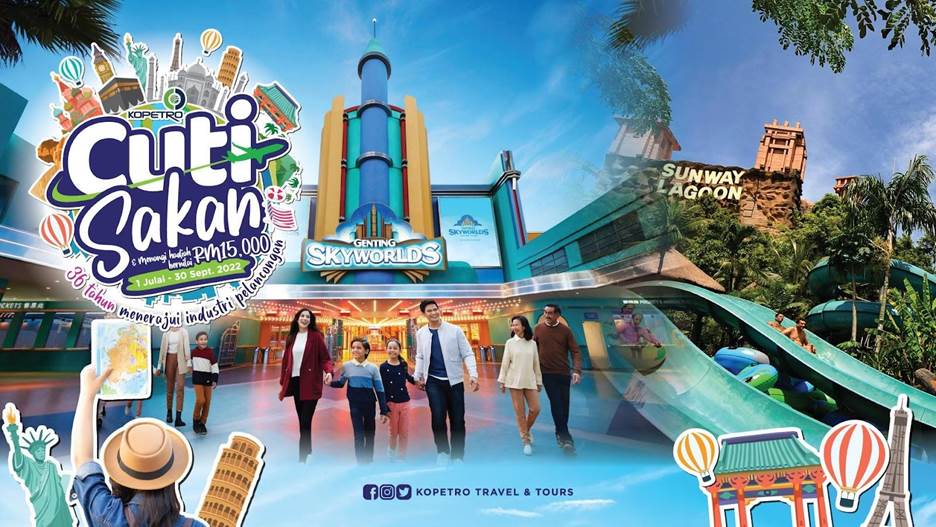 Moreover, Langkawi and Kota Kinabalu will be the best option for parents who are planning a family vacation in Malaysia as these places are among the top tourist attractions that offer a truly memorable experience for the whole family. Travel packages to London, Paris and Korea are also offered at reasonable prices. In addition, tour packages to Cameron Highlands and island vacations such as Pulau Sipadan and Bali are also available for those newlyweds planning a honeymoon.
KOPETRO Travel & Tours has been in the travel industry for over 30 years with partners around the world to provide efficient and professional travel services to our customers. With a significant experience and name in the industry, KOPETRO Travel & Tours is known as one of the prominent travel agencies that offer a variety of efficient and economical travel services crafted for customers who are seeking peace of mind during the holidays.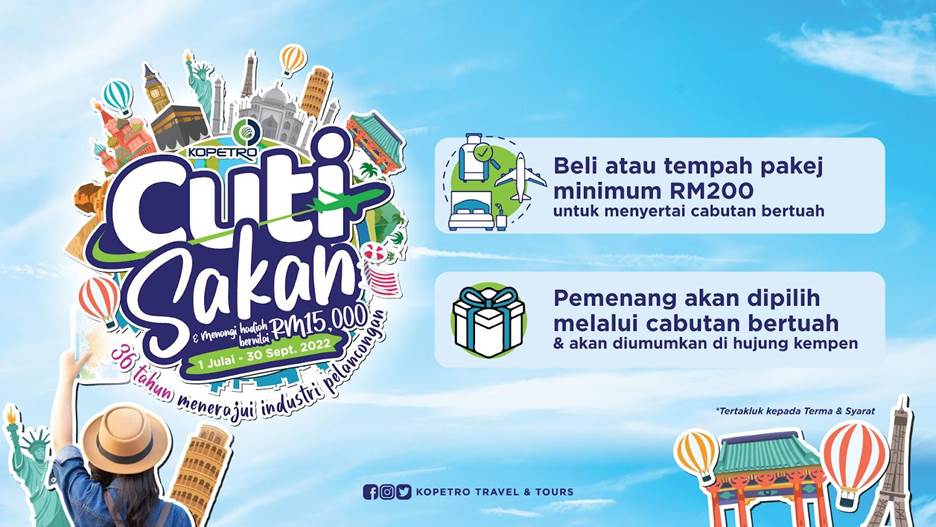 According to the Chief Operating Officer of KOPETRO Travel, Hasnoal Idris, the "Cuti Sakan" campaign also offers lucky customers the chance to win exciting prizes.
"It's like a double treat for the customers as they will be able to enjoy their dream vacation and at the same time enjoy the lucky draw prizes that we provide," said Hasnoal.
With a minimum spending of RM200 for any package offered under the "Cuti Sakan" campaign, customers are qualified for a lucky draw to win exciting travel and tour packages worth over RM15,000.
He further added that interested customers can directly contact KOPETRO Travel and Tours hotline at 03-21641577 or visit their website at www.kopetrotravel.com.my or follow @kopetrotravel social media accounts on Facebook and Instagram to purchase the travel and tour packages offered.
---
This content is provided by Koperasi Kakitangan PETRONAS Berhad.
Interested in having your announcements on Malaysiakini? Contact the announcements team at [email protected] or whatsapp on +60 17-323 0707 for urgent matters.