Since its launch in early-2022, the merchandising marketplace 'The Merchist by Nuffnang' (The Merchist) has seen rapid growth, exemplified in the 500% expansion of its gross merchandise value (GMV) over that time.
"The platform now contains over 400 stockkeeping units (SKUs), and that number is steadily growing. In addition, we have an ever-increasing number of fans on The Merchist's Instagram page – over 5000 at last count and still going," Jo-yee Lee, Nuffnang's Head of Revenue and New Business, elaborated (right in pic; with Asyraf Azmy, The Merchist Product Lead (left) and Adrianna Ashley Then, Operations Executive, The Merchist.)
The term 'Merchist' is a portmanteau of the words 'merch' (short for merchandise) and 'specialist'. The Merchist is Nuffnang's full end-to-end influencer merchandising solution that provides its community of influencers with inspiration, print-on-demand products, and fulfilment capabilities.
The platform is a risk-free, no-charge solution that empowers influencers to supplement and diversify the revenue they earn from Nuffnang running branded campaigns for its clients.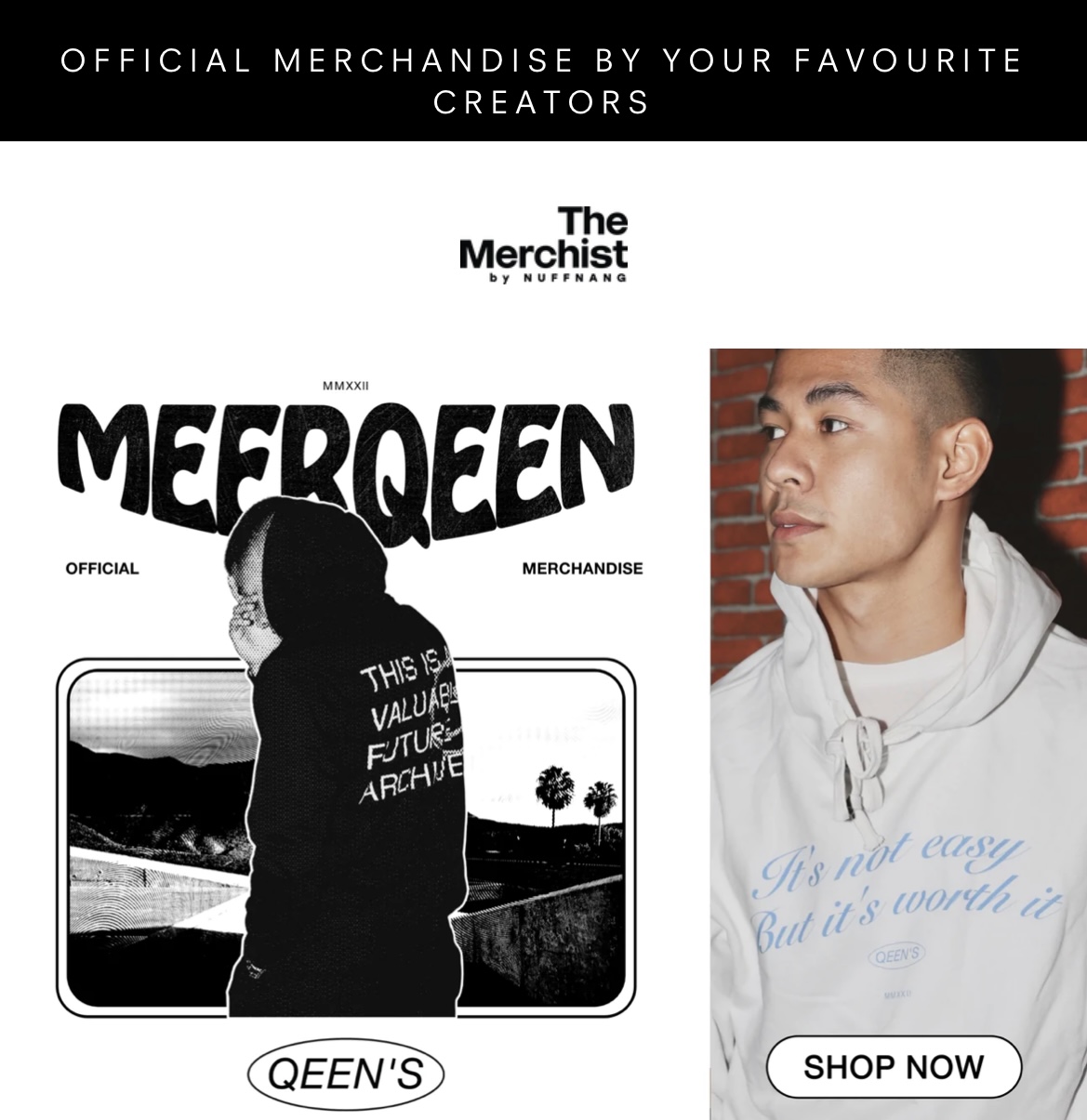 Through The Merchist marketplace, fans and consumers can deepen their relationships with their favourite influencers and artists, by buying a range of customised merchandise, including t-shirts, hoodies, sweaters, phone cases, tote bags, hats, keychains, mugs and more.
Famous influencers and content creators who use The Merchist to provide their fans with merch include Luqman Podolski, Sterk Production, Tasnim Shah, Harith Zazman, and Rhys William, as well as independent artists fdrtheartist and yiqing gan. The Merchist also includes its own original designs that influencers and content creators can build off.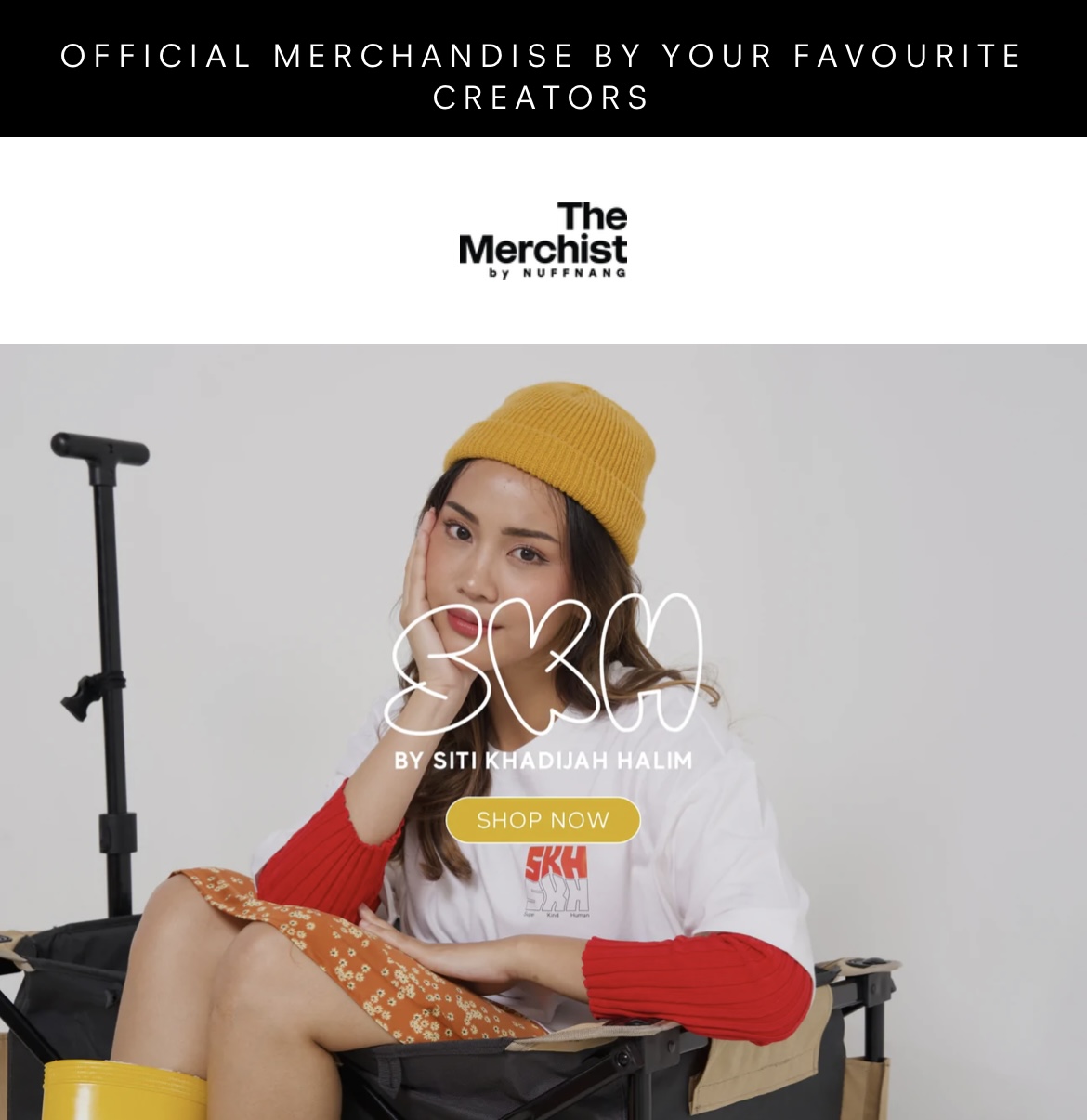 celebrities, including Meerqeen (Muhammad Shameer Shauqeen Shaiful Izam), a Malaysian singer-actor renowned for his role in the recent hit drama 'Melur untuk Firdaus' with a significant fanbase in Malaysia, Singapore, and Indonesia; as well as Siti Khadijah Halim, a model and actress who launched in the midst of her latest Malaysian drama 'Sekali Lagi Cinta Kembali' alongside Aniq Suhair.
The Merchist expects to launch with more regional A-list celebrities over the coming months.
"The Merchist is able to become so successful due to our influencers, who realise that selling their own branded merchandise is a cost-effective marketing tactic to get their brand in front of more eyes. Merchandise extends their brand and provides an effective way to take their content from digital to physical," Lee states.
"We help empower our influencers to express their creative freedom and build connections with their fans through tangible products. By creating custom merchandise for their brand, influencers gain a chance to show their fans their creativity in a completely different yet equally exciting direction."
Lee also notes that the launch of influencer-branded merchandise can be a huge event and an opportunity to generate content.
"Influencers can boost their fans' excitement between the time they announce their merch and the actual launch date to get them ready to buy with progress updates, video clips, even previews and reviews.
"Merchandising marketplace platforms like The Merchist helps influencers foster communities of loyal fans that have one thing in common – their love for the influencer's content – by creating products that fans can discuss on social media and share when they receive them."
Note: The Merchist will be participating at the Absolut Music Festival 2022 (the biggest FREE outdoor Music Fest in Malaysia) from 4 - 6 Nov 2022 which will be held at Bandar Malaysia, Kuala Lumpur. (It's the old airport at Sungai Besi: Jalan Lapangan Terbang Lama, Pengkalan Tentera Udara Diraja Malaysia, 50460 Kuala Lumpur. Another link of the event here.) Among others, Meerqeen and Siti Khadijah Halim will be there to support and meet the fans! What's more, it would be The Merchist's first ever pop-up booth!
For more information, please contact: Ashley ([email protected])
---
Interested in having your announcements on Malaysiakini? Contact the announcements team at [email protected] or whatsapp on +60 17-323 0707 for urgent matters.