Shah Alam - GoodMorning Global Group, proudly celebrates its 15th year since establishment with a series of significant achievements, signaling its journey towards becoming a leading global food technology company.
Themed "Leap Forward Fifteen Years and Beyond", the company's anniversary gala took place recently and featured distinguished guests, including YB Chang Lih Kang, Minister of Science, Technology and Innovation, as the esteemed keynote speaker, and Mr. Mohamed Najeeb Al Bulushi, Deputy Head of Mission, Sultanate of Oman to Malaysia, as the esteemed guest of honor.
The event highlighted several milestones, propelling the group towards its vision of becoming a global leader in food technology and laying a robust foundation for its forthcoming listing within the next three years.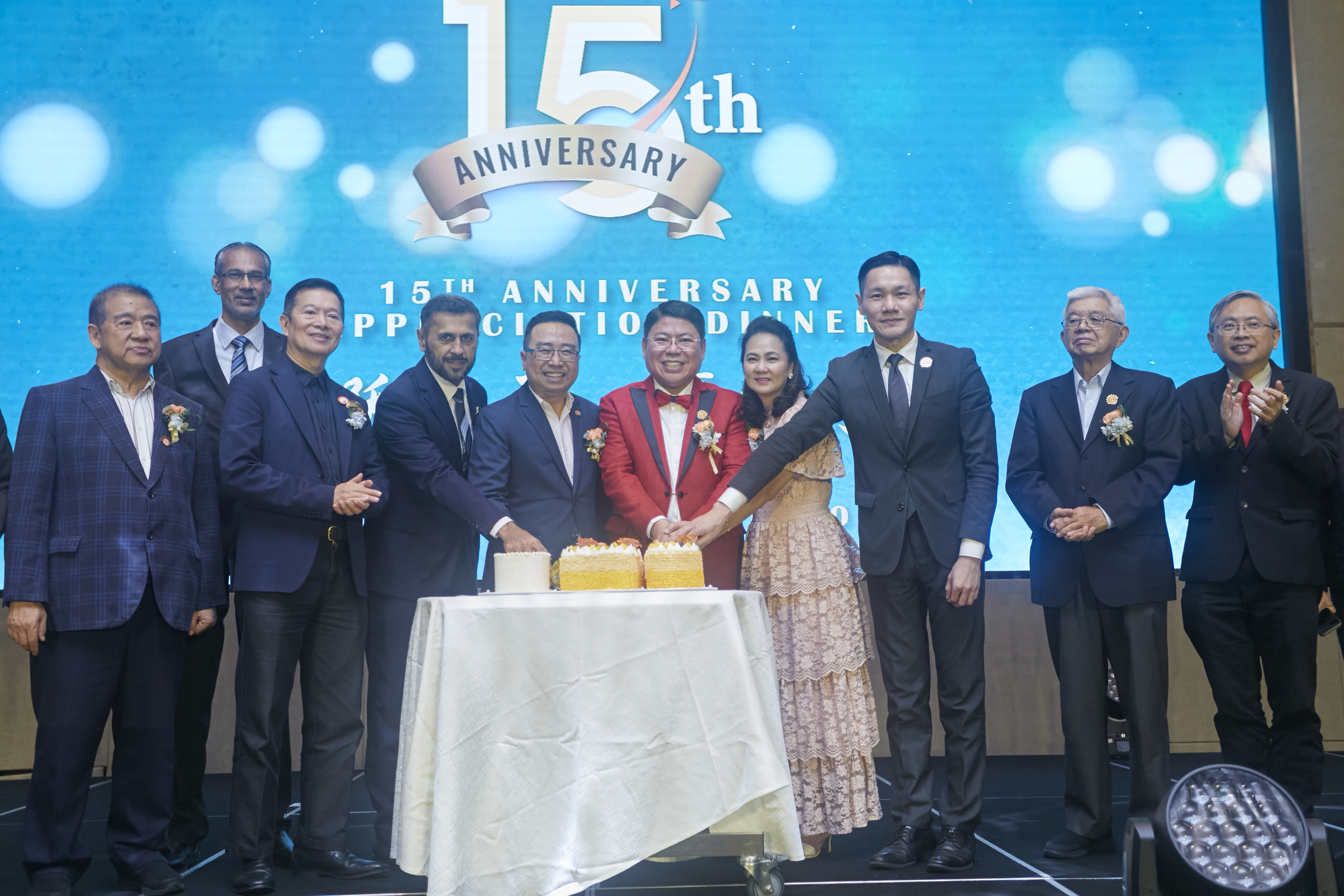 From Left:
Tan Sri Tee Boon Kee,
Tan Sri Lim Soon Peng,
Dr. Harcharan Singh
Senior Vice President Industry Development Division for Bioeconomy Corporation,
Datuk Seri Garry Chua,
Mr. Mohamed Najeeb Al Bulushi, Deputy Head of Mission, Sultanate of Oman to Malaysia,
YB Chang Lih Kang Minister of Science, Technology and Innovation,
Chairman of Company Dato' Dr. Lim Sin Boon, and wife Datin Quake Siew Yen,
CEO of GoodMorning Dr. Charles Cheng Fang Chin
Board of Director Tan Sri Ting Chew Peh
UTAR President Ir Prof Dato' Dr. Ewe Hong Tat
Equity Crowdfunding Success and Record-Breaking Feat
GoodMorning Global achieved a momentous milestone by successfully meeting its equity crowdfunding target this month, thereby breaking dual records in Malaysia.
The campaign received an unprecedented RM 20 million in total funds raised, attracting an impressive 1,046 investors. These achievements have been officially recognized and recorded in the Malaysia Book of Records, adding yet another feather to the group's illustrious cap.
During the gala, GoodMorning Bio Industries, a subsidiary of GoodMorning Global, was bestowed with the Bio-Based Accelerator (BBA) certification by the Malaysia Bioeconomy Corporation. This significant recognition paves the way for the group to obtain the Bio-Nexus status. It solidifies the group's position as a trailblazer in the future food and alternative food sector, under the National Biotechnology Policy 2.0.
Minister YB Chang Lih Kang, in his address, emphasized the importance of the National Biotechonology Policy 2.0, a key focus for the Ministry of Science, Technology, and Innovation. The policy prioritizes three pillars, namely agricultural biotechnology and food security, health and well-being, and industrial biotechnology and circular economy. He lauded the BBA program as the flagship initiative of the Bioeconomy Policy 2.0, designed to encourage local companies to venture into biotechnology.
Congratulating GoodMorning Global on joining the BBA program, Minister Chang expressed confidence in the group's potential to attain Bio-Nexus status and evolve into a leading global food technology multinational corporation. He praised the company's foresight in addressing the pressing global challenges of food crises, climate change, and the development of "future food" through affordable and nutritional balanced plant-based protein products.
Strategic Collaborations for Sustainable Solutions
In a significant move towards combating global greenhouse gas emissions and food crises, GoodMorning Global forged strategic partnerships with private enterprises and academic institutions during the gala. Signing memorandums of understanding with Eastern Arrow LLC, University Tunku Abdul Rahman, and Tunku Abdul Rahman University of Management and Technology, the company has set in motion collaborative research projects in the fields of food and biotechnology.
An eagerly anticipated announcement was the preview of the group's independently developed Malaysian-made affordable powdered balanced plant protein meat. Set to be the first flagship product, it highlights the group's commitment to promote affordable and nutritionally balanced plant-based protein food on a global scale.
Dato' Dr. Lim Sin Boon, Founder and Executive Chairman of GoodMorning Global Group, expressed heartfelt gratitude to the customers, whom he considers the company's lifeblood. He attributed GoodMorning's rise as the leading grain beverage brand in Malaysia, commanding a remarkable 70% market share, to the unwavering support and love of its patrons.
Dato' Dr. Lim acknowledged the success of the equity crowdfunding campaign as a milestone to the company's commitment to enhancing consumer health and creating value for shareholders. He reaffirmed the group's dedication to contribute towards a shared global future, addressing challenges such as climate change, rising sea levels, and food crises through the promotion of affordable nutritional balanced plant-based protein food.
Moving Forward: A Vision for a Sustainable Future
Looking ahead, Dato' Dr. Lim emphasized that GoodMorning Global is poised to explore boundless opportunities in the vast global market, marching steadfastly towards sustainable development. He expressed gratitude to all customers, suppliers, and business partners for their enduring support and trust.
Calling upon everyone to become shareholders and prosper together, Dato' Dr. Lim envisioned a journey towards shared success, prosperity, and sustainability. He welcomed individuals to be part of the GoodMorning family, jointly witnessing the company's global expansion and transformation into a world-leading food technology and multi-grain company.
Global Collaboration for Sustainable Solutions Amidst Food Challenges
Dr. Charles Cheng Fang Chin, CEO and CFO of GoodMorning Global Group, highlights the company's commitment to global collaboration in addressing the challenges of food security through innovative solutions in plant-based protein and biotechnology.
"World population growth poses a significant challenge to ensure food security. For GoodMorning Global, these challenges are also opportunities for innovation and transformation. We have prepared ourselves for these challenges with pioneering work in biotechnology." stated Dr. Cheng.
He further expressed that GoodMorning Global is poised to expand its reach beyond Malaysia and strengthen connections with the global community. Collaborating with international partners, the company aims to drive food and biotechnology innovation, paving the way towards a sustainable future that benefits future generations.
---
This content is provided by GoodMorning Global