"A company should always learn to innovate, as the opposite of that means stagnation and a slow death. But importantly, innovation should not be a one-person job," said entrepreneur, Suthan Mookaiah, founder of social enterprise GASSTN Sdn Bhd which, until Aug, operated in Malaysia as BeliGas before rebranding to Edar.com (Edar is a Malay language term meaning 'distribute') in Sept.
Suthan explains that the rebranding was done to avoid being "boxed-in" as only a cooking gas provider. "With our new expanded product and service lines, and also future growth strategies to be a D2C (Direct To Consumer) Grocery Chain in Malaysia, we decided it was a necessary move," he said. At the same time it is also positioning as a B2B distributor delivering bulk FMCG supplies and groceries.
Silicon Valley folks like to point out that the best companies started out during the toughest of times. If that holds true for startups outside of the Silicon Valley, then Suthan, who is an adjunct Asso Prof at Taylor's University in Selangor, could not have picked a better time to launch - during the darkest periods of the pandemic, in July 2020.
Conversely, it was also the hardest time for him to leave. He was sitting comfortably as a country manager for three countries, for an international telecommunications value added services company.
Yet, seeing the pain and gloom around him from the first lockdown, especially from blue collar workers who could not benefit from the online shift that knowledge workers could, Suthan was driven by a desire to help the B40 (Bottom 40%) of Malaysia.
He zoomed in on a basic but critical necessity of all Malaysian households - LPG cylinders used daily for cooking, which also meant frequent demand.
With consumers already used to ordering items from their mobiles, he launched BeliGas as a convenient and cheaper way for consumers to not only order cooking gas online but also have a better customer experience.
His desire to help blue collar workers weren't just restricted to the B40. He had his eyes on ex-convicts as well, giving them a second chance.
The company's journey and greater purpose beyond profits caught the attention of the judging panel of the inaugural Top in Tech Innovation Awards 2021 led by Lead Judge Ganesh Kumar Bangah, executive chairman of commerce.Asia and saw GASSTN and Suthan awarded the Most Innovative Growth Company category.
"Winning was unexpected and has been very rewarding in many ways," Suthan says, adding that it helped boost his business to the next level, attracting investors during their ECF round and becoming well-known among key companies that have now become partners in the business.
"But most of all, it provides a morale boost for our staff and also a stamp of approval for the innovations that we are constantly working to deliver real change for the people and the planet."
Edar.com has been progressing substantially since its win in Jan 2022. "Terrific times have been hell, especially this year for everyone in the industry, but we are chalking up some wins in a pretty VUCA (short for volatility, uncertainty, complexity, and ambiguity) year," said Suthan.
Among the highlights he reels off:
BeliGas completed a successful ECF round and raised RM1,001,700.00
160% growth YoY in June this year on audited revenue of RM4.5 million
Currently on a hiring spree to fill up vacancies across the Peninsular as they aggressively grow in new states.
The hiring spree is needed as they will soon launch their first few grocery outlets in KL, Selangor, Negeri Sembilan and Penang after the 15th General Election. The game plan is to tie the online to offline worlds seamlessly in a circular economy model.
[Ed Note: Suthan has just announced he is also running for a parliament seat in his hometown constituency of Bangi, Selangor.]
Edar.com is a single B2B wholesale platform with services of EDARgas delivering affordable bulk LPG cooking gas, EDARborong delivering FMCG and groceries supplies, and EDARsemula functioning as a sustainable service allowing consumers to sell used cooking gas.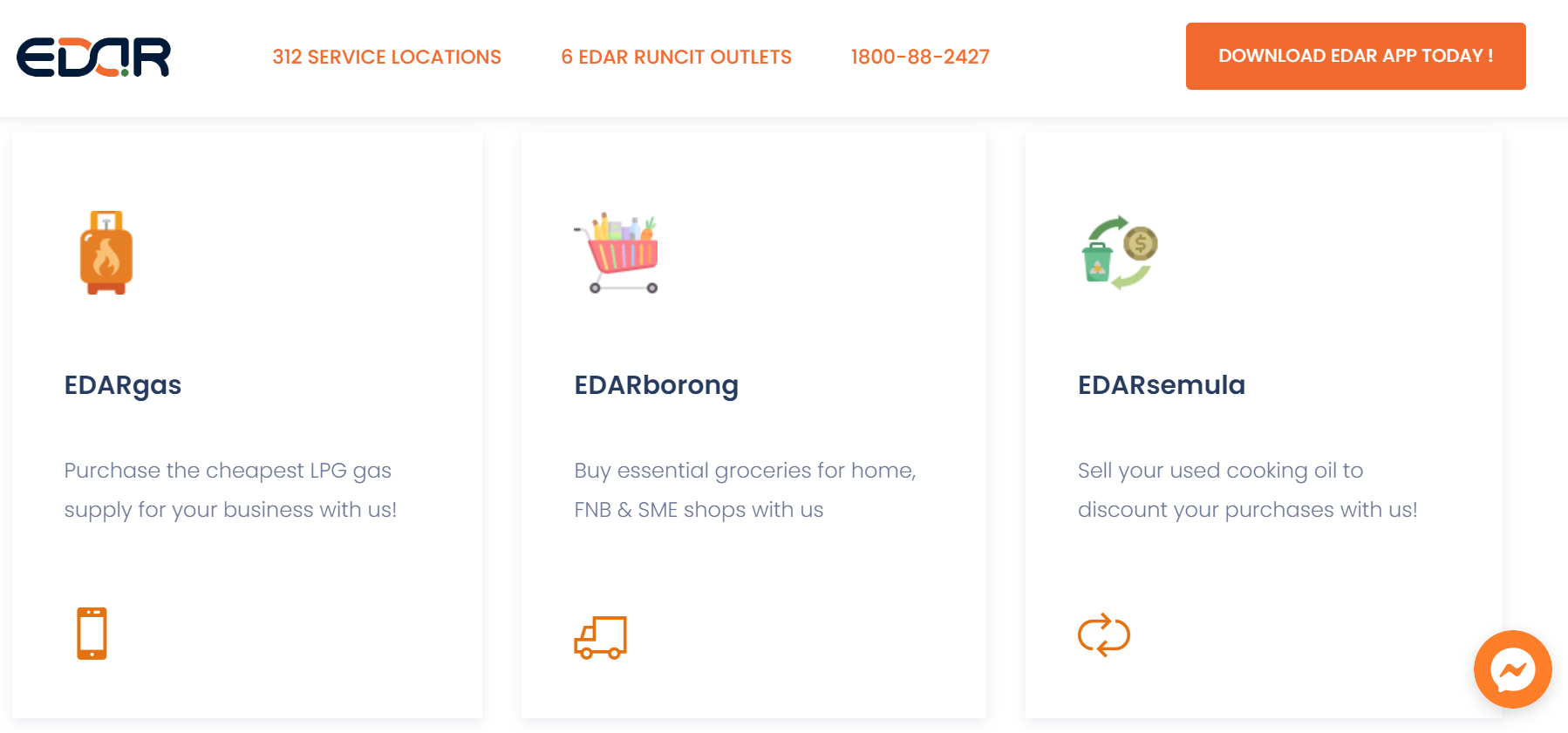 "By recycling, we will be transferring the value of the recyclables to subsidize and discount the goods purchased," he said.
The goal is to enable customers to book their groceries online with a delivery service as quick as 2 hours. "This will be the first of its kind in Malaysia and dare I say, even in the world to focus on multiple impacts through one single service point," added Suthan.
Submissions for the Top In Tech Innovation Awards are ongoing until the 30th of November 2022.
#YourInnovationStoryMatters