A QUESTION OF BUSINESS | Official statistics on the RM55 billion East Coast Rail Link launched last week paint a grimmer future scenario, with costs likely to escalate through land acquisition, purchase of rolling stock, the construction of a Port Klang to Gombak stretch, and cost overruns.
Our calculations indicate that total true costs may eventually escalate to an astronomical over RM100 billion eventually, with much of cost overruns accruing to the China construction companies which will have a major share of the project.
Only 30% of the project cost of RM55 billion, or RM16.5 billion, will be for local contractors with the lion's share of 70%, or a massive RM38.5 billion, going to China contractors (see table). China finances 85% or RM46.75 billion.
That basically implies that the inflow of funds over the project period of seven years will be a mere RM8.25 billion (RM46.75 billion - RM38.75 billion), or RM1.2 billion a year, and therefore the multiplier impact of the project will be rather small locally.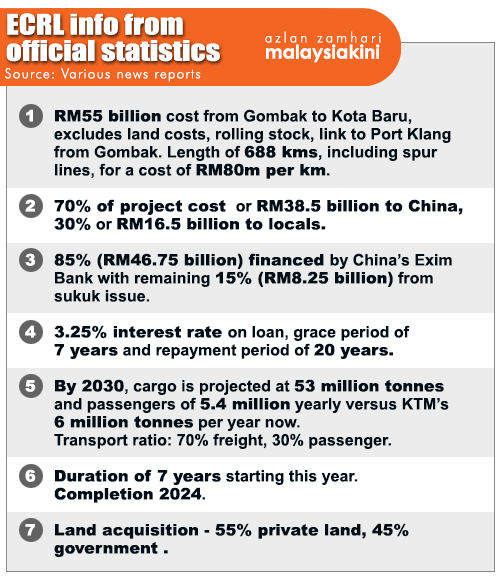 In effect, while Chinese financing is RM46.75 billion for the project, RM38.75 billion simply goes back to the Chinese (the construction company, China Communications Construction Company or CCCC, is state-owned) as payments. Over the course of the project, China effectively forks out just RM8.25 billion out of the project cost of RM55 billion.
That is a pretty good deal for China considering that the main reason for the existence of the project itself is to lower transport costs for goods to and from China by skipping the route through the entire Straits of Malacca, transporting goods overland between Port Klang on the west coast of Peninsular Malaysia and Kuantan on the east coast on the South China Sea.
Even so, there seems to have been no undertaking given by China to ensure that its goods use the ECRL and for an agreed transport rate.
More on that later but first, what could the ECRL really cost?
Whether it is private or government land - 55% is private - one needs to take the full market value of the land acquisition costs. The land required for 688km of tracks, signal equipment and stations will be quite considerable. Let's put this at a conservative RM5 billion. And let's say the rolling stock, associated accessories and stocks cost another RM5 billion.
We have to include the Port Klang to Gombak stretch which costs a further RM5 billion, using current costs per km. Since this will be in heavily urbanised areas, let's put the cost of land acquisition at a further RM5 billion. So far, that makes RM20 billion.
But that's not all - consulting firm McKinsey and Company estimates that for mega rail projects, cost overruns average about 45% while demand is overestimated by over 50%, a double whammy which can put paid to the economic feasibility of the most well-planned project - and ECRL certainly does not deserve to be in that category.
If project costs go up by 50%, add on a further RM27.5 billion. That will put the total true cost of the project at an astronomical RM102.5 billion (RM55 billion + RM20 billion + RM27.5 billion). To be viable, the return on cost for such a project should be about 10%, or a massive RM10.25 billion, way more than what any company is making in Malaysia bar Petronas, the national oil corporation.
Can returns justify such an investment? No, not even close...