COMMENT | The only difference is Jamal uses a sledgehammer and Syed uses the pen.
"You can't be a real country unless you have a beer and an airline - it helps if you have some kind of football team, or some nuclear weapons, but in the very least you need a beer."
― Frank Zappa
Jamal Md Yunos' "mabuk" behaviour of smashing boxes of beer bottles outside the Selangor State Secretariat (SUK) building in Shah Alam and Syed Saddiq Syed Abdul Rahman's online petition "Hapus Budaya Pesta Arak di Malaysia" (Destroy Beer Festival Culture in Malaysia) are the same.
The only difference is the former is the kind of thuggery that we are used to and the latter the kind of bourgeois online activism that extremists engage in when they do not want to get their hands dirty like the leader of the red shirts.
The same kind of bigoted reasoning that Sungai Besar Umno chief Jamal (photo) and his ilk use is right there on the online petition, that amongst other reasons, a beer festival would lead to a "gay" carnival. How dumb. It is like saying because people drink in private establishments, this would lead to "gay" private establishments. I hate to break it to these nut jobs, but the two are mutually exclusive.
Jamal meanwhile continue his 'screw you' approach to the security apparatus of the state. He has no problems leaving a mess in a public space because he has the backing of the Umno state, which is making a public mess all over the country. His type of easy Islamic extremism entails bullying the non-Malay/non-Muslim communities, all the while enjoying the blessing of the state, instead of fighting other Muslims on foreign soil attempting to establish an Islamic caliphate.
Mind you, his actions of smashing beer bottles in a supposedly Muslim majority area is demonstrative of the hypocrisy of Muslims like him. Imagine if a non-Malay had engaged in that type of behaviour, the Malays residents would be up in arms that (1) a non-Malay was disrespectful and (2) that alcohol has stained their holy Malay/Muslim ground. In this case, Jamal engaged in "haram" behaviour by handling alcohol, stained "Malay" land, and he and his gang of thugs left other timid Malays to clean up the mess they had created.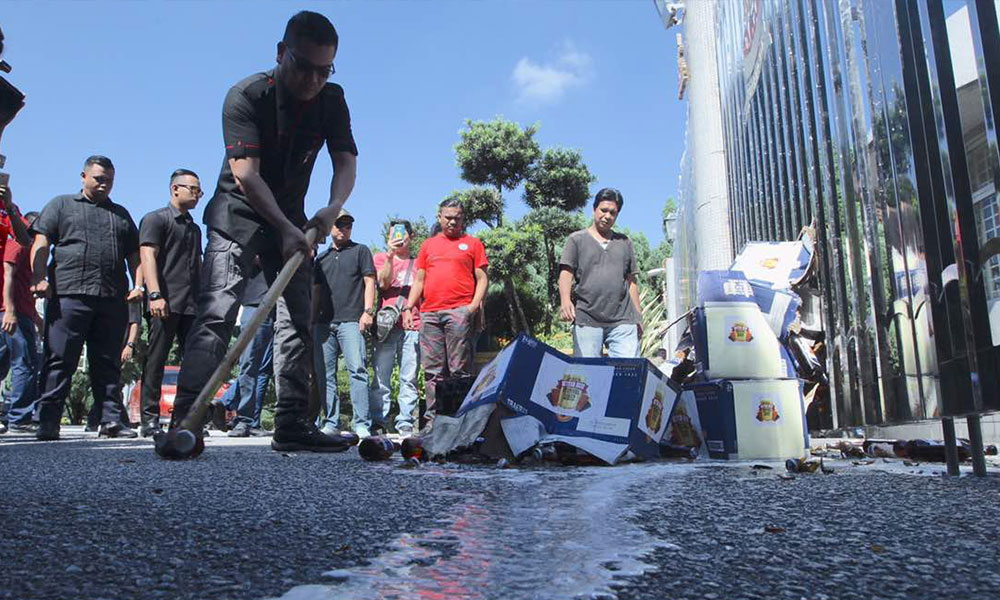 When he is finally arrested, he whinges that this is "going too far". Unlike Teoh Beng Hock (the most famous example of a political operative killed in custody), Indians and other Malays charged with various offences, he does not have to worry about death or violence in custody. Those people were not privileged like Jamal. They had no backing from anyone....