As Kuala Lumpur trundles headlong into a massive oversupply of commercial space, including offices and shops, one way to ameliorate the effects is to delay the projects by 1MDB and Permodalan Nasional Bhd (PNB), who will jointly add 25 million square feet in the coming years.
This, plus the freeze on new developments ordered by the government may help to keep commercial development in check and avoid a major oversupply in future years, which could see as much as one-third of offices unoccupied and possible failure of some commercial developments.
Recently, Bank Negara Malaysia or BNM, warned in its latest quarterly report: "The oversupply of office space and shopping complexes in the major states will be exacerbated by incoming supply, potentially becoming more severe than during the Asian Financial Crisis."
That's a rather chilling statement that needs to be taken very seriously. Since the first quarter of 2015, the office vacancy rate in the Klang Valley has increased steadily from 20.9 percent to 23.6 percent in the first quarter of 2017, the central bank said.
This is higher than the national average of 18.1 percent, and here's the clincher - more than three times the regional average of 6.6 percent! This is obtained by computing a simple average for Hong Kong, Beijing, Singapore, Shanghai, Seoul and Bangkok in the first the quarter of this year.
BNM further says: "The incoming supply of 38 million square feet of office space could exacerbate the glut. The office vacancy rate is projected to reach an all-time high of 32 percent by 2021, far surpassing levels recorded during the Asian Financial Crisis. In other words, if current supply-demand dynamics persist, 1-in-3 offices in Klang Valley could be vacant in 2021.
"Total incoming supply could potentially be higher if future phases of the ongoing large development projects are taken into account. This may result in further downward pressure on office rentals, which are already the lowest in the region."
That is a rather bleak but realistic outlook and needs strong action to be taken now. A freeze alone would not do because that only affects projects which have not obtained approvals yet. And it is not even certain if government projects under its various companies such as 1MDB or PNB are affected by the freeze. It does not seem so.
The figures show that if the projects being undertaken by these two entities - 1MDB's Tun Razak Exchange, or TRX, and PNB's Merdeka PNB 118 - are deferred, a huge amount of supply amounting to some 25 million sq ft of space with a gross development value or GDV of RM46 billion can be stopped in the coming years.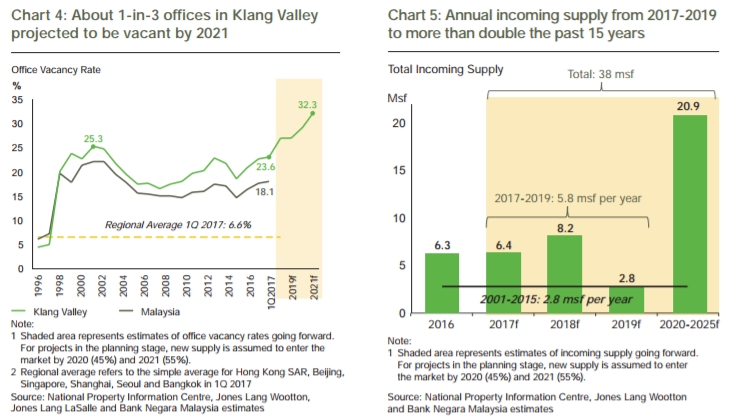 The above chart 5 shows that new supply of 38 million square feet of office space will come on stream between now and 2025. The amount being developed by 1MDB and PNB of an estimated 25 million square feet account for a giant two-thirds of this...