COMMENT | I was first introduced to Sheila Majid's music when I was 12.
My father played me "Sinaran" and "Lagenda", and told me that Malay artistes have a "bigger" vocal cord - they are able to belt higher musical keys. Indeed, Sheila Majid was the legend in her genre, the "Queen of Jazz".
I renewed my interest in her last year when she appeared for an interview on BFM, in which her larger-than-life personality shone through. Her straight-talking character and her latent rebellion reminded me of activist and writer Marina Mahathir, whom I deeply adore.
She will always be special to me.
In some sense, it was inevitable that she would provide a concise summary of her general concern towards this country in a widely-shared tweet. With 280 characters, she pointed to the pressing economic conditions of Malaysia - a situation surely experienced by many.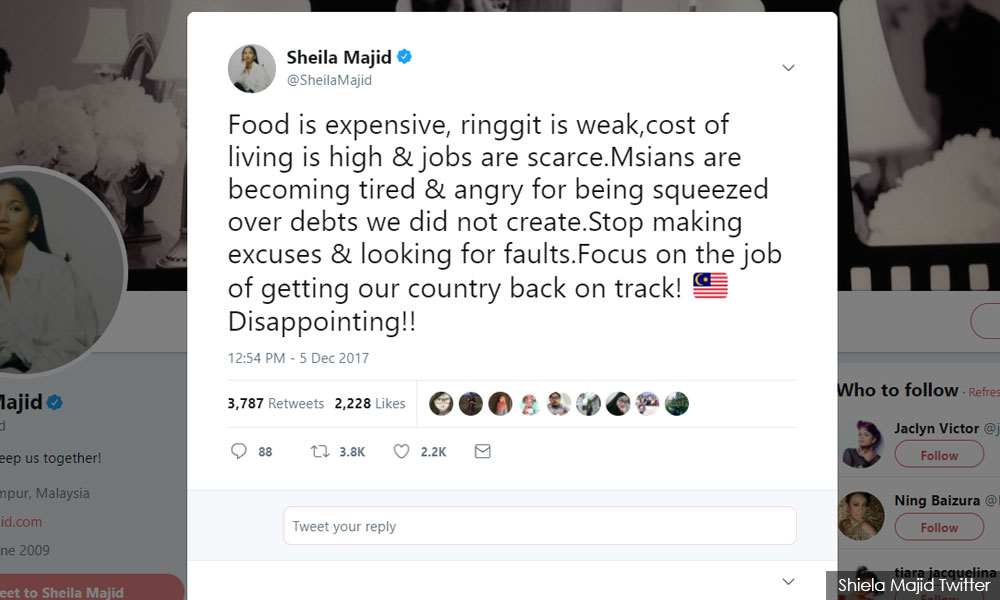 But there were dissenters. Not chiefly on the content of her tweet; instead, on her right to have a say on issues outside of singing.
The critics admonished her in two ways: first, by saying she had no right to comment on socio-economic issues; second, that she had no expertise to comment on anything of that sort.
'No right to comment'
The flamboyant TV personality Mohamed Azwan Ali said that Sheila had no right to comment on issues regarding cost of living, because she is who she is today because of the government.
Her wealth, success, "Datuk" title, and millions of followers were all contributed by the Umno government, and thus Sheila loses her right to publicly comment on the state of the country.
With due respect, this argument is hard to sustain. It grossly underestimates the musical talents of Sheila Majid and the vast Malaysian population who supported her in more ways than one...