INTERVIEW | Marina Mahathir's father may have been prime minister, but GE14 is the first time she is involved in politics and hitting the campaign trail, an exhausting prospect littered with ceramahs and rallies.
Malaysiakini catches up with her to find out what this political neophyte has learned after five days of campaigning… after she had had a few sips of strong, long black for caffeine to kick start her brain – in a few hours, a couple of rallies in Klang.
Malaysiakini: So how has it been?
Marina: (laughs) What day is today? I have to keep reminding, asking myself what day it is.
The crowded days beginning to merge?
Ya, and my schedule is very light compared to… when we are exhausted, we say, never mind, just 10 more days, nine…
Do you have a set of issues you get into or you vary it depending on the audience?
Partly depending on the audience, but there is a template which I am developing as I go along – I only started on Saturday (April 28, nomination day) okay?!
A lot of it is to do with my dad. That he is 92, he should be at home playing with his grandchildren
Now he is out there after 15 years of retirement, he is campaigning again.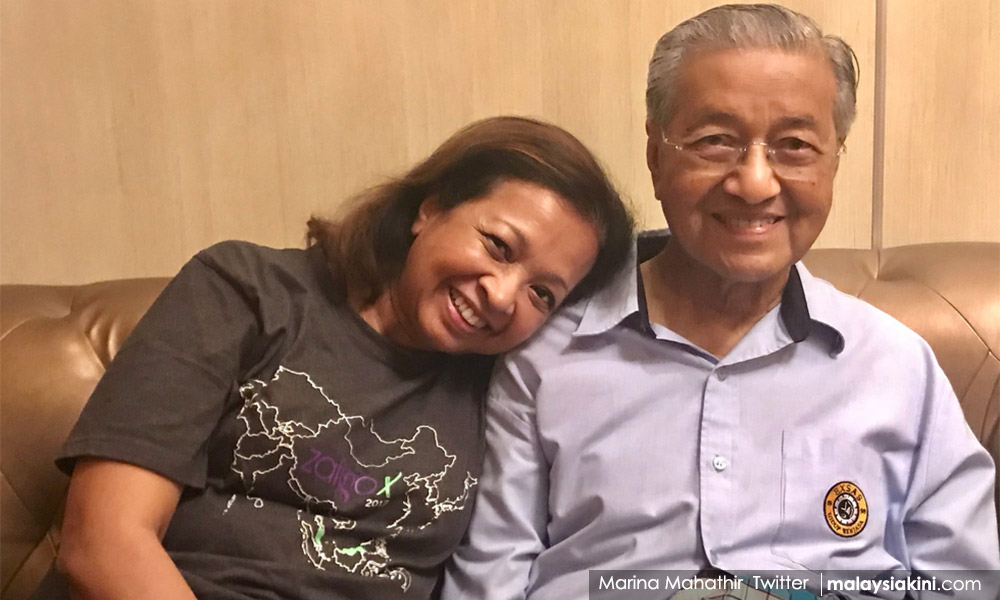 Do you know he has 18 grandchildren, and everyone hoes "Aaawww." They love these personal tidbits.
Then depending on the area, you talk about issues more relevant to them. GST comes up a lot.
1MDB?
1MDB? Ya, but I do not go into too much detail. Because I am not a politician, I try not to sound like a politician.
I just appeal to the people to do the right thing. Do you want these people to go on? Then talk about all the ridiculous hurdles they put in the way, like Tian Chua, etc.
I don't know how many are already convinced, how many are there just to listen. So you talk, you get feedback, responses.
Why the involvement now and not earlier? You never had any inclination to be involved in politics, or you wanted to strike your own path beyond the shadow of your dad?
I was not… I am not sure why… partly because he didn't ask me. I didn't feel needed.
Now I regret it because of the missed experience.
Also to have a comparison with now. Obviously now, I am seeing it from a different point of view. I have no idea what it's like to campaign on the government's side.
Talking about the old days, my brother Mokhzani asked: "Do you remember the nomination days?" He remembers when he went along when he was six years old. I have no recollection.
GE13 I did go to a few rallies, but I made it clear it was not an endorsement of anyone. I went to friends on both sides. I went to see Saifuddin (Abdullah) in Temerloh and Dr Zul (Dzulkefly Ahmad) in Kuala Selangor.
Both lost (laughs.) They joked and said I was the jinx, so I should go to Pekan next time...