COMMENT | Amanah contested in 34 parliamentary seats in the recent 14th general election on May 9, of which one was in Sabah, while six other seats were contested in Sarawak. Although Amanah is barely three years old, it won 11 parliamentary seats. This is a highly commendable achievement.
To further accentuate its success, Amanah president Mohamad Sabu is defence minister; its deputy president Salahuddin Ayub is the agriculture and agro-based industries minister and its strategic studies director, Dr Dzulkefly Ahmad, is health minister.
At the same time, Amanah won 34 state sets and to cap its state victories, Adly Zahari was made Malacca chief minister. Amanah, in other words, was able to make waves in Malacca, Perak and Johor too, all of which were strongholds of Umno and BN.
In this vein, no Islamic political party in Malaysia, as young as Amanah, has ever had the same achievement. Not even PAS, or at one stage, Berjasa in Kelantan.
Thus, Professor Ahmad Fauzi of Universiti Sains Malaysia (USM) is incorrect to affirm that Amanah will enjoy no future appeal to Malays, unless Amanah's version of Islam is tied more closely to Malay-ness.
Why do I say that Fauzi is badly mistaken? It is because his reading of Amanah's potential pre-supposes that Malays cannot outgrow their own parochial mentality, just as Malays cannot transcend their previous identification of Umno as the true defender of Islam.
Yet, the electoral upset of May 9 shows a community in Peninsular Malaysia and beyond that, which is quite capable of challenging the hegemony of Umno and PAS today. Malays, in other words, can accept a more progressive, and urbane interpretation, of Islam as a "mercy to humankind" or rahmatan lil'alamin.
There are five further flaws to Ahmad Fauzi's argument. First of all, prior to May 9, Amanah had succeeded in snaring six parliamentary seats from PAS even before the 14th general election began in earnest. All six were former leaders of PAS, and they and other members of Amanah were not accused of defection or any form of dereliction of duty by the ordinary rakyat.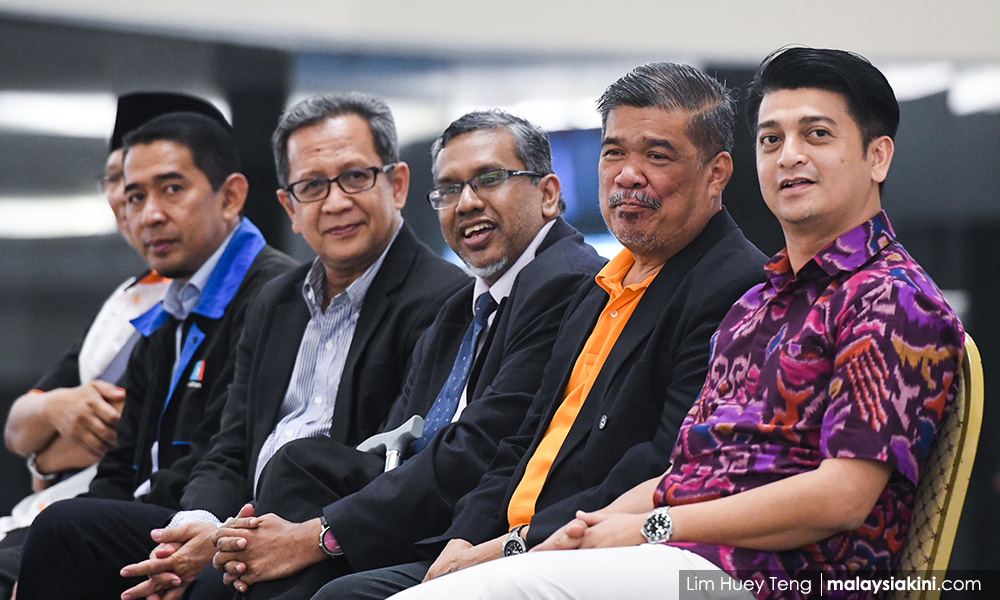 The voters - Muslims and non-Muslims alike - understood the decision of these candidates to switch their party allegiance in mid-stream, as PAS had begun working too closely with Umno and was leaving Pakatan Harapan. This is proven by the fact that all of them, except Raja Kamarul Bahrin who contested in Kuala Terengganu, which has its own peculiarities, won in the 2018 election. And indeed, with bigger majorities too.
If anything needs to be said, the ability of Amanah to induce six out of 21 members of parliament in PAS to jump ship is already a political achievement in itself.
Some of the members of parliament are deep intellectuals and policy strategists too, among whom include Dr Mujahid Rawa and Dr Dzulkefly, to mention a few. At the same time, there are grassroots leaders, such as Mazlan Aliman. Indeed, Mazlan Aliman, the president of Anak, is a founding member of Amanah, and is well versed in issues related to Felda and FGV, both of which are key to understanding how the 54 parliamentary constituencies in Felda areas can be helped.
Three sons of ex-leaders
Second, the ability to have the sons of three former leaders of PAS in the fold of Amanah implies a major paradigm shift. Nik Omar is the son of the late Nik Aziz, as Mujahid is the son of the late Yusuf Rawa. Faiz Fadzil, a first-term state assemblyman in 2018, too hailed from the family of the late Fadzil Noor. Together, they have helped to give Amanah the much-needed boost on the ground and the social media.
Third, Amanah did not just pull away from PAS for the sake of being separate. Members of Amanah believe fervently in the idea that Islamic spirit can transcend differences in race, religion and beliefs. For the lack of a better word, Amanah believes in the quest for a common good; not just crusty old and conservative templates of Islamic laws, as insisted by PAS.
Fourth, Amanah is practising what it preaches openly i.e "fastabiqul khairat," or the race to outdo one another in the doing of the common good, regardless of racial background. This is an approach that is in line with the dynamic reading of Maqasid al-Shariah (broad objectives of syariah) as explained in the works of the late PAS spiritual leader Nik Aziz Nik Mat himself and Professor Hashim Kamali of the Institute of Advanced Islamic Studies (IAIS).
This methodology is indeed consistent with Islam as a "mercy to humankind," and is therefore, most promising in a multicultural society like Malaysia that spans from Kangar to Kota Kinabalu. It is a modus vivendi that can be employed by the West, even China, countries that are trying to work with their own Muslim communities.
Fifth, Amanah is in a coalition with Harapan, and the latter is beefed up by a strong majority of 123 seats in the parliament. This is happening when Umno and BN combined only have 79 seats in the legislature.
In fact, from a high of 90.3 percent of the total share of parliamentary seats in 2004, Umno and BN combined now only have 36 percent in 2018.
Within a period of 14 years, hardly a generation, Umno and BN, have lost almost one-third of all its traditional vote banks to Harapan.
Ironically, Bersatu and Amanah are new, while PKR was formed only in 1999. The oldest party is DAP which began competing in Malaysian elections in 1963. Harapan, it seems, is indeed what Malaysians want: new hopes; indeed, new ways of doing things. More importantly, the politics of civil and global Islam, as practiced by Amanah, can be the future platform of the world.
---
PHAR KIM BENG is a Harvard/Cambridge Commonwealth Fellow, a former Monbusho scholar at University of Tokyo and visiting scholar at Waseda University.
The views expressed here are those of the author/contributor and do not necessarily represent the views of Malaysiakini.