COMMENT | As expected, the four BN component parties in Sarawak had left a sinking ship. Why? Let me be blunt – it was to save their own skin.
BN is not saleable anymore, as some state leaders had declared after the May 9 elections. These same leaders were the ones echoing their then-big boss, Najib Abdul Razak, just a week before the polls, trumpeting that BN was the only choice for the people.
A month later, they decided to dissolve the party which was supposed to be the only choice for Sarawakians. Unbelievable, but true.
Well, what else is surprising about politics, or politicians? Those who have it so good and for so long in politics will find it difficult to get out of it. And while they are in it, they will want to be in power. Being in the opposition is something they cannot possibly handle.
I would liken the statement by Sarawak Chief Minister Abang Johari Openg yesterday on why the four-party coalition is leaving the BN as a mere soundbite, pleasing only to the ears of party leaders and that of their members and supporters. Certainly not to the majority of Sarawakians.
One must have good reasons to turn traitor. But understandably, it is difficult to explain a treacherous plan in a politically correct manner, no matter how hard one tries.
So in that sense, the declaration of the new coalition, Gabungan Parti Sarawak (GPS), was far from convincing. In fact, it was a complete let-down.
'Peace, harmony and comfort'?
In his statement, Abang Johari (centre, photo below) talked about facing the challenges in line with the changing aspirations, needs and demands of a cross-section of the Sarawak populace.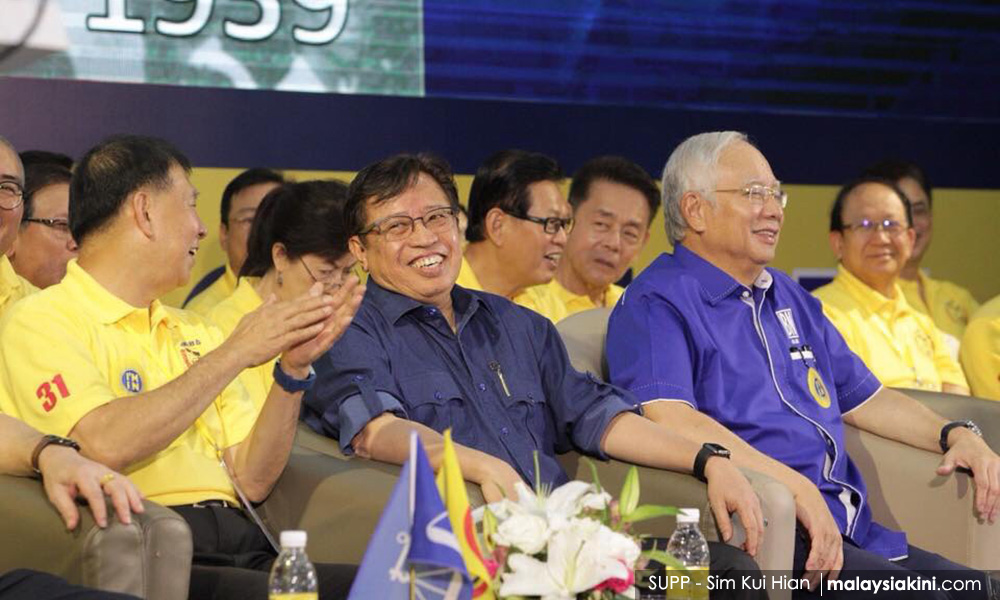 "Therefore, it is incumbent upon us Sarawakians to continue to nurture and protect our values, living in peace, harmony and comfort among one another.
"This aspect is indeed not only our pride, but also our joy in our lives as Sarawakians, hence the decision (to leave BN) was made in the interest of the people and the state above all else," he said.
Allow me to respond to my chief minister on some of his points.
I think that "the decision to leave BN was made in the interest of the people and the state above all else" is nothing but a white lie.
Many would have saluted Abang Jo had he been honest and truthful by saying that "we have no choice, but we need to think of winning the next state elections, and we have to go for a new platform since BN has been overwhelmingly rejected by the people...