COMMENT | "Saya telah berjaya membangunkan Selangor menjadi negeri maju dengan international standard. Di mana negeri maju itu telah disah dan dibuat kajian oleh IMAF, International Management of Sweden (sic) recognised Selangor maju dan IMF telah keluarkan buku yang menjadi panduan untuk pelabur-pelabur."
This was part of former Selangor menteri besar Mohamad Khir Toyo's mitigation plea before being sentenced on corruption-related charges in September 2015.
In short, he said that he had developed Selangor into a fully developed state and this was certified by a Swiss institute of management. He said his efforts had been recognised by the International Monetary Fund (IMF), which has produced a book meant as a guide for investors. Both were whoppers.
In a commentary on Sept 25, 2015, I decided to call his bluff. In the public interest and in the interest of justice, I unequivocally stated that the book and the "recognition" were picked from thin air and the archives can provide anecdotal and dependable data to back this.
On the day of the sentencing, Sept 29, his defence counsel Muhammad Shafee Abdullah (photo below) addressed the court.
Malaysiakini reported: "Shafee brought to the attention of the five learned judges, two articles – a commentary by R Nadeswaran titled 'Truth, nothing but the truth' dated Sept 25, and an editorial titled 'Don't do the crime, if you can't do the time' which was published on Sept 28." He complained that they were "prejudicial" to his client.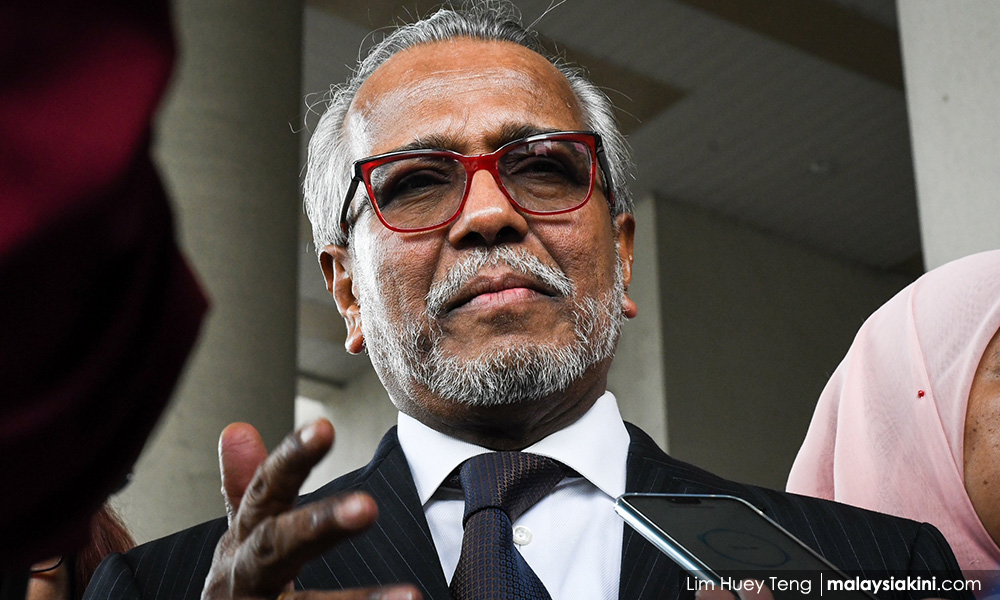 Chief Judge of Malaya Zulkefli Ahmad Makinudin said the court took note of the articles but denied that the judges were influenced by the articles or the social media.
But what the court did not hear was the most crucial part of my critique: "It is not this writer's or this newspaper's business to dissect and scrutinise mitigation pleas from convicted people. The competent authority is the court and we don't seek to influence them or prejudice the case of the convicted person."
End of story? No. Outside the court, Shafee told reporters that he had instructions to file contempt proceedings against me. To date, nothing has happened.
Seven months later, I had the opportunity to ask the then attorney-general Mohamed Apandi Ali on the need to retain the "sub judice" rule, especially given that jury trials had been abolished a long time ago.
His response: "We can't take for granted that judges can't be influenced. There have been instances (where) judges have been influenced. Even the mere presence of people in a courtroom can instil fear in a judge. Judges are only human. Some judges have told me (that) they feel the fear. The element of fear is there. To avoid that is better, (we need) to still maintain this sub judice (rule)."
If they fear journalists like me and believe that we can influence judges, it is either one of two things – journalists are very persuasive or the judges have no mind of their own and do not decide by the evidence before them, which makes them look plain stupid...