QUESTION TIME | Does this strike you as a strategic venture? Proton Holdings Bhd does a technology tie-up with China's Zhejiang Geely Holding Group, as a result of which Geely takes a 49.9 percent stake in Proton, with the other 51.1 percent owned by Syed Mokhtar Albukhary's listed DRB-Hicom.
And then Geely and Proton set up an equally-owned joint venture to make and sell Proton cars in China. Here's the rub – the cars will be mainly from the Geely platform, although some of the cars may be designed by Proton. How weird. Why would Geely do that? And what chance does Proton have of succeeding when Geely is a much better-known brand in the country?
Over the last weekend, that's exactly what Proton and Geely did, signing a heads of agreement in Hangzhou for Proton to assemble and market their cars in China in a 50-50 joint venture. Of course, Proton advocate and protector, Prime Minister Dr Mahathir Mohamad, was there to cheer the deal on.
In an announcement to the stock exchange, DRB-Hicom said the venture will include the establishment of an assembly facility in China, and the development of a network of dealers to market Proton cars in China. It will also allow for certain Proton platforms to be developed into models for sale in the country.
According to DRB-Hicom group managing director Syed Faisal Albar, having Geely on board as a strategic partner gives Proton an easier route into the lucrative Chinese market.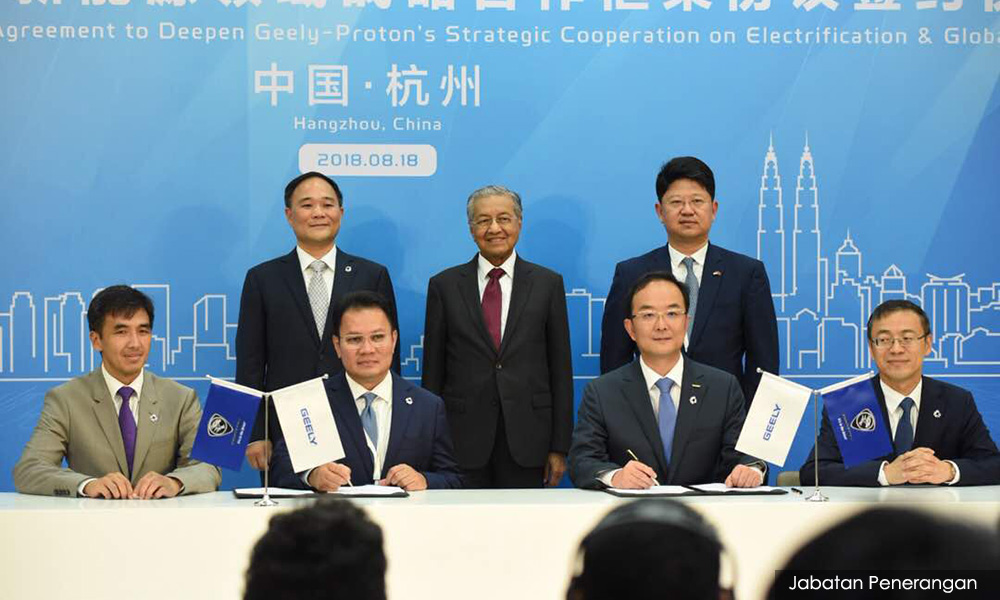 "Clearly with Geely on board, Proton's route into China has become more tenable. Part of Geely's role is to secure the manufacturing licenses and regulatory approvals required for such a venture under China's regulations. Geely will also identify a suitable location where the manufacturing facility is to be based."
Clearly, Syed Faisal is eying a share of the 24 million cars a year sold in China, but is it going to be that simple? And what would the JV do for Proton effectively? Not much, it looks like.
What's in it for Geely?
Based on DRB-Hicom's own figures, Geely's market share in China is just five percent. But this 1.24 million figure is more than double the total passenger vehicle sales in Malaysia of some 515,000 units. And the market that it takes will be largely from Geely. Why would Geely help Proton do that?...