COMMENT | Oh boy! What a day yesterday was.
I don't know about you, but it was one heck of an emotional rollercoaster for us at Malaysiakini.
The day began with the possibility that our editor-in-chief, Steven Gan, could be put behind bars on a contempt charge stemming from some readers' comments on a relatively innocuous story about the resumption of court operations last July.
But that fear soon dissipated when the Federal Court, while finding the first respondent - Malaysiakini - culpable of contempt, determined that Gan was not guilty.
Okay, I thought to myself, we've passed the point of greatest danger.
We braced ourselves for a sizable penalty - while our lawyers were asking for it to be not more than RM30,000, the prosecutors were demanding an RM200,000 fine.
Then came the moment the court announced the fine - RM500,000! We aren't a media conglomerate where the big bosses earn millions. Having to fork out this kind of money is a debilitating hit - and what's more, we were given a few days to pull together this huge sum.
What followed was an indelible reminder of the real Malaysian spirit - something that gave me my proudest moment as a Malaysian in a long while.
It's been a year with little to cheer after the horrible Sheraton Move (that unfolded this time last year) in which an old man's greed for power resulted in the collapse of the elected government and the simultaneous hopes of millions for a better, more progressive, and forward-thinking Malaysia.
It's been a year spent in the grip of a lockdown that seems endless and meandering as our leaders interspersed shifting goalposts with outright blunders.
And now, here was another bitter blow - in fact, our case prompted international attention with the likes of The New York Times, The Guardian and the BBC carrying articles on it yesterday.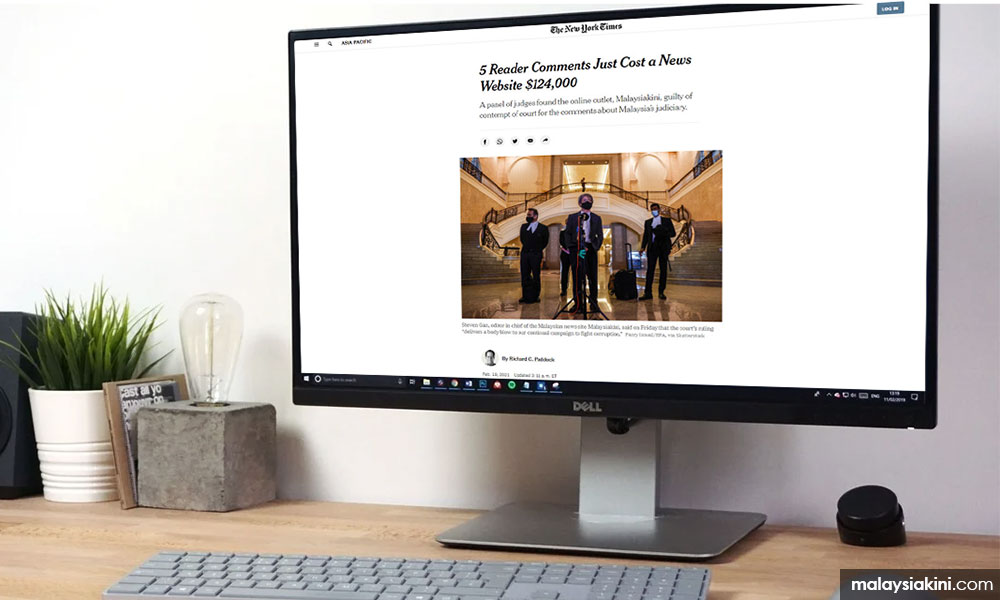 But even as news of our harsh penalty and resulting plea for donations spread, so too did that astounding feeling of solidarity and purpose. I blasted out the message on Facebook and WhatsApp and saw that I was far from the only one.
And the response was non-stop, it was trending on Twitter, and an ex-Kinian and a compadre from Malay Mail took up the cause on the latest social media platform Clubhouse. Many of my ex-colleagues at The Star expressed solidarity - not just with words but with donations.
Calls and messages were flying and I couldn't keep up.
And while the solidarity among friends in the media was astonishing, it was not limited to that. Relatives from overseas and a wide range of people whose stories we have previously highlighted also chipped in with financial contributions and helping to spread the word.
There were musicians and environmentalists, trade unionists and NGO reps, politicians and lawyers, theatre performers and indigenous rights activists, medical frontliners and college professors. Malaysians coming together in droves and doing what they do best - helping each other out.
Stirring words
And actually, I've always known this. This is far from the first time I've seen friends of all races banding together to help one another - to assist flood victims in Kelantan, for example. When push comes to shove, it doesn't matter what you think of the government in power there, you help the people in need.
Our enemy must never be those of another race or religion, but those seeking to oppress and corrupt.
Anyway, those who got back to me often had stirring words. "We got Kini's back, buddy", "Keep the spirit alive", "A blow against press freedom is a strike against all of us", "The overwhelming support is beautiful to see after the body blow", "People hate injustice and they are glad to help out", "We respect what Kini does and feel sorry that it is being targeted."
In fact, as the minutes ticked by in Malaysiakini, it rapidly went from - "will we ever be able to raise that kind of money?" to "we better prepare a message to show that we've reached our target and stop the donations!"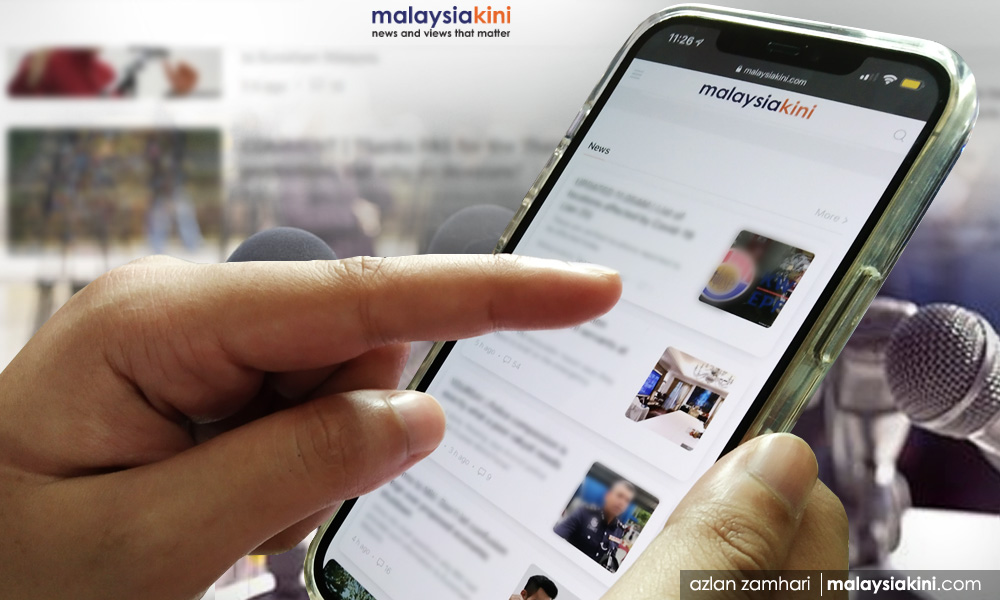 More than 10 very sincere friends who had planned to give (and who have supported other causes on previous occasions) found that the collection was closed before they could even donate.
Tears had been threatening for a while, but when I was forwarded a message and photo (main pic) from a senior citizen in PJ who sacrificed his lunch and ate bread and coffee instead so as to donate RM20 to Malaysiakini, they spilt over.
"I'm doing it for a good cause for the next generation as my grandson is four years old. Malaysians from all walks of life donated this huge amount and clearly demonstrated their anger, frustrations and demands for press freedom and basic human rights.
"Malaysians are very timid, obedient, loyal and law-abiding but never ever bully us!" he said.
I realised that this is bigger than Steven Gan, bigger than Malaysiakini and bigger than press freedom. It was about hope and a sense of shared purpose. Of common action against injustice. Of Malaysians, if only for a brief while, allowing themselves to be united and determined and firm in sending a message.
I, for one, will never forget it.
---
MARTIN VENGADESAN is an associate editor with Malaysiakini.