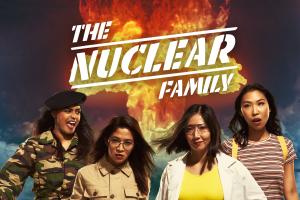 events
The Nuclear Family
All systems are go, bombs away!
After two decades in the USA, Dr Mary Yuen is tired of being a foreigner. Returning to Malaysia with her teenage daughter in tow, she finds herself once again at the mercy of politicians with absurd nuclear ambitions and larger than life egos. In an era of climate change, nuclear proliferation, and other apocalyptic anxieties, can Mary Yuen thwart a nuclear disaster?
Sharply witty and deliciously cheeky, Huzir Sulaiman's The Nuclear Family is a whirlwind homecoming of explosive proportions that will blow your mind!