The biscuits that you eat straight from the pack are possibly the best snacks ever invented by humans. They come in different flavours and fill your stomach conveniently. Whether there are biscuits, crackers, wafers, cookies, bread, muffins or cakes, every household has some of those snacks readily.
Generally speaking, the three main ingredients for biscuits are wheat flour, sugar, and oils and fats (in which palm-based ingredients are part of the formulation). Other common ingredients may include salt, yeast, leavening agent, corn starch, tapioca starch, emulsifiers, minerals, vitamins, food conditioners and flavourings.
The major biscuit brands dominating our supermarket shelves are Munchy's, Julie's, Hwa Tai, Hup Seng, Jacob's (by Jacob Fruitfield Food Group of Ireland), belVita (by Mondelēz International of the US) and Oreo (by Mondelēz International of the US). On a proud note, the first four brands quoted here are popular Malaysian brands marketed worldwide.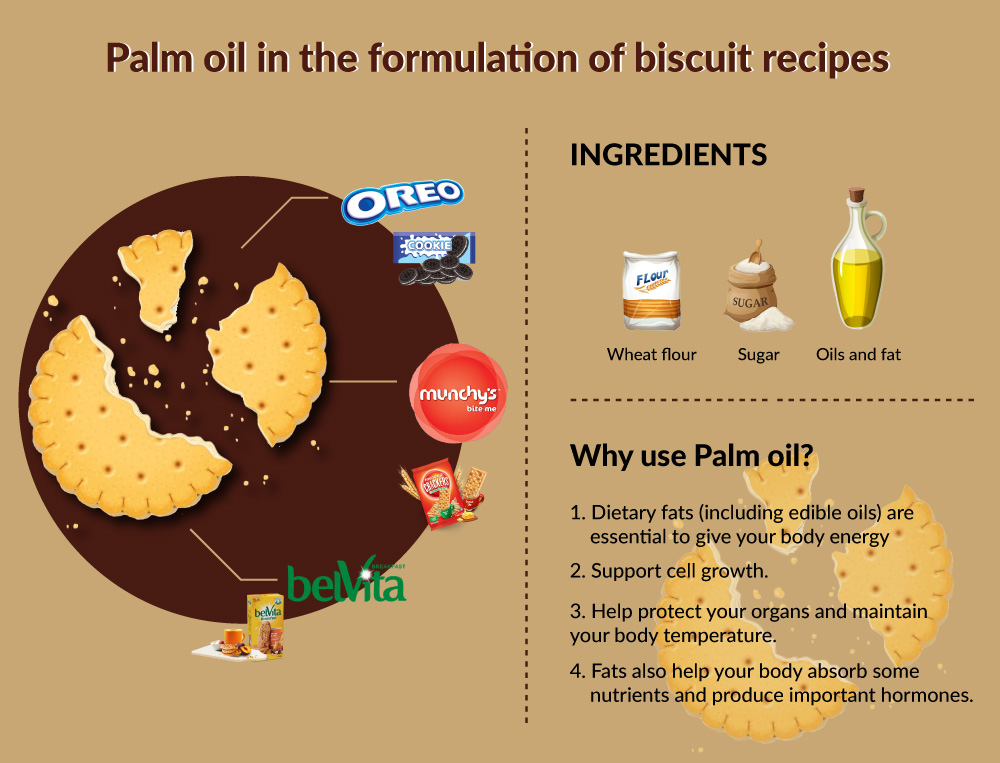 Why oils and fats in biscuits?
First of all, oils and fats form an important part of a healthy diet as Institute of Food Science & Technology of London makes it clear. Getting too much or too little affects our health.
The American Heart Association explains that dietary fats (including edible oils) are essential to give your body energy and to support cell growth. They also help protect your organs and keep your body warm. Fats also help your body absorb some nutrients and produce important hormones.
Why palm oil?
Of the four major dietary fats (saturated fats, trans fats, monounsaturated fats, polyunsaturated fats) present in our diet, palm oil gives a balanced composition of generally 50% of saturated fatty acids and 40% of monounsaturated + 10% of polyunsaturated fatty acids.
In the manufacture of biscuits, oils and fats are one of the three essential ingredients after wheat flour and sugar as reported by Asean Food Journal. The almost 50-50 composition of saturated and unsaturated fatty acids in palm oil makes it a good substitute for butter. In other words, it is suitable for confectionery manufacturing without the need for hydrogenation (which converts vegetable oil from a liquid to a semi-solid or solid fat).
The trans fat-free palm oil is a preferred choice for its unique functionality including being highly stable to oxidation for a longer shelf life. Palm oil is naturally semi-solid at room temperature and when its liquid portion is separated from the solid portion through fractionation, it brings palm olein (liquid fraction) and palm stearin (solid fraction) into existence.
While palm olein is commonly used for cooking and baking, palm stearin is a very important raw material in the formulation of margarine and shortening, two typical ingredients in most biscuit recipes for that added crunchiness, flakiness and mouthfeel, in addition to keeping the desired, consistent baking characteristics such as functional form and texture as evidenced by the homogeneous end products.
The very versatile and efficient oil palm boasts the highest yield per hectare as compared to other oil-producing crops, making it the most cost-effective choice among the manufacturers for its abundant availability and lower production cost, which benefits the consumers in the end.