Palm oil and its derivatives are present in at least 70% of cosmetic products, according to Croda, a global specialty ingredients supplier to the beauty and personal care industry. This goes to show that palm-derived ingredients are preferred by the manufacturers for their functional benefits.
To help your understanding, palm oil (referring to palm oil, palm fruit oil, palm kernel oil (PKO) and PKO derivatives) is an essential building block in the manufacture of over 1,000 synthetic compounds, which are made through chemical reactions and identified by their chemical names such cetyl palmitate used in lipstick, stearic acid in shaving gel, and palmityl alcohol (cetyl alcohol) in shampoo.
Palm-derived ingredients form part of the formulation of emulsifiers, foam boosters, stabilizers, mildness agents, pearlizing formulas, conditioners, suspensions and thickeners, among others, which are found in product categories such as bath & shower, skin care, hair care, body care, deodorant, oral care, hygiene care, sun care, baby care, toiletries, perfumes & fragrances, and other make-up (cosmetic) merchandise.
Let's take a closer look at lipstick, one of the most common cosmetic products. In layman's terms, lipstick's basic ingredients are wax, oil, alcohol and pigments (colourants). For a chemist, it may contain glycerin, glyceryl stearate, caprylic/ capric triglyceride, isopropyl myristate, octyldodecyl myristate, and cetyl alcohol derived from palm oil – which holds colour well, doesn't melt at high heat and has a smooth application, plus being odourless and having moisturizing properties.
Take glyceryl stearate for example. It can be found in lotions, creams, powders, skin cleansing products, makeup bases and foundations, mascara, eye shadow, eyeliner, hair conditioners and rinses, and suntan and sunscreen products. Glyceryl Stearate acts as a lubricant on the skin's surface, which gives the skin a soft and smooth appearance. It also slows the loss of water from the skin by forming a barrier on the skin's surface.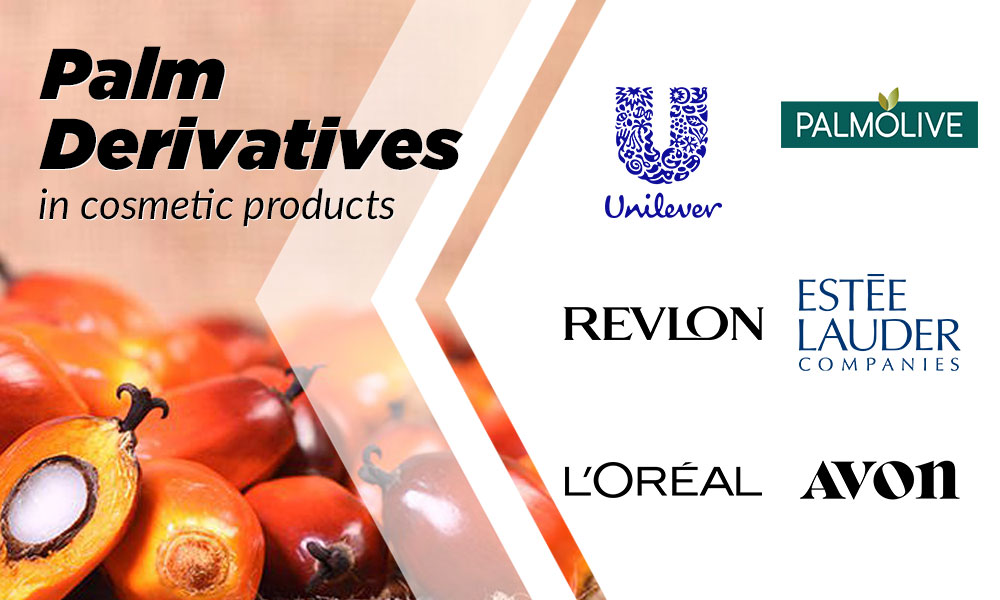 All top 20 cosmetic and personal care brands (groups) use palm derivatives in their products: L'Oréal, Unilever, Estée Lauder, P&G, Coty, Shiseido, Beiersdorf, Johnson & Johnson, AmorePacific, Kao, LVMH, L Brands, Avon, Henkel, Mary Kay, Colgate-Palmolive, Chanel, Natura, Revlon and Kose.