Complaints about burdening our children with unnecessarily heavy book loads have been persistent for a long time.
However, the Ministry of Education has sadly not solved the burdens and pain of the book overload that our poor children are forced to bear, every day!
Let's put ourselves in our children's shoes. We will quickly realise that going to school is a heavy burden that we literally carry every day - physically and psychology. This goes against their daily well-being and the simple satisfaction of happily going to school, as we did!
ence it's no wonder that we have more indiscipline and frustration in our schools today! All this leads to more truancy, absenteeism and even bullying in our schools!
The Ministry of Education must largely accept the responsibility for this bad and burdensome state of affairs. After all, the ministry has issued circulars on heavy workbooks and homework, long ago, in 2000 and again in 2004.
But the ministry officials, many principals and also teachers have ignored the ministry's instructions limiting the number of workbooks that need to be carried to school. So, what is the use of circulars that are rarely or barely enforced?
The implications
The implications are the growing public perceptions that the authority of the government is being undermined, the heads of schools and staff are being defiant, with many parents challenging the sound professional advice of the ministry.
The unfortunate results are that the overloaded students are left to suffer in silence! How sad for our children!
Actually, the majority of parents and students are being let down because of poor enforcement of the ministry's circulars by the majority in the education system.
This has happened just because of the irresponsibility of a tiny minority of parents who foolishly insist on teachers giving unduly more homework and thus creating the false need to carry more heavy book loads to school!
Where is the logic in this kind of education?
No wonder our school academic performances, measured by international standards like Pisa, are relatively low and our national productivity has become unimpressive and even declining.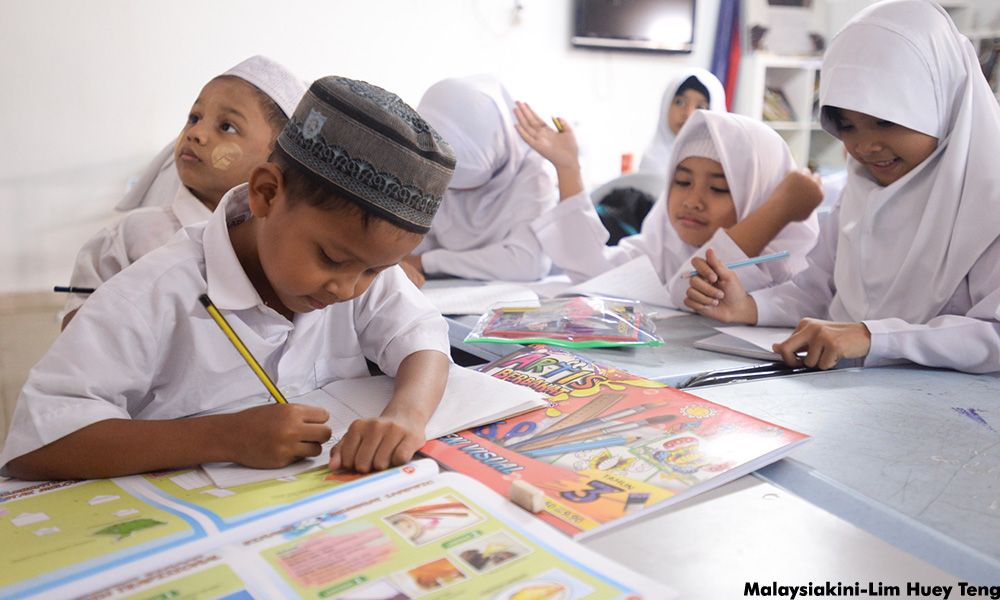 As former Education Department director-general Alimuddin Mohd Dom stated, the purpose of education is to produce holistic pupils and building character - and if I may add, nurturing our future leaders.
But are we achieving this sacred goal by burdening our students with too much homework, cramping their enthusiasm to learn and think critically and to enjoy their childhood and school life?
In our time ,we generally enjoyed school much more and yet we prospered. Can we give these same gifts to our children and grandchildren, please?
Popular Malacca Action Group for Parents in Education chairperson Mak Chee Kin has lamented that we are still "exam oriented". The well-respected Parents Action Group for Education Malaysia chairperson Noor Azimah Abd Rahim has advised that parents and schools should agree on the number of workbooks to be used in school.
These pragmatic experts and other enlightened education thought leaders and parents. Can't all be wrong? We must listen and act fast accordingly, to improve the burdensome situation for our children's sake!
And in conclusion, I would say that with stronger leadership from the ministers and senior officials in the Ministry of Education, there will be stronger support for the enforcement of the ministry's circulars.
Then, parents and teachers can collaborate more to reduce the burden of book loads for our helpless children. Better enforcement of the ministry circulars will then bring more relief to our students, improved academic results, a greater sense of well-being and as importantly, more fun to go to school!
One important solution, even if temporary, would be for the school bookshops to provide inexpensive wooden lockers to students to keep their heavy workbooks at school. Apparently, some schools sell these lockers at only RM15 per locker, which is reasonable. Poor students can be subsidised by the parent-teacher associations to help them out. And why not?
So, Minister of Education and all concerned, please don't burden our children and stifle their precious childhood and their joy of school days.
Please help their joy of learning and yearning, to resolve to serve our beloved country on its 60th anniversary and up to and beyond 2050 with Transformation 50 (T50)!
Selamat Hari Merdeka 2017.
---
RAMON NAVARATNAM is chairperson of the Asli Centre for Public Policy Studies.