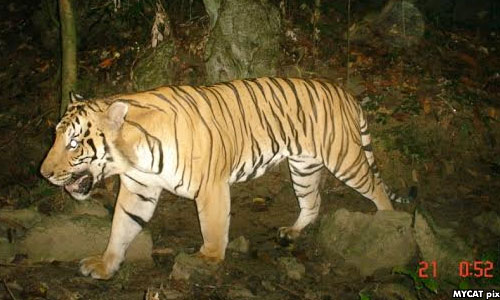 Priority action needed to save the Malayan Tiger
July 29 is the Global Tiger Day. It is an annual "landmark day" to raise awareness of tiger conservation in the wild.
Poaching and habitat loss have led to the decline of global tiger populations with an estimated 3,000 wild tigers remaining within 13 Tiger Range countries (TRCs), including Malaysia.
Global Tiger Day was first declared in 2010 at the Saint Petersburg Tiger Summit that was hosted by President Valdimir Putin of Russia with the support of the TRCs and the World Bank.
The summit ended on a high note with all 13 TRCs, including Malaysia, committing to double the global tiger population by 2022.
As a senior government wildlife officer prior to my retirement two years ago, I was privileged to be involved in the pre-summit negotiations and be part of the Malaysian delegation to the Tiger Summit that was led by the Minister of Natural Resources and Environment Malaysia, Wan Junaidi Tuanku Jaafar.
Optimistic
My colleagues and I were very optimistic about the future for our Malayan Tigers and other wild tigers within the TRCs. Malaysia was proactive by adopting its own National Tiger Conservation Action Plan (NTCAP), prior to the summit that recommended 80 actions to be undertaken to double the Malayan Tigers (Panthera tigris jacksoni) by 2020 within a 40,000 sq km of forested areas identified as tiger habitats.
The NTCAP also brought together a diverse range of stakeholders consisting of federal and state government agencies and NGOs to take collective efforts to implement the recommended actions. The Ministry of Natural Resources and Environment (NRE) managed to get the Wildlife Conservation Act passed by Parliament in 2010. This law significantly increased the penalties for crime against tigers and other wildlife species listed under the law.
The Town and Country Planning Department assisted in in the development of the Central Forest Spine (CFS) Master Plan that was subsequently adopted by the cabinet in 2011 that mainstreamed the conservation of 40,000 sq km of Malayan tiger habitats within the CFS landscapes stretching over eight major states in Peninsular Malaysia.
Ecological corridors
In addition to the department of wildlife and national parks (DWNP), the forestry department, public works department and drainage and irrigation department are actively involved in the development of ecological corridors to reconnect fragmented forests with the CFS landscape.
So far three CFS ecological corridors have been developed with a cost of over RM100 million in Terengganu, Pahang, and Perak. This enabled the construction of seven underpasses to allow the safe movement of tigers, elephants and other fauna and flora species between forest blocks divided by major highways.
However, even with all these concerted international and local efforts, the wild tiger population in Malaysia and in many other TRCs have not increased as planned.
Dwindling tiger population
Based on systematic surveys undertaken at three major tiger habitats namely Taman Negara, Belum and Endau Rompin by DWNP, WWF Malaysia, WCS Malaysia and MYCAT the projected Malayan Tiger population in 2014 is between 250 and 340 individuals throughout the CFS landscape.
At best these efforts have only slowed the declining trend in the Malayan tiger population. We can continue to blame the plight of our Malayan tiger to poaching by organised syndicates who are cashing on the increasing illegal demand for tiger parts globally.
As we mark the 2017 Global Tiger Day tomorrow, I am sharing my humble views on some of the actions that can be implemented or scaled up immediately now, to reverse the declining trend of the Malayan tiger populations in the wild.
First, the greater mandate has to be given to NRE, the related agencies and NGOs by the Federal Cabinet and the concerned eight State EXCOs of Pahang, Perak, Terengganu, Kelantan, Johor, Kedah, Selangor and Negeri Sembilan to reprioritise and implement the recommended actions of the NTCAP and the CFS plans.
These are well articulated comprehensive plans that deal with the conservation of the Malayan tiger species and Malayan tiger habitats, respectively.
Performance indicators
Second, strengthening the management of some 40,000 sq km of Malayan Tiger habitats within the CFS forest landscapes consisting of a mosaic of national parks, state parks, wildlife reserves, protection forest reserves and production forest reserves using the tiger and its prey species as monitoring and performance indicators.
A specific management agency has to be appointed for each of the CFS ecological corridors to plan and initiate conservation measures in a coordinated manner as recommended in the CFS Master Plan.
The old road at the Sungai Yu CFS Ecological Corridor in Pahang adjacent to the newly constructed wildlife friendly highway has to be closed off immediately. The site has to be rehabilitated with local forest species under the supervision of FRIM to allow the free and safe movement of tigers and other wildlife.
The conservation status and management of Temengor forest in Perak and Ulu Muda forest in Kedah and have to be upgraded to protect the Malayan Tiger population within them.
Field rangers
Third, increasing significantly the number of field rangers to patrol and protect the tiger and its prey species throughout the 40,000 sq. km of Malayan tiger habitats. As an immediate response, the Federal Government under its Blue Ocean strategy has deployed the army to undertake joint deep jungle patrols at priority tiger habitats together with wildlife, parks and forestry rangers.
However, the permanency of such a dedicated field teams is needed to ensure every identified Malayan tiger through ongoing field surveys is monitored on a monthly and subsequently, on a weekly basis from 2018 onwards. This can be a herculean task since rangers literally need to hike for several days to patrol our dense tropical rainforest in order to ensure these tigers do not end up as victims of organised poachers and illegal snares.
Fourth, mobilisation of an initial RM100 million revolving fund to hire the additional field rangers and biologists and deploy existing ones into the 40,000 sq. km of Malayan tiger habitats to undertake above actions. This will ensure there is sufficient budget for the agencies and NGOs to pay field allowances and overtime for rangers to be deployed more frequently and for a longer duration.
Sustainable revolving fund
Part of the funds should be used to hire local communities and orang asli as honorary rangers who have the traditional knowledge of their surrounding forests and natural trekking skills to undertake such deep jungle patrols with proper training and supervision.
In addition, such sustainable revolving fund is crucially needed to motivate and reward state governments to continue with their commitments to maintain 40,000 sq km of tiger habitats within the CFS as forested areas rather than converting them to other economic use.
Fifth, we Malaysians should empower ourselves to save our Malayan tigers in the wild rather than treating it as a federal or state government problem. This point is also reiterated by our prime minister in his foreword to the National Policy on Biological Diversity 2016-2025.
Private sector
In addition to the wildlife, parks forestry rangers and officials, a growing number of NGOs and researchers are passionately involved in the research and conservation of the Malayan Tigers.
However, their sphere of influence is limited. The private sector, especially those that benefit directly in the use of natural resources for their businesses and those that use the tiger and other wildlife as institutional symbols, including Maybank, should take proactive measures to set aside their own funds including to hire their own biologists and rangers to implement some of the actions of the NTCAP and CFS.
If these concerted efforts can be undertaken and strengthened immediately between now and 2018, we can reverse the declining trend of our wild Malayan tiger population by 2020 and probably double it by 2025.
Two Malayan Tigers are prominently depicted in our national emblem to embody the strength of Malaysia and its citizenry. Therefore, we can double our Malayan tiger population in the wild if we can translate this pride and symbolism into concerted actions.
Ecologically, the Malayan Tiger also sits at the apex of the food chain. Therefore such efforts to conserve our tigers should not be seen as throwing salt into the sea, as these actions will also protect the forest as water catchment areas.
Actively managing a healthy wild Malayan Tiger population would also ensure the healthy functioning of the ecosystem services including oxygen production and carbon dioxide sequestration that are essential for the survival of all Malaysians now and in the future.
---
DR SIVANATHAN ELAGUPILLY was senior wildlife officer and tiger biologist at the department of wildlife and national parks and is now a member of the Global Tiger Forum.