Why are Umno Youth chief Hishammuddin Hussein Onn's keris-waving antics controversial? I believe the dear minister fails to realise that raising a weapon (even a sheathed one) creates an aggressor's image.
He points out, 'If the Chinese community is still perturbed and fearful of the keris, then I believe this community will be unable to compete in the present world which talks about atomic and nuclear bombs and Scud missiles'.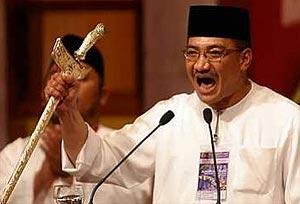 But he is unaware that the keris, like bombs and missiles, are instruments of violence. What should the competitiveness of the Chinese community have to do with weapons and weapons of mass destruction?
So why shouldn't the community not be wary if another communal leader raises a weapon and calls it a revival of the spirit of its youth?
Are there no better symbols for spiritual revival? What about the great and proud Melaka sultanate of centuries ago? True, it too warred, but is better remembered as a benevolent trading empire, not a conquering one. At least our high school children are thus informed.
I am not satisfied with the minister's justification for his keris-waving publicity stunt which warrants a public apology. What if other community leaders began waving weapons (sheathed, mind you) to herald a new energy to their political agenda? What then?